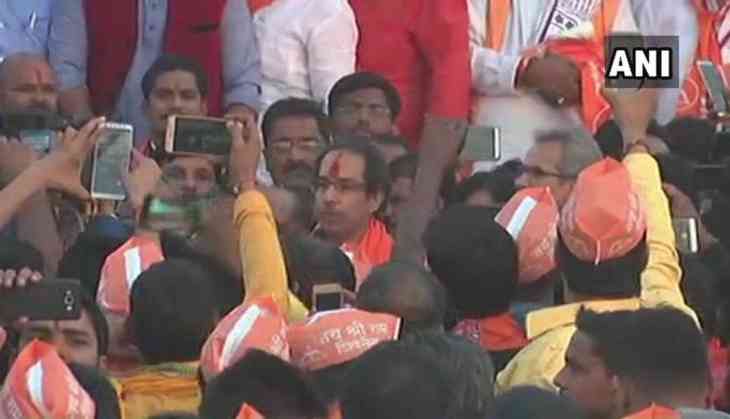 The Ram Mandir issue has again cropped up in the political corridors of India, as elections in several states are bound to take place this month.
Now, Shiv Sena chief Uddhav Thackeray has said that he wants the date for the construction of Ram temple and not only the promises that have been made by the ruling Bhartiya Janta Party.
The Ram Mandir issue has been looming large on Indian politicians and the case is currently in the Supreme Court, over the title land dispute. The BJP in its manifesto has been promising a Ram Mandir ever since it was demolished on December 6, 1992 by the Kar Sevaks.
Thackeray said in Ayodhya that " Humein aaj mandir banne ki tareekh chahiye. Pehle mandir kab banaoge wo batao, baaki baatein to baad me hoti rahengi. Aaj mujhe tareekh chahiye (Today, we need the date of Ram Temple construction. First build the temple, rest of the talks can happen later. I need the date (to build temple) today."
Thackeray attacked the BJP, under whose alliance he is running the Maharashtra government and said "wake up Kumbhkaran who has been asleep for four years."
A Shiv Sena leader told The Indian Express that "Uddhav will perform aarti at 5.15 pm on the banks of the Saryu river in Ayodhya on November 24. All Sena shakhas across Maharashtra and party units across the country have been asked to perform aarti at the same time."
Earlier, Thackeray had said that he wants to "remind BJP" about the poll promise they have done to the people. "Many are questioning why we (Shiv Sena) remembered Ram now, when the elections are nearing. Why should I hide it? I have taken up this issue because of the elections only. I am going to Ayodhya to remind the BJP about the promise."
Also read: Ahead of VHP's Dharam Sabha in Ayodhya, 'Ram Temple Bill to be tabled in winter session of
Humein aaj mandir banne ki tareekh chahiye. Pehle mandir kab banaoge wo batao, baaki baatein to baad me hoti rahengi. Aaj mujhe tareekh chahiye: Shiv Sena Chief Uddhav Thackeray in Ayodhya pic.twitter.com/U68rsl5y4Y

— ANI UP (@ANINewsUP) November 24, 2018