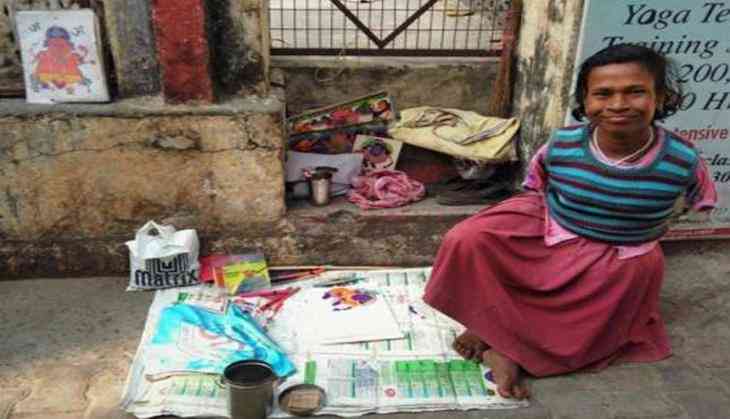 Thirty-eight-year-old Anjana Malik, a Bengali by origin, moved with her family to Rishikesh, Uttarakhand, more than 15 years ago. She was born without arms and has only one fully functional leg. She is the breadwinner of her family, comprising of her parents, her paralysed brother, sister-in-law and their two children.
Earlier, she would write " Ram " or "Om " on paper and tourists on the road leading to the Ram Jhula would buy some of those and give her money. One of the tourists, an international artist, taught her how to draw and paint, and for the last two years she sits outside the Kothari Mutt and draws. Tourists buy these paintings and give her amounts ranging from Rs 100 onwards.
Her painting material is procured through donations. Given that she sits in the open, she is faced with multiple challenges such as:
.She needs to commute around six kilometers from her home. She either walks or is given a lift, but often has to navigate steps and or cross the river etc.
.She sits in the open and is exposed to the elements.
.Her paintings - each of which takes more than a couple of days to make, often get damaged by dust, rain, passersby and dogs who may step on or tear the paintings.
But this has not deterred a very determined Anjana. With fine strokes and vibrant colors, her paintings have shown the world how disability can never come in the way of her passion to paint and to earn to feed her family.
She sketches with deep concentration and undivided focus.
Every day, for over a year, she has been travelling for 6 km to occupy a place along the river and showcase her paintings that she creates deftly with her right foot. Her daily journey is laden with danger as she has to walk long distances on congested roads, cross a bridge, board a ferry and then finally take a spot along the river. Anjana's commute becomes even more cumbersome during the scorching summers and the monsoons.
She is a woman of courage. Her earning of 4000 rupees a month is spent on food, clothing, medicines, school fees and room rent.
Anjana's story is one of inspiration. True to her name - meaning the mother of Lord Hanuman - Anjana has overcome numerous physical and financial challenges and remained strong in the face of hardship.
Anjana story and her undying spirit to overcome her odds motivated has motivated Kartikeya Thiyam Sundaram, Head Boy of the G D Goenka School in Sohna, Haryana and Rohit Sharma of Delhi Public School to create an online funding campaign on Facebook. As of today they have managed to generate and collect over USD 6000 from their campaign.
Anjana says she determined to provide a better quality of life to her family through her creativity, though the task before her is difficult and onerous. Anjana and her family need security. She yearns for a decent accommodation. She dreams of a stall where she can draw and sell her paintings with dignity. She aspires for a life that is not marred by uncertainty. Those keen to help may use the link m-lp.co/anjanart to make donations online.
-ANI