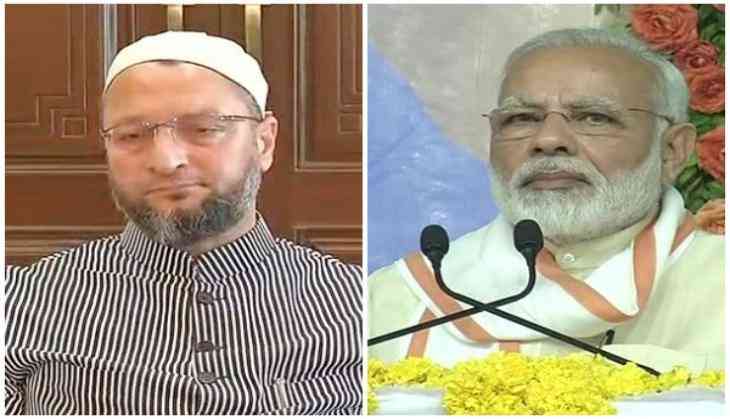 The AIMIM on Thursday dubbed Prime Minister Narendra Modi's statement on cow vigilantes as a 'mere lip service', adding atrocities in the name of 'Gau Bhakti' will continue as long as `Gau Rakshaks` get support from the BJP and RSS.
"The Prime Minister's statement is mere lip service. As long as an animal has a higher premium, killings of human beings will continue. As long as Gau Rakshaks get direct and indirect support of the BJP and Sangh, nothing will change on ground," AIMIM chief Asaduddin Owaisi said.
Reacting sharply to the growing atrocities in the guise of cow protection, Prime Minister Modi, earlier in the day, said killing people in the name of 'Gau Bhakti' is not acceptable.
"Killing people in the name of Gau Bhakti is not acceptable. This is not something Mahatma Gandhi would approve of. As a society, there is no place for violence," Prime Minister Modi said at Sabarmati Ashram centenary celebrations in Gujarat's Ahmedabad.
Asserting that violence is not a solution of any problem, the Prime Minister further said no one has the right to take the law in his or her own hands in this nation.
"Today I want to say a few words and express sadness on some of the things going on. We are a land of non violence. We are the land of Mahatma Gandhi. Why do we forget that? No one spoke about protecting cows more than Mahatma Gandhi and Acharya Vinoba Bhave," he added.
He further urged the people to come together to create a country that would make the freedom fighters proud of.
"Let's all work together. Let's create the India of Mahatma Gandhi's dreams. Let's create an India our freedom fighters would be proud of," he said.
During the last few months, incidents of mob lynching, violence, murder in the name of cow protection have increased, causing a tense situation across the country.
-ANI