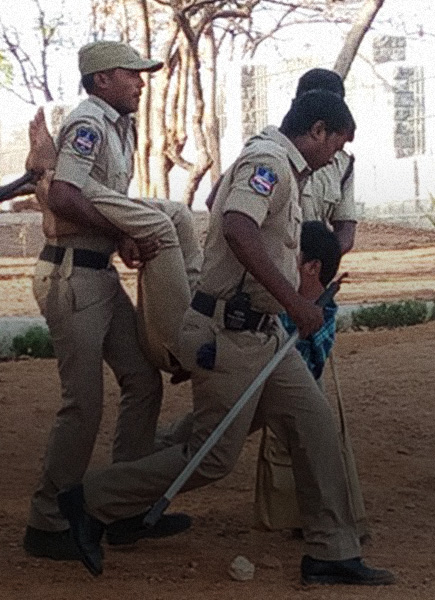 Arrested just before the Holi and Easter holidays, the students and professors of Hyderabad Central University spent nearly a week in jail, and have horror stories to report since getting bail on Monday evening.
The 24 students and two teachers allege that they were beaten up and threatened by the police while they were in custody.
"I myself heard the police threaten girls with rape. Police told us that our human rights have collapsed for next 24 hours," said Tathagatha Sen Gupta, assistant professor of mathematics at Hyderabad University.
Added Professor KY Ratnam, "My students were beaten right from the time they were picked up and all through the while they were in police custody. Even I was not spared."
The students and professors were arrested for gheraoing university vice chancellor Appa Rao Podile and vandalising his residence after he returned from leave last week, says NDTV.
Appa Rao is a central figure in cases relating to the suicide of Dalit scholar Rohith Vemula in January. After protests at the university then, he had been advised to go on leave. His return last week led to further protests.
The police were called during the protests. Human rights activists and lawyers have said that the police, while acting against the students, threatened women with rape and called Muslims "terrorists".
NSUI leader M Krishank said after they were arrested, the students and teachers were shifted between six different police stations in less than 24 hours. "Appa Rao cannot continue as vice chancellor. We'll continue our protests in the university," he said as he stepped out of Cherlapally Jail.