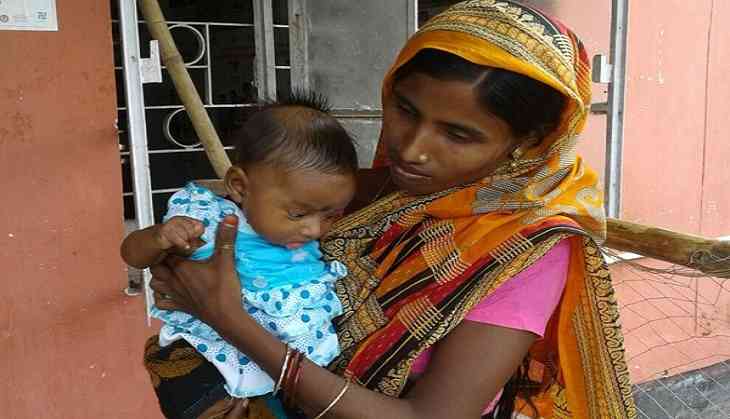 "Adivasi women don't eat nutritious food during pregnancy and also don't take iron pills on a regular basis because it is a myth amongst them that they will have problems at the time of delivery of the child due to the pill".
This is the statement of Archana Kisku, who has been working as General Nursing Midwife i.e. GNM, at the Community Health Centre located at Shikaripada, in Jharkhand's District Dumka.
She further stated, "Due to poverty pregnant women here cannot afford to have fruits and milk, they have only 'paani bhaat' (stale rice or leftover rice with water) along with drumstick (moringa or sahjan) leaves saag. As a result they do not get adequate nutrition for their body. Due to lack of awareness and the hardships of their work - mostly all women work as labourers - they drink much lower volumes of water than what is required. Due to all these factors most of the women are anaemic. Most of the health centres at the block level in the state do not have blood banks and therefore these women have to be referred somewhere else."
Adding, "Almost 50 percent of tribal women have deficiency of haemoglobin; the pregnant women here are found to have only 8 grams of haemoglobin in their bodies, while 11-14 grams is found in a normal human."
According to Nurse Basanti Soren, "Anaemic women face a lot of difficulty during their delivery, the child's head does not come out at the time of delivery, and a lot of pressure has to be applied. The lack of haemoglobin and the lack of nutrition are clearly visible at the time of childbirth. Traditionally, adivasi households do not keep cows; instead they keep pigs and goats. Due to this reason, they do not get milk regularly. The doctor advises pregnant women to eat 4 times a day, but they eat only twice a day. They also carry water from far away in ghadas(earthen pitchers) and kalsis(metal pitchers), sometimes due to this they have miscarriages".
Pregnant Adivasi woman Basanti Hembram noted, "Even during my pregnancy, I climb trees to cut branches for using as firewood. I also eat less drumstick leaf saag as my mother-in-law says that the baby will become fat and I will have trouble in delivering the baby, from one day before the delivery we stop drinking water too."
Dr. Bindeshwar Ram, who has worked in the health sector in Jharkhand for several years, explained, "The decline of haemoglobin in the tribal women of the Santhal Pargana region is common, anaemic women cannot be expected to have healthy children. Nutrition is not given any importance in tribal families, poverty and lack of awareness is also a cause of this major problem. "
According to the National Family Health Survey 2015 - 16 the number of malnourished children is increasing in Jharkhand, 71.5 percent children in rural areas aged between 6 to 59 months are found to be anaemic, 67.3 percent women in the age group 15 - 49 years are suffering from anaemia, and the figure rises to 85 percent in the case of Adivasi women. According to the 2011 census, 50,58,212 women in Jharkhand are malnourished.
A malnourished woman giving birth to a malnourished child is a matter of concern. The malnutrition treatment centres are functioning in all the districts of the state.
Most of the children coming to the centres for treatment are from the tribal areas.
The mother of a malnourished child shared, "At the time of pregnancy, women eat dal, rice and locally available Saag, which is normally made from drumstick leaves in their meals. They do not take iron pills and for their delivery also they do not go to the hospital, the child's delivery is done in the house by the village's dai(midwife)."
"Malnutrition in the state remains a serious challenge, along with the children the mothers are also suffering from anaemia. In Anganwadi centres there is no proper record maintained of how the health of children suffering from malnutrition is monitored. Pregnant women and nursing mothers are also not getting adequate nutrition. The benefits of central government schemes are not being passed on by the State in the proper way. Food Safety regulations are being overlooked. In the state, instead of having their deliveries done in the health centres or hospitals, women are using midwives to do their deliveries. The nutrition standards are not being complied with," said State Adviser of the Supreme Court in Jharkhand, Balram.
Speaking on the question of malnutrition, Jharkhand Welfare Minister Dr. Lewis Marandi shared that the government is making efforts and good results will soon emerge. Chief Minister Raghuvar Das considers malnutrition to be a stigma for the state and is making all efforts to eradicate it.
While talking about the same, Dr Jugal Kishore, Director of Safdarjung Hospital, New Delhi, noted, "If any man or woman's BMI is less than 19, then he / she is a victim of malnutrition; having a less than average BMI is considered to be a major cause of death. In India, one in three women are victims of anaemia, in Jharkhand, three out of four women are victims of anaemia, women mortality rate during child birth is approximately 1000 ever year. Tribal children of Jharkhand are malnourished and women are prone to anaemia. The problem of malnutrition is critical in Jharkhand; children at the age of 5 are the victims of malnutrition. Malnutrition treatment centres have been opened in every district of the state. Supplementary nutritious food is being provided at the rate of eight rupees per day for children from 6 months to 72 months."
Adding, "The supplementary nutritious food is being sent for pregnant women, but it is not reaching the rural areas. The number of malnourished children is increasing, during the pregnancy, the tribal women don't take iron tablets, and they don't have regular health checkups.If at the time of delivery the doctor or nurse is not available at the health centre then the women have no choice but to go to the village midwife for her delivery".
Rural women are following traditions which have been coming down the ages, due to which children are becoming victims of malnutrition. Many times due to these rituals and customs they do not even breast feed their new born child immediately after delivery. New born babiesif not breast fed on time are badly effected and the development of the child gets effected. There are many such reasons which especially promote malnutrition in Jharkhand.
As per the United Nations Children Fund, the most malnourished children in the world are in India. In this regard, UNICEF's representative in India, Dr. Yasmin Ali Haque, has launched the malnutrition free India campaign whereby the country will be malnutrition free by 2022.
The central government has decided to remove malnutrition, in order to solve the problem of malnutrition, the pregnant women, lactating mothers, will receive an increased amount of nutritional supplements. Nutrition supplements will also be given to children till the age of 6 years and adolescent girls.But until the mindset of people does not change,conquering malnutrition will be extremely difficult.
It is necessary that the government also runs a program to spread awareness of the health of pregnant women along with many schemes and it is also important to work on breaking myths and customs which come in the way of removing malnutrition from the country.
The words expressed above are from Shailendra Sinha, a senior writer from Charkha feature.
-ANI