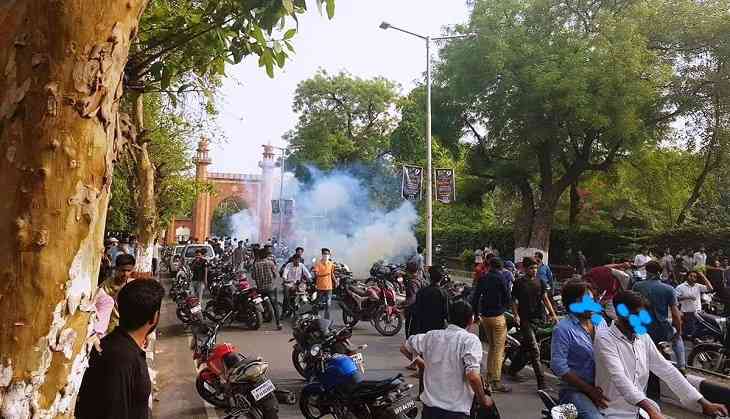 Amid a controversy over a Pakistan founder Muhammed Ali Jinnah portrait missing from Aligarh Muslim University's (AMU) students union hall, Section 144 has been imposed and the internet services have been suspended in Aligarh on Friday.
'The internet services will remain suspended in Aligarh from 2:00 pm Friday to 12 midnight Saturday to avoid circulation of "communal" messages on social networking sites.' ADM (City) Chandra Bhushan Singh told DNA.
The Jinnah portrait has been hanging at the AMU's students union hall since 1938 as he was awarded students union membership. The AMU authorities stated that the portrait was removed for the cleaning purpose.
After the controversy triggered massive clashes various political personalities took a dig into the matter, including Uttar Pradesh CM Yogi Adityanath who also questioned why to hang Pakistan's founder Jinnah's portrait at AMU.
A day after the violence broke, the members of the right-wing Hindu Yuva Vahini Sena backed by policemen attacked AMU students in which nearby 41 people were injured including students and cops.
AMU students are adamant the portrait would not be removed. "The portrait came up as part of a protocol that the AMU students' union accorded to all great leaders of the then undivided India who had visited the campus," said Mashkoor Ahmad Usmani, chief of the union.
"Instead of arresting those goons who were trying to attack the former Vice-President, the police lathi-charged the students," Usmani said. "We will go to the National Human Rights' Commission and file a petition in the Allahabad High Court," said AMUSU vice-president Sajad Subhan.
Also read: Bihar Bus Accident: Bihar minister takes 'U' turn on Motihari tragic accident says, 27 reported dead was wrong, no one died