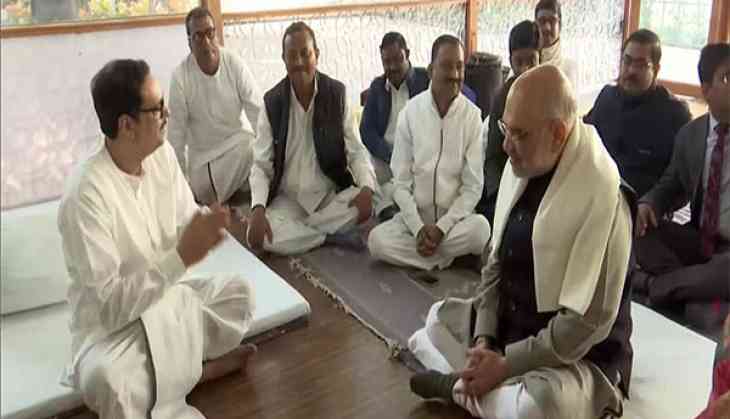 Union Home Minister Amit Shah on Sunday visited Thakur Anukul Chandra Ashram in Jharkhand's Deoghar. Born in 1888, Thakur Anukul Chandra established the Ashram as a prominent spiritual centre in east India.
Notably, Shah has been on a day-long visit to Deoghar on Saturday and offered prayers at the Baba Baidyanath temple in Deoghar with his wife. The Home Minister's visit to the state was intended to attend the Vijay Sankalp rally here.
Crime News: MP Shocker: 16-year-old raped, murdered 58-year-old woman over phone theft allegation
In the rally, he termed the Chief Minister Hemant Soren-led Jharkhand Mukti Morcha government the "most corrupt government" in India.
"I can say without hesitation that the current government in Jharkhand is the most corrupt across the country," Amit Shah said.
He also said, "Jamtara and Deoghar have become hubs of cybercrime. But (CM) Hemant Soren has ignored all help from the Government of India...In 2024, we will win all 14 seats and the Assembly elections with a full majority.
"In his other address at a programme of the laying of the foundation stone of a Nano Urea Plant of the Indian Farmers Fertiliser Cooperative (IFFCO) in Jharkhand's Deoghar, the Union Minister said that the Centre has made provisions and allocated an adequate fund for the registration of over 2 lakh multi-dimensional Primary Agricultural Credit Societies (PACS).He said that the PACS have been created to ensure that there remains no 'panchayat' which would lack a dairy or a fishery cooperative society.
He said that land conversation has been one of the prime objectives of Prime Minister Narendra Modi ever since he came to power to govern the country and said that such measures would help India become self-reliant.
He further advised the farmers to use natural manures instead of chemical fertilisers as they ruin the soil fertility. "From today's programme, I only want to tell the farmers that excessive use of chemical urea will do nothing but damage your crops as well as the soil. However, if you use the natural urea, the IFFCO guarantees a rise in crop productivity," Shah said on Saturday.
"The Nano urea has been created with the research intended to protect Mother Earth as when the chemical fertilisers seep into the earth, it kills earthworm which is known to make natural manure. By using the natural manure, you can prevent your soil from intoxication as well," he added.
This was the second visit of Amit Shah within a time span of one month.
The Minister's visit to Jharkhand is crucial in view of the 2024 parliamentary elections besides the 2024 Assembly elections.