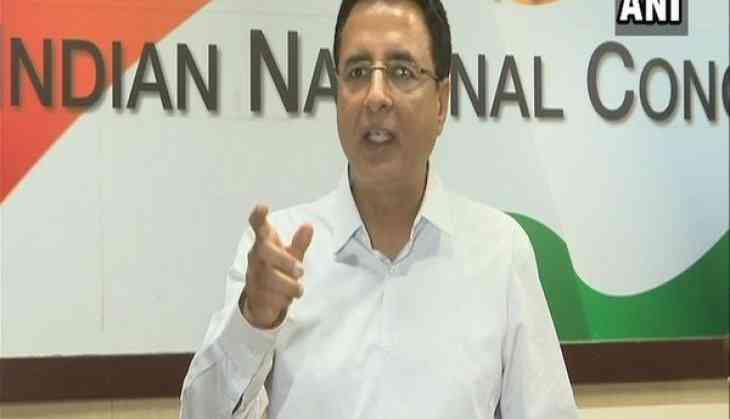 The Congress party on Saturday hit back at the Bharatiya Janata Party (BJP) chief Amit Shah, saying that the latter has no right to lecture them on Nationalism as most of its leaders have shed their blood and sacrificed their lives for the nation.
Congress leader Randeep Surjewala in a statement said Jammu and Kashmir has always been an integral and inseparable part of India and the BJP will never be able to realise the "hard work which Congress-LTA did to usher peace in Jammu and Kashmir."
He further alleged that the BJP has shamelessly squandered the mandate and shunned their responsibility.
"Amit Shah has no business to lecture the Congress party on Nationalism because our topmost leaders have shed their blood and sacrificed their lives nation by becoming victims to Terrorism and Naxalism," he added.
Surjewala further took a swipe at the collapse of BJP and the People's Democratic Party (PDP) Government in Jammu and Kashmir and said the end of an alliance is a relief for people.
"After plunging Jammu and Kashmir into a deep turmoil, through an unethical opportunistic alliance marred with a disquiet border, corruption, mal-governance and false promises, in the last 4 years, BJP President, Amit Shah is shedding crocodile tears in front of the people of Jammu today," he said.
He further said that facts are sacrosanct and they speak for themselves, so instead of doing choreographed drama, Amit Shah should reflect upon hard facts.
The Congress leader accused the BJP-PDP government of not taking any step for resettlement of Kashmiri Pandits and betraying the people of Ladakh by promising a UT Status and Hill Councils, but nothing materialising it.
Surjewala reaction came after Shah in a rally in Jammu said that his party will never allow the separation of Jammu and Kashmir from the rest of the country.
Earlier in the day, Shah hit out at the leader of the Opposition in the Rajya Sabha, Ghulam Nabi Azad, for his remark that more civilians were being killed in Kashmir than terrorists and demanded an apology from the Congress party over the same.
"I cannot even repeat what Ghulam Nabi Azad has said. But as soon as he made the statement, Lashkar-e-Taiba extended their support to his comment. Congress leaders should apologise to the country for this," Amit Shah said while addressing a public gathering in Jammu.
(ANI)