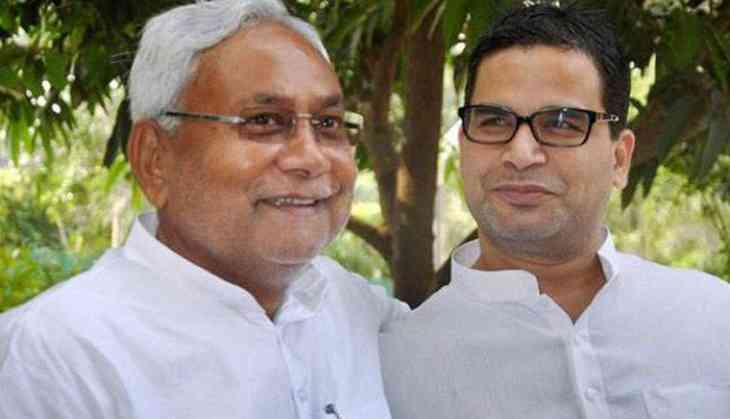 CM Nitish Kumar and Prashant Kishpr
Election strategist and JD(U) vice president Prashant Kishor is back in news, as Bihar CM Nitish Kumar has claimed that he got calls from BJP president Amit Shah twice to induct Kishor in party.
It is now clear that it was BJP president Amit Shah's idea to induct Prashant Kishor into the Janta Dal United and had asked the party supremo Nitish to carry out the job,but the questions remains why didn't Amit Shah invite Kishor into the BJP rather than sending to Bihar?
Bihar CM Nitish Kumar, while interacting with news channel ABP accepted publicly that "For the first time, I would like to make it public that giving a party post to Prashant Kishor was not entirely my decision. I got calls from Amit Shah twice to give him a post in the party."
Although,he clarified that he was fond of the strategist and his capabilities to handle the elections which he has proven earlier being with the BJP in 2014. Nitish said, "Prashant Kishor has been assigned the task of attracting young talent, from all social segments, to politics which was becoming inaccessible to those not born in political families."
Finally Nitish Kumar admits that JDU is advanced version of BJP therefore he is giving all important organisational posts except him to the people chosen by Sh. Amit Shah.

Hope now you understand,Why Mob Lynchings & State Sponsored Crimes have become a routine practice in Bihar?

— Tejashwi Yadav (@yadavtejashwi) January 16, 2019
Prashant Kishor enjoys his successful run, while he election strategist for PM Narendra Modi in 2014, he was associated with the Grand Alliance of Bihar, which included JDU, RJD and Congress and eventually defeated the BJP. Although, Prashant lost miserably in 2017 when he sided with the Congress for UP election and was decimated at 7 seats.
Tejashwi Yadav of the RJD tweeted saying, "Finally Nitish Kumar admits that JDU is advanced version of BJP therefore he is giving all important organisational posts except him to the people chosen by Sh. Amit Shah. Hope now you understand,Why Mob Lynchings & State Sponsored Crimes have become a routine practice in Bihar?"
Also read: Ousted CBI chief Alok Verma to be keynote speaker at SRCC event in Feb; Smriti Irani and Suresh Prabhu