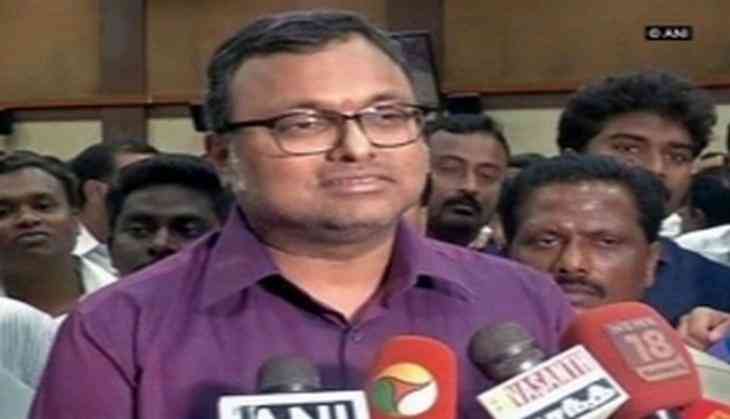 Maintaining the same stand as his father, former finance minister P. Chidambaram's son Karti on Tuesday alleged the Centre of manufacturing raids to silence his voice.
"This raid is being carried out only because of political vendetta," Karti told the media here outside his residence before being carted by the CBI.
Justifying his innocence, Karti said he has done nothing wrong and that the government cannot prove any allegations against him.
"They want to suppress my voice. They cannot prove any allegations against me," he said.
Meanwhile, the raids conducted by the CBI are still underway and Karti has now been taken from his residence to his office.
An FIR has also been lodged against Karti, Indrani Mukherjea, unknown officers of FIPB Unit of Ministry of Finance and others over alleged financial misappropriation over Foreign Investment Promotion Board (FIPB) clearance to Peter and Indrani's media company INX Media in 2008.
The charges include criminal conspiracy, cheating, taking gratification in order by corrupt or illegal means to influence public servant and criminal misconduct.
The case has been registered under section 120-B r/w, section 420, section 8 and sextion 13(2) r/w and 13 (1) (d) of Indian Penal Code (IPC).
With the Chidambaram residence being raided today in connection with the FIPB approval in several cases, the senior Congress leader lashed out at the Centre, accusing it of using national agencies to target his son.
"FIPB approval is granted in hundreds of cases. The five Secretaries who constitute the FIPB, the officials of the FIPB Secretariat and the competent authority in each case are the public officials. There is no allegation against any of them. There is no allegation against me," he said in a statement.
Asserting that every case was processed according to law, Chidambaram added that the approval was granted or refused in accordance with the recommendations of the FIBP consisting of five Secretaries to the Government of India.
"The government, using the CBI and other agencies, is targeting my son and his friends. The government's aim is to silence my voice and stop me from writing, as it has tried to do in the cases of leaders of Opposition parties, journalists, columnists, NGOs and civil society organizations. All I will say is, I shall continue to speak and write," the senior Congress leader added.
The Congress has also dubbed the raids as 'political vendetta of the worst kind'.
-ANI