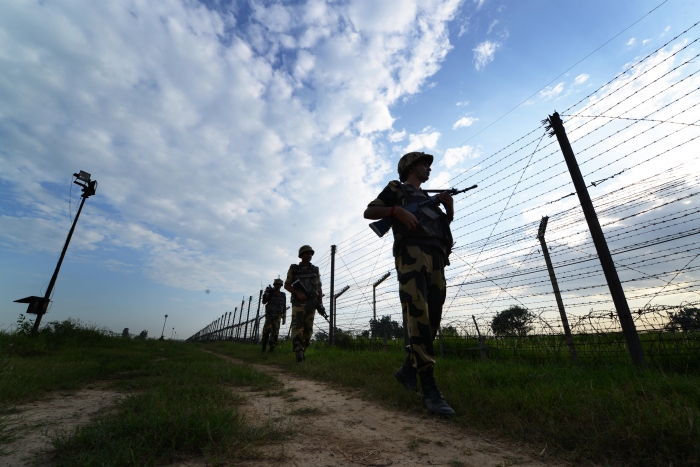 A suspected Pakistani terrorist was caught alive after militants attacked a BSF convoy on Jammu-Srinagar on national highway in Udhampur 5 August killing two men of the border guarding force and injuring 11 personnel while the other terrorist involved in the strike was shot dead in retaliatory fire.
The terrorist identified as Kasim Khan, who had escaped from the encounter site and taken three persons hostage in a school building in a nearby hamlet, was arrested after an operation was launched by the army and the police, defence sources said.
All the hostages have been freed and the operation has ended, Deputy Commission, Udhampur, Shahid Iqbal Chaudhary said.
One terrorist has been killed, Home Minister Rajnath Singh said in Delhi, adding that there was no link between the attack and Amarnath pilgrims passing the area.
He offered condolences to the families of the jawans identified as constables Rocky and Shubhendu Roy who died in the attack even as he spoke to BSF Chief D K Pathak about the incident.
The militant strike was the first in Udhampur district in over a decade coming days after terrorists attacked Dinanagar Police Station in Gurdaspur in Punjab.
"There was firing on a BSF convoy on the highway near Samroli by militants early this morning," Chaudhary said.
Two BSF jawans were killed and 11 personnel were injured, IG, BSF (Jammu Frontier), Rakesh Kumar said.
The militants hurled grenades and opened indiscriminate fire on the convoy when it reached Nassu belt on its way from Jammu to Srinagar, IG Jammu, Danish Rana said, adding that the BSF jawans retaliated, killing one of the two militants.
The injured jawans have been taken to a hospital, he said, adding a massive combing operations has been launched by the army and the police in and around the area which has been cordoned off. Vehicular movement on the highway has been stopped due to the incident.
Reacting to the attack, Union Minister Mukhtar Abbas Naqvi said, "Those behind such attacks very well know that their terror designs won't be running for long in India. That is why they are doing all such kinds of activities."
The government and the security forces were doing their best to tackle such evil designs and "without a doubt the country's respect, honour and the people's security is the government's topmost priority," he said in Delhi.
Congratulating the security forces for killing one militant and nabbing the second terrorist alive, senior Congress leader Ghulam Nabi Azad said, "Catching a terrorist alive is a huge achievement. Due to this, in the coming time we will get to know about the future attacks which Pakistan has planned."
-PTI