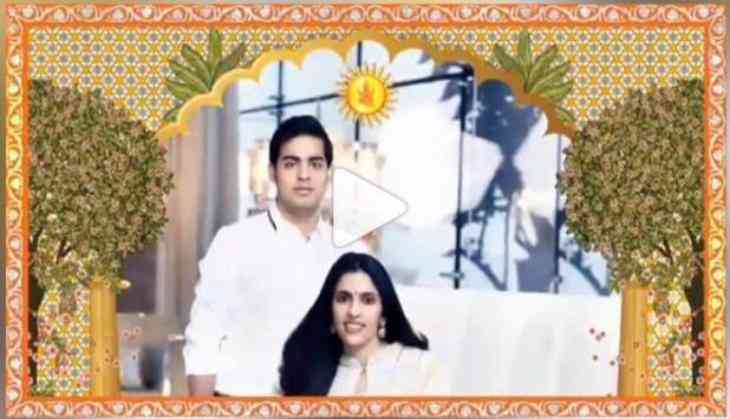 Akash Ambani and Shloka Mehta wedding is definitely a much-awaited wedding of the year. Everyone eyes gaze on Ambani that how will be the celebration of their elder son Akash wedding with his childhood friend. Recently, you all have seen their engagement invitation card as well as video invitation from Mukesh-Nita Ambani which went viral over the social media and hits the headlines. Now, another video is doing the rounds on social media and after watching it you won't believe on your eyes that this way guests can be invited at a wedding function.
Well, in a viral video, a rich and intricately-detailed wedding invitation card is being opened by the Ambani family. You can also see the wedding card in a cream-white box with gold ornate embellished design on the edges as well as on the centre.
On the invitation card, a seal can be seen on which the first letter of Shloka and Akash is written as 'SA', which is carved in gold. After removing the seal, the card is opened, where a small shrine of Lord Ganesha has been placed inside an orange box. However, this shrine can be taken out and on top of it is the wedding card with an enormous flower carving.
In the viral video, you will see how Nita Ambani, Anant Ambani is busy doing the customs at the temple.
See the video:
Earlier, there was a video invitation was sent from Akash's parents Mukesh Ambani and Nita Ambani, and siblings Isha Ambani and Anant Ambani for the engagement ceremony which is set to take place on 30th June.
Watch Video:
Also read: Mukesh Ambani's son, Akash Ambani is all set to exchange rings with Shloka Mehta? Here's a video proof for you