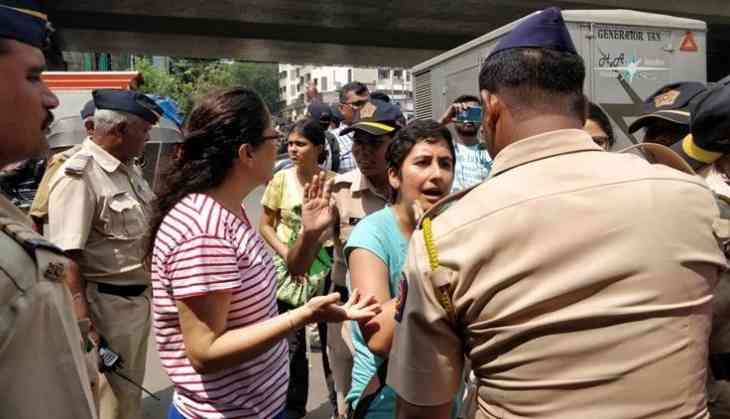 Thirty eight protesters have been booked under various sections of the Indian Penal Code (IPC) since late Friday night, the official said. On the other hand around 60 protesters have been detained. Shiv Sena's Priyanka Chaturvedi, who was among the protesters was also taken into custody.
The Mumbai Metro Rail Corporation Ltd started cutting down trees late Friday night to pave way for car shed, hours later Bombay Hgh Court rejected four appeals filed by NGOs and green activities challenging the ruling to allow felling of trees.
As soon as the MMRCL started the process, huge number of green activists flooded the streets and held protests trying to stop the tree cutting drive.
"We have imposed section 144 of the CrPC in Aarey Colony, Goregaon check post and surrounding areas," the Mumbai police spokesperson said.
At least 38 protesters have been booked under section 353 (assault or criminal force to deter public servant from discharg of his duty), 332 (voluntarily causing hurt to deter public servant from his duty), 143 (unlawfull assembly) and 149 (every member of unlawful assembly guilty of offence committed in prosecution of common object), he said.
Hundred of protesters congregated at the location after they were notified the trees were being cut down by authorities.
However, police began dispersing the crowed and had to forcibily remove the dissenters, the official said.
When the condition aggravated, police started taking dessenters into custody. Around 60 dessenters have been held by the Aarey police, he added. Police have barricaded the area and people are not permitted to enter the location, the official said.