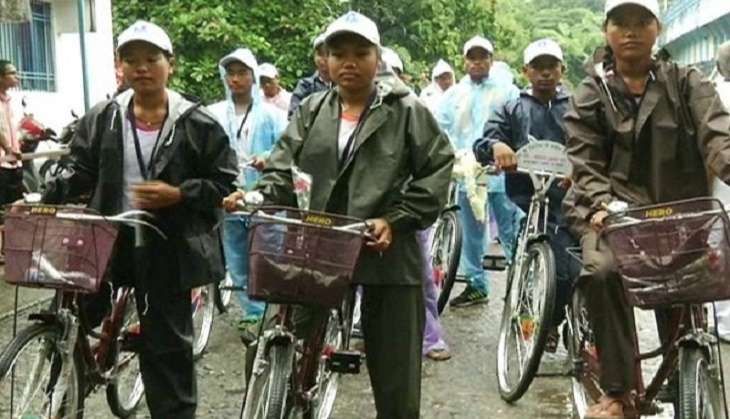 With the aim of restoring peace in Jammu and Kashmir, 20 cyclists from Assam's Kokrajhar district today started 'Santy Satvabna Cycle Yatra'. The cyclists will convey the message of how the 2012 violence hit district in northeast India has restored peace and love.
The cycle yatra titled 'message of love' commenced on 3 September and will end after it reaches Srinagar in Kashmir valley.
The cyclists reached Siliguri in West-Bengal on 9 September and will cover more than 3500 km crossing eight states on its way.
Chandan Paul, Secretary of All India Satvabna Manda under the aegis of whom this yatra has been commenced said the team would convey the message of love and peace to the people of the valley.
"We have selected Kashmir because Kashmir has been hit by violence recently. We are on an effort to make this happen but do not know how much can happen," he said.
Remembering the ethnic tensions between Bodos and Bengali-speaking Muslims which escalated into a riot in Kokrajhar on 20 July 2012, Paul said his group 'All India Satvabna Manda' has been since working in the district to restore peace and they have been successful in doing so.
He asserted that the same result is what the group is expecting.
"The experience we have after working in Kokrajhar for the past 4 years, based on it we would like to talk to them (people of Kashmir) as well," he added.
Talking about team, he said that 20 people in total including three women were participating in the yatra.
Additional four people also accompanying them but they are not part of the cycling team.
Paul added that a good dialogue process should be initiated in the valley and will put our efforts in it.
Meanwhile, a participant Suyestri Roy echoed similar remarks and said that the team would like convey the message of love. College student Roy was of the opinion that 'if we can do it, they can too.'
"We are going to Kashmir to convey a message there. In 2012, we were hit by violence, Kokrajhar and now we are peace. We want to spread the message of peace because peace will change the world."
While the cyclists were seen bearing the rain and the weather during the journey, Roy said, "the experience so far is good and we expect that the journey will be good as well."
The yatra will end on 25 October.
Kashmir valley is experiencing an unrest situation following the killing of Hizbul Mujahideen militant Burhan Wani by security forces on 8 July.
Violent protests erupted in the valley, which claimed lives of more than 70 people and injured thousands, mostly youth.
--ANI