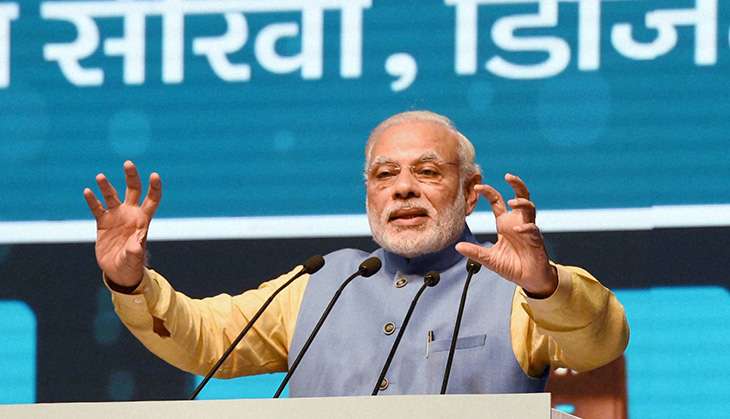 Prime Minister Narendra Modi in his address to the nation, thanked the citizens for their support on demonitisation.
7.30pm:
India has become witness to a shuddhikaran (purification) drive.
125 crore Indians will welcome the new year with new decisions, new spirits and for the coming years, this will decide the course of things to come.
Humans feel suffocated by the evils brought in over time, he tries to break free from them. Our lives had been entangled in black money, corruption; honest people were forced to kneel. They had no choice but to accept it.
What happened after Diwali shows Indians were looking for a way to beat it.
After Diwali, Indians with patience, sacrifice, fought to defeat evils.
Kuchh baat hai ki hasti mit ti nahi humari - Indians have lived this saying.
Social evils had become part of our life, however, events after November 8 force us to reflect back on that.
8.31pm:
"On New Year's eve, we'll announce new yojanas, new schemes for the people of the country.
Home loans for poor and middle class upto Rs 9 lakh will get 4 % exemption on interest and upto Rs 12 lakh will get 3 % exemption.
For next three months, 3 crore credits will be converted to RuPay cards.
Govt to bear 60-days interest on selected farm loans.
For small entrepreneurs, credit guarantee raised from 1 crore to 2 crore.
Loans by non-banking financial companies will also be covered in this.
Shopkeepers and small businessmen will get more loans because of this.
In around 650 districts in the country, government will provide Rs 6,000 in the accounts of expecting mothers to bring down mortality rate. Expecting mothers will also get proper nutrition and vaccinations.
3% interest waiver on loan up to Rs 2 lakh for construction of houses in rural India
Rabi crop sowing has gone by 6% while fertilizer sales are up 9%, irrespective of the negative predictions by critics.
To guarantee 8% rate on deposits for senior citizens upto Rs 7.5 lakh.
I urge people to connect more and more with BHIM app.
Banks to raise cash credit limit to small businesses to 25% from 20%.
It is time for politicians of all parties to rise above politics and ensure transparency.
The government has also said for small businesses, cash credit limit raised to 25 per cent from 20 per cent.
Sometime back, thethe government gave huge tax relief to small entrepreneurs.
On digital transactions, their tax will be calculated at 6%, not 8%.
In 1917, under Mahatma Gandhi's leadership, the first Satyagraha was launched in Champaran. A hundred years later, we see Indians still have the same strength.
We must not let this fight against corruption and black money stop.
The speech ended at around 8:50 am.