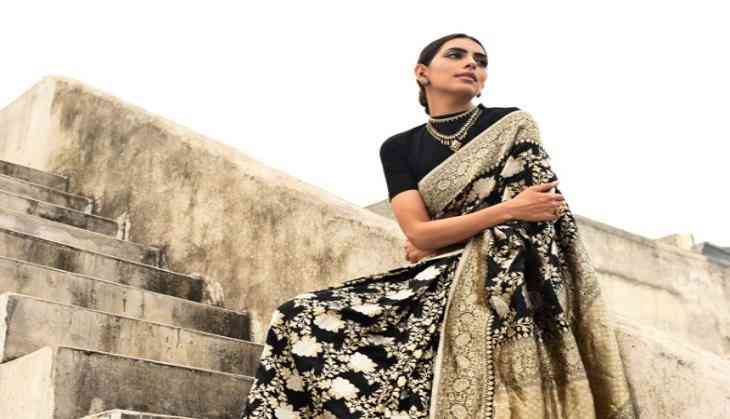 WeaverStory serves as a space for engagement with India's rich textile history. It constantly endeavors to bring this textile heritage closer with every masterpiece it creates.
With the archaic laborious weaving techniques that the weavers have perfected with time, they focus on displaying culture on the six yards of elegance.
WeaverStory has been concentrating predominantly on the Banarasi weaves and reviving designs from museums and traditional forms from annals and working with weavers themselves.
Banaras is the king of all textiles; it is an eclectic blend of culture and tradition. You can feel every part of India coming together in this rich city. Weaver Story focuses on bringing this unique blend to its customers through its collection.
Its latest collection includes a beautiful Banarasi Patola Saree in a ravishing red with multicolor resham weave; Navy Blue Kadhwa Banarasi Jangla Saree, Peach and Gold Kadhwa Banarasi Jangla Saree with a diagonal floral pattern in gold and silver zari among other crafts.
The intricately woven pure Banarasi jangla saree with sona rupa zari is perfectly designed and woven for the wedding trousseau and the Orange and pink shot color banarasi jangla saree with cutwork, woven with antique zari is a sure head turner.
Weaver Story features an exclusive range of block printed saree by artist Alka Raghuvanshi. Her touch brings to the form a distinct and yet unique vibrancy with use of blocks and colors creating fusion of many techniques used in Indian Handlooms.
Another focal point for Weaver Story has been on the revival of Indian Handloom by encouraging Koras, Cotton and Georgette weaving. As for designs, while there are almost all forms in Banarasi weaves, be it Jaals, Chaas ki Muthari, Neelambari to name a few, they have made an exclusive range of Shikargarh in different weaving styles like real silver zari, Tanchois, Kimkhabs besides the traditional zari work.
Adore yourself with the intricately woven pink Shikargah saree and the lovely turquoise Katan silk saree with Kadhwa Boota and a rich cobalt blue and zari border. Unfold the treasure chest for the festive season with Gota Patti work and Banarsi finishing in the prettiest colours and weaves and the new range of Chhatisgarh Muga sarees, Kanjivaram sand narayanpets and handpainted / Madhubani sarees. A rich brocade blouse enhances the beauty of these sarees.
Peacock - the national bird of India and also the most used motif in Indian textile industry is the WeaverStory.com mascot/logo. It has been woven in different shapes, sizes and colors for centuries and continuously reminds us of the versatility of our handloom heritage.
They have also been developing new and old motifs and patterns to suit the contemporary audiences. A lot of fusion too is part of their craftsmanship. For instance, traditional Banarasi will depict animals and hunting scenes reflecting northern Indian motifs, but the saris use the annapakshi and rudraksha designs from southern India too. Besides saris, they have extended their market to a natural ally in Dupattas and Lehengas.
The stunning deep blue Katan Silk saree with a Kadhwa Meenakari bird woven in beautiful colors; the red Kadhwa jangla saree with parrots nestled in leaves; black silver pure brocade saree with Kadhwa mynah bird and the royal elephant on a stunning bottle green katan silk saree explain it all.
The distinctive motifs that the weavers have perfected with time are paisley motifs, floral motifs, swan, diamond and birds motifs among many. It often takes more than a month to weave these classic motifs, which is a timeless treasure.
-ANI