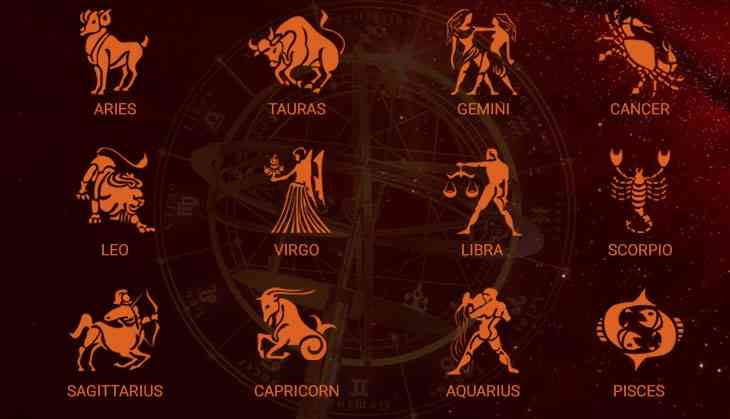 1. ARIES
The universe is sure to get right back to you when you identify your goals, so be sure you know what you're talking about! Then you can speak up to anyone handy -- you never know who might be the one who can get you what you need, so you need to ensure that your message spreads far and wide.
LUCKY COLOUR- PINK
LUCKY NUMBER- 9
2. TAURUS
It's a great time to start any new projects, especially those that involve home improvement. Your home is your castle, of course, and you're the first to admit that you could use some new arrangements.
LUCKY COLOUR- PEACH
LUCKY NUMBER- 1
3. GEMINI
Wear something really awesome today, because you're definitely all about the huge crowds, fun distractions, and loud merrymaking. If there's a carnival somewhere nearby, get moving right away, because you're definitely going to have fun.
LUCKY COLOUR- YELLOW
LUCKY NUMBER- 2
4. CANCER
Lift your spirits by making your living and work spaces easier to deal with. It's shocking how much better you can feel when your room, car, and desk are easy on the eyes. After you take care of these little pieces, the big picture should be much clearer.
LUCKY COLOUR- GREY
LUCKY NUMBER- 3
5. LEO
Today's horoscope tells that you will succeed this year if you are a challenger. Career and business will be wonderful if you are diplomatic in your dealings. Since your zodiac sign is always interested in relationships, you should definitely give online dating sites a try.
LUCKY COLOUR- MAGENTA
LUCKY NUMBER-6
6. VIRGO
Today's horoscope predicts that this will be a day of windfalls with its share of obstacles for the Virgos. It will be filled with fun but at the same time can be stressful if you are not careful. Innovation will be the key to success in your career and business.
LUCKY COLOUR- GREEN
LUCKY NUMBER- 8
7. LIBRA
Today's horoscope forecast that career will dominate over other aspects of your life. Do not invest money in risky speculation and stock trading. You might be unsure about your current relationship and in two minds.
LUCKY COLOUR- CYAN
LUCKY NUMBER- 9
8. SCORPIO
Family will play a dominant role in the development of the Scorpion star sign today. Sexual passion and magnetism will play an important part in success of love relationships. Stress can be relieved with music therapy.
LUCKY COLOUR- BLACK
LUCKY NUMBER- 4
9. SAGITTARIUS
Restrained and cautious behaviour is required. Good chances and opportunities appear later. With regard to love matters: big difficulties in the beginning! No reason to despair. Better times are coming that will remove those stumbling blocks!
LUCKY COLOUR- DARK BLUE
LUCKY NUMBER- 1
10. CAPRICORN
Dear Capricorn, you will have to make some important choices today which might be difficult for you. This is a great time when it comes to love, finance, health and career. So be sure to make the right choices and do not lose hope when things don't work out your way.
LUCKY COLOUR- MAROON
LUCKY NUMBER- 6
11. AQUARIUS
12. PISCES