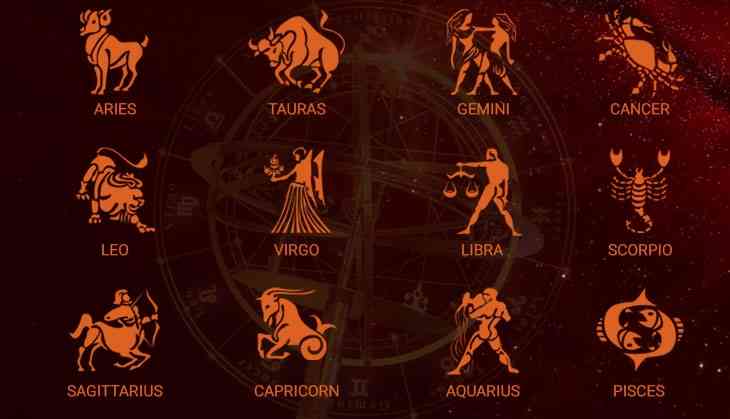 1. ARIES
Today your focus will be on your loved one. You will be full of positive vibes and energy and this is what will keep you all going. Don't be surprised by the rude behavior of your seniors because like you, they too have work pressure. It will be a great day for the people who are in love and that is why you should pop the question to your partner.
LUCKY COLOUR- NEON GREEN
LUCKY NUMBER- 5
2. TAURUS
It's a great time to start any new projects, especially those that involve home improvement. Your home is your castle, of course, and you're the first to admit that you could use some new arrangements. Be sure to get your ideas approved before you get started!
LUCKY COLOUR- BROWN
LUCKY NUMBER- 2
3. GEMINI
Go ahead and explore the new interests that you have developed. It will be intriguing and at the same time could help you release old traumas or phobias. Enjoy! Involve your friends and your co-workers to do some social work.
LUCKY COLOUR- MAGENTA
LUCKY NUMBER- 1
4. CANCER
Today is going to be a great day for people who are into administration or are executives and it is expected that these peoples might get richer by the end of the day. Even if you are engaged in some other work, you will stand out and get noticed for your overall excellence, which is why you will be all pleased.
LUCKY COLOUR- GREY
LUCKY NUMBER- 5
5. LEO
The positive energy that you have in yourself demands a good, long look at your unconscious patterns that keep repeating or emotional baggage you've been trying to get rid of for too long. Deal with all the bits and pieces of your past if you want a future of your own making.
LUCKY COLOUR- INK BLUE
LUCKY NUMBER- 7
6. VIRGO
Savings is what you need to do right now. You have earned a lot and have spent a lot and now you should start saving for your future. Talk to a senior person who can give you the best of the advice about where to save and where to invest. Your parents will be happy to hear about this step of yours and that is what your main motive should be, to make them and everyone happy.
LUCKY COLOUR- MAROON
LUCKY NUMBER- 9
7. LIBRA
Try to inculcate the spirit of freedom, truth and honesty into your heart. You will automatically feel the difference. Be careful how you deal with your near and dear ones. You may find some obstacles blocking your progress but keep you cool and soon life will be smooth and carefree. Some long pending money matters may give positive indications and that shall make you happy.
LUCKY COLOUR- CYAN
LUCKY NUMBER- 6
8. SCORPIO
If you are inactive sport or in the creative field, you may find other people to be more interfering than usual. Keep to your course and avoid confrontations. If you throw in your lot with someone you trust, there's no end to what you can do. You may seek support and confidence from close partners, associates and even family members. You shall get the full support from all quarters.
LUCKY COLOUR- ORANGE
LUCKY NUMBER- 2
9. SAGITTARIUS
Today, you will have so many choices if you are looking out for a job or a business matter or even a relationship. There will be something unexpected and something special lined up for you today from your loved one. Explore your inner spiritual world and nurture the part of you that connects with a force larger than yourself.
LUCKY COLOUR- YELLOW
LUCKY NUMBER- 8
10. CAPRICORN
All the secret feeling that you had buried in your heart, there are high chances that people might get to know about it. But you don't need to worry about anything because whatever will happen, it will be good for you.
LUCKY COLOUR- GREEN
LUCKY NUMBER- 2
11. AQUARIUS
Today you need to remember that it is the overall picture that matters and not one small stroke of the brush. You will have to bear some work pressure at your workplace which might come to you from your subordinates. Consider all possibilities and then make any decision.
LUCKY COLOUR- PEACH
LUCKY NUMBER- 9
12. PISCES
You have been working overtime to improve their finances; this is fine, but don't allow money to rule your life. It is also important to enjoy the work you do. If you can do the work you love, you will prosper spiritually.
LUCKY COLOUR- MAGENTA
LUCKY NUMBER- 1