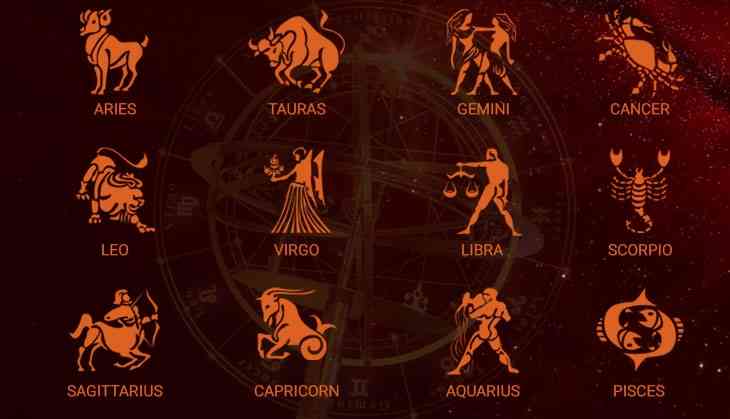 1. ARIES
All the Arians will be full of challenges but you will be ready to accept them full-heartedly. You will turn out to be a winner in all the situations. Your planetary positions also suggest that you will have to work hard to achieve that desired level of success. Stick hard on your assignments well to achieve well.
LUCKY COLOUR- PEACH
LUCKY NUMBER- 4
2. TAURUS
Self-motivation and the quality of perseverance are a must for today. Improve your skills and act more responsively to all the opportunities that will come in your way. Mighty Sun in the tenth house indicates success for you. Keep your eyes wide open to recognize them.
LUCKY COLOUR- MAGENTA
LUCKY NUMBER- 1
3. GEMINI
Today will bring growth for you but for that you will have to be patient and that is when the expected results will start getting in. Your year will be like the sea tides, there will be highs and there will be lows but it will all happen to test your ability and skills. Stay grounded to earth and do the best you can to achieve your goal.
LUCKY COLOUR- GREEN
LUCKY NUMBER- 5
4. CANCER
Today you should try to take some pragmatic approach towards your work so that things can go smooth throughout. You might visit abroad very soon and your ability will be tested. Waiting patiently and keep applying is to help you sail through the challenging, testing times ahead.
LUCKY COLOUR- YELLOW
LUCKY NUMBER- 9
5. LEO
If you've been trying to woo someone from quite a long time then today will work wonders for you. But make sure you don't shirk responsibilities and complete your pending projects before your boss comes asking for them. Get ready for your loved one in the best way possible because first impression is surely the last.
LUCKY COLOUR- GREY
LUCKY NUMBER- 3
6. VIRGO
Whatever you do today, make sure that you spend the evening with someone special. Love is apt to be very expansive for you. Just the smallest seed will blossom into a gorgeous flower right before your eyes.
LUCKY COLOUR- BROWN
LUCKY NUMBER- 6
7. LIBRA
You might find a few obstacles in your path today which will be more like an emotional roadblock. It could be anything, but it's likely to be something from your past. Whatever it is, try to understand that it is trying to tell you something. Take the opportunity to look at whatever has been going on lately and figure it out.
LUCKY COLOUR- SILVER
LUCKY NUMBER- 7
8. SCORPIO
You will have to get more responsible at you workplace because you seniors are keeping a watch on what you are doing. On the personal front, you will also feel that the emotional connect between you and your partner is decreasing and so you will work hard to reduce that gap.
LUCKY COLOUR- BROWN
LUCKY NUMBER- 6
9. SAGITTARIUS
Nothing can stop you today. You've got a tremendous amount of power at your disposal, so use it wisely. You will surely accomplish alot and will make so drastic andy positive transformations in your life. Your love and sex life may be especially active.
LUCKY COLOUR- CYAN
LUCKY NUMBER- 4
10. CAPRICORN
You may want to use your reputation to benefit a good cause, so check out your local charities. Help out in any way you can. Your work will be reassessed today and you will be appreciated for your quality of work which will boost your confidence. Professional advancement is possible, but do not press too hard yet.
LUCKY COLOUR- BLACK
LUCKY NUMBER- 1
11. AQUARIUS
Today is a day when you will dedicate your maximum time praying and will visit some temple or other devotional place to thank the Almighty for all that he has given to you. You can also visit a well-known astrologer to know what is in store for you next but all that he will suggest is the improvement that needs to be done in your lifestyle.
LUCKY COLOUR- RED
LUCKY NUMBER- 7
12. PISCES
It's possible that you might feel obliged and tired with your own thinking. But you don't need to feel disturbed about it because it's entirely normal to feel this way. If you are a creative person then pick a paint brush and express your thought and if you are a writer then write down your opinion about whatever is bothering you.
LUCKY COLOUR- DARK BLUE
LUCKY NUMBER- 2