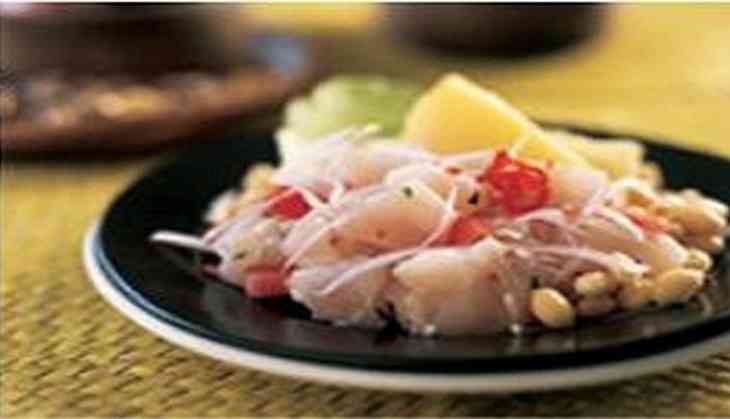 It's spring rolls, Thai curry and chowmein-free zone. Rosang, where spices and herbs are sourced from all the eight states of northeast India to acquaint foodies of the country's capital with flavours of the region, is back in a bigger avatar.
After a gap of six months, Rosang (God's gift) has reopened here at Green Park Extension. This time in a more spacious area and with more food options from Arunachal Pradesh, Assam, Manipur, Meghalaya, Mizoram, Nagaland, Sikkim and Tripura.
"Rosang started over a decade ago in Munirka. But unfortunately, we had to shut down. Sometimes, it was because of the problem of disposing of waste in Hauz Khas and sometimes because of space.
"We just had five tables in the Green Park Extension restaurant. I had big dreams, so I wanted a bigger space. This one can accomodate as many as 68 people at one time," said Mary Lalboi, Managing Director, Rosang, during a property walk with this IANS correspondent.
"I also have plans to expand to cities like Mumbai, Pune and Kolkata. We have many loyal customers from there who book tables here whenever they come to Delhi," she added.
A walk into the restaurant will automatically transport you to the green tea gardens of Assam or Mizoram where men and women energetically match steps during the bamboo dance, or the women-run Ima market of Manipur, thanks to the photographs hung on the wall.
The images on the stairway walls, on the other hand, boast the restaurant's celebrated guests like Kalki Koechlin, Adil Hussain, Mary Kom and Vikas Khanna.
The first floor is still in the works. Unlike the previous branches, the restaurant, launched in the end of June, might have a new addition -- a bar.
"I want the people of north India to taste our rice beer," she said.
What's new on the menu?
"Our motto remains the same -- to serve delicacies from all the eight northeast Indian states and no Chinese food items which have increasingly become associated with the region.
"The popular northeast Indian dishes like pork spare ribs, maroi bora and mangal ooti are still there. We will soon get a chef who will also prepare Manipuri paknam," said Lalboi who already has one chef, Thang, from her hometown -- Churachandpur in Manipur -- along with Lian from the state's Sadar Hills.
Lalboi also attempts to bust the myth that northeasterners only eat "hardcore non-vegetarian food".
"Many people think that northeast Indian cuisine is all about pork, dog meat or snakes. That's not true. We do love chicken, fish and pork, but we also dig into green veggies," she said.
And she's right. The menu has a good long list of vegetarian dishes like kelli channa (spicy peas snack), bai (a seasonal mixed vegetable stew), aloo pitika (mashed potatoes dish) and sana thongba (diced cottage cheese dish).
What to dig into?
Nghui Ngosing will win your heart just with its presentation. Neatly wrapped in banana leaves and burnt, the fish appetizer from Arunachal Pradesh will remind Manipuris of Paknam, which is also wrapped in a similar way. With a punch of tomato flavour, the mildly spiced fish just melts in the mouth.
From the main course, you must try the mangal ooti, a peas dish that is popularly served with khichdi in Manipur during the Kang festival, which just concluded. But you can also eat it with steamed white or black rice.
Weight conscious? Try the aksa meh, a chicken dish from Mizoram. There is no greasiness and it is loaded with vegetables.
Fermented bamboo shoot, with its overpowering aroma, is one of the essential ingredients of northeast cuisine. So, if you are at a northeast Indian restaurant, you can't step out without satiating your taste buds with it. Go for honoso rhuchii rhujon -- chicken cooked in traditional Naga style -- to get a taste of it.
The non-alcoholic beverage and dessert sections can be worked on as the list ends before it begins.
Nevertheless, you can get a taste of northeast Indian flavours at just Rs 1,200 (meal for two) under one roof.
-IANS