The Badmash Peepal: Saving cows with a little help from Lord Krishna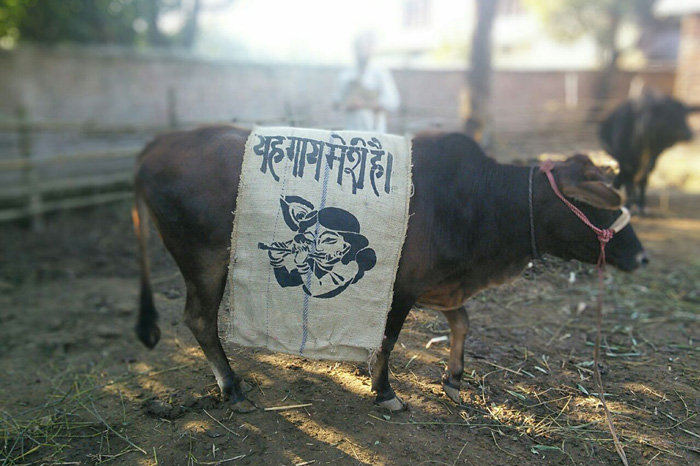 Remember Aamir Khan, the alien, pasting stickers of gods on both cheeks to save himself from the wrath of earthlings in "PK"?
An ex-Silicon Valley entrepreneur and an American community worker are doing much the same. Albeit to save cows from the wrath of earthlings.
No, Robin Singh and Joellen Anderson are not passionate cow protectors with a Hindutva agenda. But two apolitical beings trying to help cows with a little help from Lord Krishna. The saviour of cows.
Singh and Anderson are trying to put the fear of god into farmers guilty of harming cows. Of course, it can go horribly wrong in today's India, but they are willing to take a chance.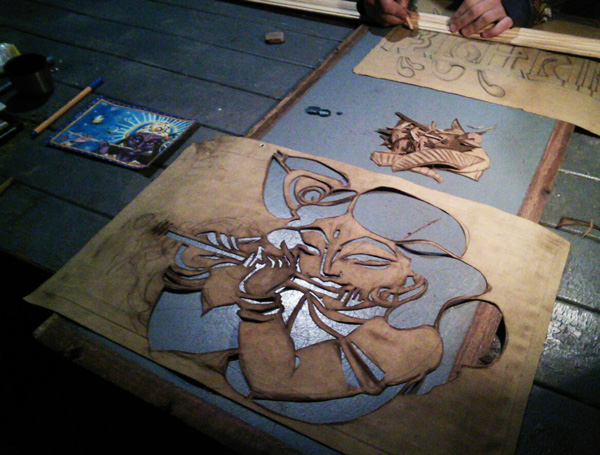 This cow is mine
Singh and Anderson call themselves the Badmash Peepal. And their project to save the cows of Dharamsala is CultureJam#01.
"Like the miscreant Peepal tree which takes root and dismantles existing structures, we subvert the cultural status-quo to foster compassion and good work," says Singh.
"Cows enter fields and get beaten by farmers. Farmers do have a choice to chase them away with water and that is the only legal choice. Still, they use sticks and sickles and cows lose horns and get fractures and maggot wounds. This is not right. We thought if they are not afraid of the law, maybe they will be afraid of the Lord."
On January 3, Singh and Anderson made cows sport jerseys of gunny sacks with markings of Lord Krishna and a quote, "This cow is mine", in Hindi.
"Hopefully, when the farmers are chasing away stray cows from their fields, they won't at least hit them with rocks or sticks or sickles."
Uncanny resemblance
Aamir Khan averted a lot of trouble in "PK" by pasting stickers of gods on his cheeks in the nick of time.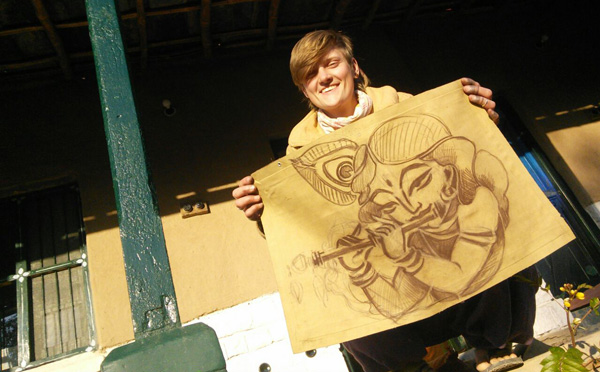 However, the idea of Lord Krishna saving cows hasn't come from the film.
"We haven't seen the movie. I don't own a television," reveals Singh.
"I came up with the idea, and then everyone got excited about it and ran with it. I don't care about credit, but if someone needs to get in trouble, it should be me."
But the reaction to cows wearing jerseys with an image of Lord Krishna is also uncannily similar to "PK".
"So far, people laugh and like it and say 'sahi baat hai'. There is no crowd with pitchforks and torches at the gate. So, all in all, it seems to be going well," says Singh.
Singh is hopeful the movement will spread across India.
"It does not have to stay in our little village. This should spread all over India."
How it all began
Singh went to the US in 2003. But his "quest for purpose" finally made him move back to India in 2012 to help reduce the suffering of animals.
"My partner-in-crime is Joellen, who is a community organiser and a long term humane society volunteer. We are not an organisation, just people doing our best to live purposeful lives," he says.
"To that end, we have made our farm in a way that it can not only accommodate injured animals but also creative people who want to help animals. So instead of a swimming pool, we have a cow shed. Instead of a media room, we have a clinic."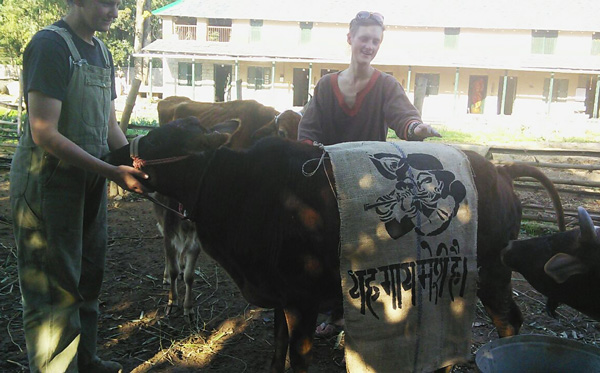 Singh and Anderson believe in not only doing good, but enabling people to do good. Culture Jamming is one of the ways to bring about change.
"It's poor man's advertising. It gets the attention of 95 percent people that awareness does not. Our work on the ground, helping one animal at a time, only goes so far. It has inherent benefit to the animal being treated and sets a good example of compassion."
Desi log, Desi dog
Singh and Anderson are not just thinking cow welfare, but also dog welfare.
They are promoting "Desi log, Desi dog" as a catch phrase to encourage people to adopt Indian dogs and not shop for pedigrees.
Singh wants desi dogs to become an option when people decide that they want a dog.
"If I can get funding, I'll like to start an Auroville in Himalayas," he says.
He points out the ironies of urban living, where most get sucked in by what pours in on TV screens than what is happening in their backyard.
"Instead of paying attention to the situation that needs help in your own backyard, people are in despair about things happening far away that they can't do anything about and give up and drown that drive in work and entertainment," he adds.
But, for now, Singh and Anderson are the voice of the cows.