#SalmanKhan walks free: the story of the eyewitness deemed 'inadmissible'
Parth MN
| Updated on: 14 February 2017, 12:40 IST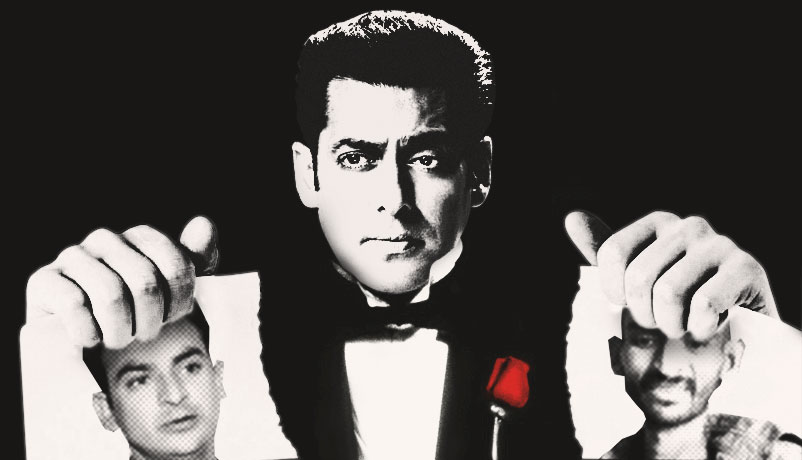 The eyewitness
Police constable Ravindra Patil was made Salman Khan\'s bodyguard on 22 August 2002
Five weeks later, he was sitting next to Salman when the actor allegedly killed one person and injured five others in a hit-and-run case
It was Patil who reported the incident to Bandra police station, and confirmed the actor had been inebriated
His death
His friends and colleagues claim he was threatened and offered bribes to change his statement for years
Ravindra ran away and missed five hearings. He was later arrested and jailed
Upon his release, he lost his job, contracted TB, took up alcohol and drank himself to death
More in the story
Why the police department didn\'t take care of one of their own
Ravindra\'s family opens up about his ordeal
On 10 December, superstar Salman Khan walked free in the infamous hit-and-run case, in which he was the prime accused. The Mumbai High Court decreed that the prosecution had not made a strong enough case against him. Curiously, the testimony of Ravindra Patil -- Khan's bodyguard, an eye witness who was in the car with him that fateful night -- was deemed legally "inadmissible".
This is an account of that bodyguard -- what he said, how he stood his ground, and how he went over the edge.
On 3 October 2007, doctors at Mumbai's Sewri Tuberculosis hospital received a "gasping call" at 11 PM. A patient had become breathless. In spite of promptly providing the required oxygen, glucose and steroids, his condition remained the same for the next 10 minutes. At 11.15, the body stopped responding. Five minutes later, he was declared dead.
Read: Salman Khan acquitted of all charges in hit-and-run case
When police constable Ravindra Patil was appointed as Salman Khan's personal security guard on 22 August 2002, he would have hardly anticipated an end like that in just over five years.
Today, as Salman walks scot free after being acquitted by the Bombay High Court in the 2002 hit-and-run case, it's imperative to tell the story of Ravindra and how this key witness in the case succumbed to a combination of coercion and desertion by those he served.
The testimony that changed his life
In the wee hours of 28 September 2002, Salman's Toyota Land Cruiser hit the American Express bakery in the Bandra area of Mumbai. The vehicle ran over five people sleeping on the pavement, killing 38-year-old Noor Ullah Khan and injuring four others. However, merely five weeks into his new job, the incident triggered the disturbing journey of Ravindra, who was sitting beside the actor in the car.
Soon after the mishap, Salman slid out of the spot while Ravindra, living up to his duty as a policeman, approached Bandra police station and testified that Salman, under the influence of alcohol, was behind the wheel.
"I told the accused to slow down as a right turn was coming up. He ignored me. The accused lost control of the car while taking a turn and drove right on to the footpath," reads Ravindra's statement. "The incident took place because the car was in speed and the accused, in a drunken state, could not control the car while taking the turn."
Ravindra Patil was in the car when the incident happened & reported it to the Bandra police station
Little did he know that his miseries had just begun.
"His fortunes turned around for the worse dramatically," rues his friend Dattatray Jadhav, 53, who lived in building number four of the Naigaon Police Quarters in Mumbai while Ravindra resided in number three. "A sincere man went berserk after the accident."
As the proceedings unfolded, it became clear that Ravindra's testimony would prove pivotal in deciding Salman's fortunes. With singer Kamaal Khan, who was also present in the car, fleeing the country, Ravindra had become the prime witness.
Subsequently, he came under enormous pressure to retract the statement. However, he bravely stood by his statement in the magistrate court in January 2006. "He was being constantly threatened. He was offered a lot of money as well," said Jadhav. "Regular threat calls eventually got to him. He started crumbling mentally."
Police clueless about threats
In a state of panic, Ravindra reportedly went absconding to avoid Salman's lawyers and missed five consecutive hearings. He had also alleged harassment within the police force. When the court asked about his irregularities, the police department said that he had gone on leave without informing. His brother had also filed a 'missing' complaint.
In March 2006, he was found hiding in a hotel at Mahabaleshwar. "I asked him about his unusual behaviour," said Youhan Makasare, a prosecutor who was on the case until 2011. "He said he was being threatened and it stressed him out. I told him to alert his seniors."
Also read- Salman hit and run case: Bombay HC questions witness' reliability
Kisan Shengal, the former investigating officer of this case, said if Ravindra received threats, he did not inform the police department. "I have no idea about Ravindra being in danger. And to the best of my knowledge, neither does the police department," he said. "If he received threats, why did he not notify the court during his deposition? He appeared in the court for his testimony for 2-3 successive days, but did not say anything."
According to Jadhav, though, Ravindra had indeed informed his seniors. "On the contrary, he was advised to accept money and get out of the quagmire," he recalls Ravindra confiding hopelessly. "The police department knew everything but did nothing."
Lower court conviction
Despite being under pressure, Ravindra did not change his statement until his last breath. On 6 May 2015, the sessions court found Salman guilty based on his testimony. "It was Patil's testimony which helped in convicting Salman Khan on all charges and sentencing him to five years imprisonment," public prosecutor Pradeep Gharat told reporters after the verdict.
The court proceedings were followed closely in Ravindra's hometown of Dhule, around 330 kilometres from Mumbai. His family felt vindicated after the verdict, but merely three days later, their faith in the Indian judicial system was dashed after Salman swiftly received bail.
Senior cops claim Ravindra had never informed the department that he was getting threats
"We are fed up of the media. We have done many interviews," said a frustrated Vandana Patil, wife of Virendra, Ravindra's elder brother. "We have come to the conclusion that these interviews are irrelevant. They are big people who cannot be troubled."
After much imploring and persuasion, Ravindra's mother Sushilabai agreed to talk. "He did get threats," she confirmed. "But he never mentioned who was behind them. The accident changed his behaviour significantly. He started bickering. He became short-tempered. It was never a part of his nature."
When asked whether the police department had extended any support, a tearful Vandana regretfully shook her head.
Senior advocate Abha Singh opined the superior officers who did not heed to Ravindra's complaints must be "brought to book" for failing to protect one of their own. "The police department stands exposed," she said. "Instead of protecting a prime witness, he was terrorised."
Surprisingly, the man who dutifully informed the police about the accident had a non-bailable warrant issued against him for missing five hearings; while the accused enjoyed 83 exemptions in 10 years.
"A system which is so liberal to criminals becomes so strict with one of its own people," said Singh. "The treatment meted out to Ravindra is odd."
Spiralling out of control
As soon as Ravindra was found in Mahabaleshwar, the force he served eagerly arrested him and locked him up in the Arthur Road Jail, along with hardened criminals. Ravindra was reportedly tortured at the jail and, later that year, in November 2006, he was kicked off the police force.
When the jobless Ravindra walked out of jail, his resolve was broken. He sought refuge in drinking, and was diagnosed with tuberculosis in early March 2007. Apparently, the Arthur Road Jail, Mumbai's largest and oldest, has high rates of AIDS and TB.
Ravindra started the government's 'category one' treatment to get rid of the illness, but left it abruptly within three months. However, the drinking went on uninterrupted. His medical papers describe him as a 'chronic alcoholic'. The incessant consumption of liquor particularly surprised the residents of the Naigaon police quarters, as they never saw him high on alcohol.
Read more: Salman Khan was not driving the car - Kamal Khan on 2002 Hit and Run Case
Slowly and steadily, Ravindra, a 1998 batch constable who was trained as a commando to join the Special Operations Squad (SOS), was reduced to a pile of bones. He was in a wretched state, weighing 38 kilos, when his friend Sushant Sawant finally admitted him to Sewri TB hospital on 11 August 2007.
"Ravindra had lost his job and was persistently drinking. He was destitute," said a police constable who lives in Naigaon police quarters, requesting anonymity. "Some of us who knew him a bit arranged food for him. But he rarely consumed it. All he wanted was alcohol."
Residents of the police quarters say, Ravindra, before being admitted to the hospital, had become so frail that trudging all the way to his room on the third floor proved too much of a task, compelling him to sleep on the streets.
"It was a tragic turn of events for a man as handsome and well-built as him," said Jadhav, who took voluntary retirement in 2009. "The boys in the society used to look up to him. He was Salman's bodyguard after all. But he never threw his weight around."
Ironically, when Ravindra was struggling to stand on his own feet, Salman, on 28 July 2007, just a few days before Ravindra's hospitalisation, launched his new charitable initiative, titled "Being Human".
Deserted by family?
Ravindra's family back home in Dhule was initially not aware of the gravity of the situation. When the news of his hospitalisation came in, nobody travelled out to visit him, raising speculations of the family abandoning him.
However, Sushilabai denies this. "We did not visit him because Ravindra had categorically told us not to," she said. "He was worried the family would also be hounded the way he had been. He wanted us to live in peace."
Sushilabai says Ravindra's trips to Dhule decreased considerably after the accident, precisely for the same reason. "Someone was always keeping tabs on him. He was concerned that a visit to Dhule would lead them to us," she said. "Later on, he would occasionally arrive at odd hours, spend some time and leave before sunrise."
Ravindra was kicked off the police force, contracted TB, took up alcohol and drank himself to death
Ravindra's elder brother Virendra, 46, who works as a constable with the State Reserve Police Force in Dhule, did not even come out of his room. Local journalists say his seniors have chastised him for speaking out in the media. Another elder brother, Kailash, is also a constable with Mumbai Police. He too refused to comment.
The manner in which Ravindra's case has panned out deserves an inquiry, according to Abha Singh. "A law upholder does not become a law breaker for no reason," she said. "He was part of a disciplined force and later turned hostile. Even if it is as late as now, it needs to be investigated if there was police pressure, money pressure or underworld pressure on him."
Death of a policeman
As Salman churned out superhit after superhit, his former bodyguard was counting his last days. Ravindra consequently died penniless at the hospital with nobody at his bedside.
By the time he was admitted, both his lungs had fatally deteriorated. He repeatedly got breathless. His feet were swollen. Within two days of admitting him, he was bombarded with steroids and medicines for TB, asthma and cough. He was constantly on saline and was provided five litres of oxygen per minute, which is a high amount.
Moreover, bronchodilators were applied to elevate his breathing capacity. Even all of this combined was not enough to keep Ravindra alive for two months. He eventually succumbed, weighing 35 kilos, three less than at the time of being hospitalised.
When a worker from the hospital reached Ravindra's Naigaon residence with the message of his death, he found the room sealed. He inquired with neighbours but they did not have any clue about his relatives.
Kailash got the news of his demise and he rushed to the hospital to claim the body. However, he was told this could not be done as the signature of Sawant, who had admitted him, would be required to release the body. Sawant had vanished, fearing unwanted queries, but Ravindra's friends found him eventually and got the job done. Ravindra's body was later taken to Dhule.
Two days before Ravindra's death, he had reportedly expressed his desire to live to tell the tale. "I stood by my statement till the end, but my department did not stand by me. I want my job back. I want to survive. I want to meet the police commissioner once," he told his friend, according to Mid Day.
Ravindra's tragedy infuriates his colleagues at the Naigaon police quarters. They blame Salman for his misery and loathe the system that neglected their friend. "Ravindra was not murdered," says Jadhav. "But he was definitely pushed towards the doorstep of death."
More in Catch:
Salman Khan hit-and-run case: 'Kamaal Khan appeared thrice, yet not examined'
Vidrohi, the last people's poet in Hindi, departs
Revamp of Delhi school education: Kejriwal's 'historic' mistake
Look Ma, no hands: mind control is the future of cars