Harvard, MIT students on annual #24hourfast to make Modi #CleanUpBhopal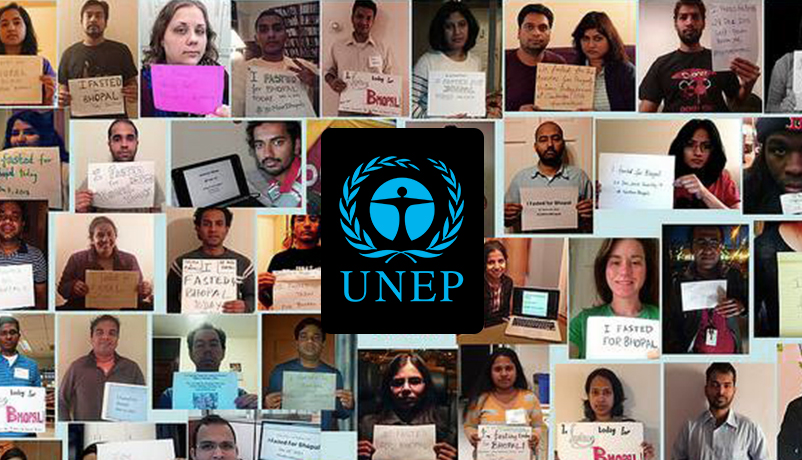 When the suffering is enormous, every gesture of solidarity counts.
More so if the gesture is for the voiceless victims of Bhopal's Gas Tragedy from students of America's elite academic institutions.
Students of Harvard University and Massachusetts Institute of Technology started a relay fast for the victims in December 2013. As the 31st anniversary of the world's worst industrial disaster approaches, their efforts to garner support for the cause have doubled.
Typically, the students pick a day that they want to fast and refrain from eating - with the more practised forgoing liquids too - for 24 hours.
They then post a picture of themselves with a message targeting the actors: "I am fasting for Bhopal. #DowChemicals #CleanUpBhopal #24hourfast".
During the night of December 2-3, 1984, 40 tonnes of poisonous Methyl Isocyanate gas leaked from a pesticide plant in Bhopal owned by Union Carbide Corporation. An estimated 30,000 people have died so far and the number of those suffering from various disabilities has reached a staggering 500,000.
Devon Jensen, a student who has been at the forefront of the movement says, "The solidarity fast is a bit different from last year's. We encourage people to fast any time between September 3 and December 3, and they let us know when they'll fast via simple registration forms online."
There are no guidelines or quotas for the number or order of people fasting. Apart from students, people from all walks of lives are encouraged to join in."
As the 'anniversary' approaches, we will revamp efforts to get as many people to fast as possible."
People who fast are encouraged to ask their families and friends to donate to causes that benefit the victims of the gas tragedy. Or to themselves donate the amount they would have spent on food on the day of their fast.
Shashank Shukla was enrolled at Harvard's Kennedy School of Government when he decided to reignite the debate around the "mass murder".
He now lives in Lucknow and fasts every Tuesday.
"The fast was held daily last year and the relay continued for 365 days without a break with people participating from across the world. Now a dedicated team continues the fast as per their own designated days. But it's not every day."
Jensen points out the idea of a global solidarity fast started with the Bhopali activists, who have led staunch hunger strikes and protracted fasts to bring media and community attention to their demands.
What's their aim? Most students are asking PM Modi to accept the United Nations Environmental Programme's offer to make a comprehensive assessment of the site - a step necessary for a proper clean-up. This is an offer the Indian government had rejected.
"Please also post a picture of yourself with a sign (or just a sign), saying: 'Prime Minister Modi, accept UNEP's offer! Time to clean up Bhopal', and share with us on Twitter (ICJBhopal) and Facebook (Global Solidarity Fast for Bhopal)," says Jensen.
In 1989, the Supreme Court approved a settlement between the Indian government and Union Carbide that gave Rs 713 crore as compensation to victims estimated at 3,000 dead and over 100,000 injured.
Other surviving families have been struggling to get justice since then.
In 2001, Union Carbide was acquired by Dow Chemical Company, a US-based chemicals behemoth that has since refused to acknowledge any responsibility for the actions of its subsidiary.
The students cite a study by the Bhopal Medical Appeal which confirmed the presence of organochlorine compounds in quantities massively exceeding WHO & UN Environmental Protection Agency drinking water guidelines.
"Chloroform concentrations exceeded guideline values by a factor of between four and seven times and carbon tetrachloride between 900 and 2,400 times.
"According to the EPA, both chloroform and carbon tetrachloride are probable human carcinogens. The water should not even be used for washing as the concentration of solvents present may cause skin problems," reads a post on their Facebook page.
Jensen says the impact for the victims only goes as far as we make it. The NGOs which are pushing for justice for Bhopal's victims are providing vital health services to the most critically injured, run primarily from donations from private individuals.
"Thus, any time those fasting are able to encourage their family members or others in their networks to donate or to otherwise support the restorative effort, we know that the victims of Bhopal are better able to pursue recompense for Dow Chemical's lethal impunity."
Jensen has never visited Bhopal.
But he's happy that over the past two years, he has had around 100 people join in the solidarity fast.