From Ashley Madison to sex in space - 2015 has been the Year of Lust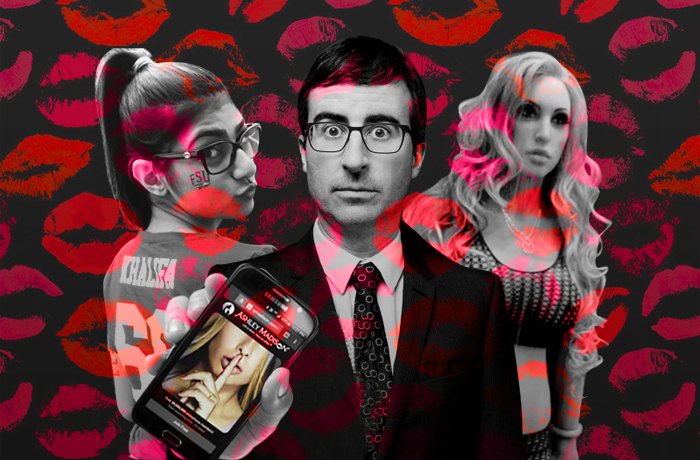 If sex sells then lust is currency, and the world's been spending big this past year.
The pretence of puritanism is high but enough went on this year to prove otherwise. Skim over the headlines and the words sex, porn, infidelity showed up over and over. We tracked the year's key moments and came to the conclusion that 2015 was the year of lust.
01
Mia Khalifa, the mainstream pornstar
Pornstars have been around for a while, and though we've usually pretended not to know of any, they got a lot harder to ignore this year. Sure, we've had the likes of Sunny Leone who've transitioned into the mainstream, but only after giving up porn.
A new breed of outspoken porn stars has changed that forever, though, and this year Mia Khalifa led the brigade.
After being voted the world's number 1 pornstar, the Lebanese-origin stunner began to receive death threats from disgruntled Muslims in her home country.
In days gone by it would've been enough to send anyone running for cover. Not Khalifa, who responded with class, spine and not an ounce of regret:
"@abdallahbakrr: @miakhalifa ur head will be cut soon inshallah" long as it's not my tits. They were expensive.

- Mia Khalifa (@miakhalifa) January 5, 2015
Sunny Leone had already made porn a living room conversation in India but with Khalifa's blunt refusal to cow down and be shamed, porn became more than conversation - the world had found a pornstar it respected.
Read more: Bigg Boss 9: Porn star Mia Khalifa refuses to be part of Salman Khan's reality show
02
Pornhub tried taking sex to a whole new level... SPACE
What Mia Khalifa did for porn as a profession, Pornhub did for porn as a genre.
Ranked 64th most popular website in the world according to Alexa, it's the only adult site in the top 100. But Pornhub has done more than just serve as the world's go-to spank bank. They're pushing boundaries, making porn harder to ignore and easier to accept.
The key to that is visibility, and don't Pornhub know it.
Read more: How to get a $25,000 scholarship from PornHub? No, you can't send a sex video
Already this year they've launched a scholarship programme that got tongues wagging. But by far the craziest thing they did was to try and crowdfund the world's first porno - Sexplorations - to be shot entirely in space.
They only managed to raise $250,000 of their $3.4 million goal - but they sure as hell achieved their mission. Everyone was talking about it - whether you loved the idea, hated it or wanted to give up citizenship of the planet, the one thing you couldn't do was ignore it.
03
Indian politicians actually believed they could ban porn - and learned otherwise
Where there's porn, there's an Indian - Pornhub's stats show we're the site's third-largest market.
That didn't prevent - or may be why - the powers-that-be decided they needed to fight back. Overnight, 857 porn sites were blocked.
Except in taking on sex, the ban-ers had taken on more than they could handle - because if there's one thing that unites all mankind (and we use the word gender-neutrally), it's free porn.
Read more: If you try to watch porn on MTNL, Spectranet connections, you might fail. #AchheDin?
Within minutes of the ban the government was being roasted on social media, with even adult streaming site Xvideos weighing in:
Porn ban in India / XVideos blocked http://t.co/9enwlSBpKk Vote better next time!

- XVIDEOS.COM (@xvideoscom) August 3, 2015
Even Chetan Bhagat sounded agreeable for a change:
Don't ban porn. Ban men ogling, leering, brushing past, groping, molesting, abusing, humiliating and raping women. Ban non-consent. Not sex.

- Chetan Bhagat (@chetan_bhagat) August 3, 2015
A combination of two things - angry protests and the technical unenforceability of banning it - made the government relent.
Not before John Oliver had had a chance to weigh in, though.
04
Ashley Madison showed that infidelity isn't just something that happens to others
"Life's short, have an affair", the tagline of Ashley Madison, seemed like a good idea to millions who signed up to the site.
Except, in an ironic twist, at least two lives were actually shortened when a massive hack compromised the identities of ALL Ashley Madison's would-be cheaters.
Over 33 million users found their personal data - and really, it doesn't get more personal than soliciting an extra-marital affair - in the hands of hackers.
Read more: Thank god for Ashley Madison: we need to talk about cheating
The hack discredited Ashley Madison entirely - and not just because of its nonexistent security. It also showed that a huge number of fake IDs and miniscule amount of women users make up the site's database.
What it did succeed in doing? Bringing the reality of adultery and infidelity into mainstream conversation.
From something generally relegated to the skeezier corners of the internet, cheating was headline news around the world for weeks. And as the full extent of the hack was finally revealed, society was forced to accept that cheaters, or would-be cheaters, walk among us - and they range from pastors to politicians and pretty much everyone in between.
Read more: Dangerous Morality: over 12 million Ashley Madison users are single
05
Forget the rise of the machines, sex machines are taking over
Apparently, man's advances in engineering are meaningless if it isn't going to get him some action... which is the only kind of thinking that explains sex robots.
Some scientists are currently worried that robots will replace people in the workforce, but they may also replace us between the sheets if some engineers have their way.
And 2015 is year that began it all.
Read more: Robots are so mainstream, we're now having sex with them. Say hello to Sexbot
There already exist a whole range of sex robots capable of pleasuring you in ways no partner physically could. We even successfully raised over GBP 50,000 to crowdfund the world's most customisable vibrator.
But all of that pales in comparison with what's to come.
Studies by futurologists have shown that by 2050, human-robot sex will overtake human-human sex. Leading the revolution will, it seems, be RealDoll.
Earlier this year, Matt McMullen, CEO of RealDoll, announced plans to develop fully customisable sex robots like Denise who are capable of conversation. The idea isn't to just have a mate, but a partner - one as close to a real relationship as possible.
Or rather, that's the plan on paper. In reality, the robots might have some say in how that goes.