Cheat Sheet: 14 things we learned from Sean Penn's epic interview of El Chapo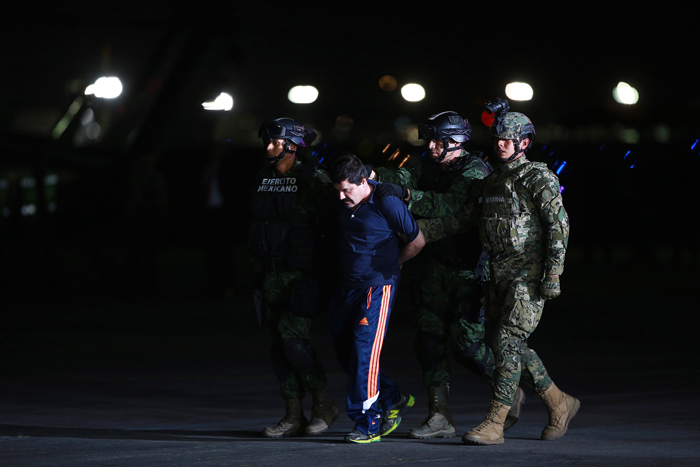 Before the recapture of Mexico's drug kingpin Joaquin 'El Chapo' Guzman that lived up to Hollywood-style gang wars, complete with heavy gunfire and a chase through a sewer system, came an even more melodramatic episode: the criminal warlord met an actor.
And gave him an interview.
Unless you've been vacationing on Mars the last week, you know the actor is Sean Penn, and that he's just published the interview in Rolling Stone.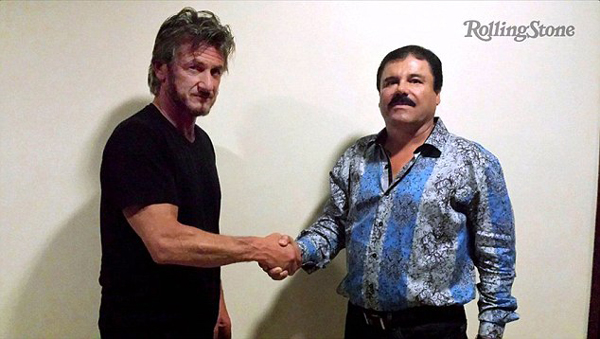 El Chapo had been on the run after an audacious escape from prison last year. The interview was brokered by Mexican actress Kate del Castillo who, interestingly, played a drug kingpin on a soap opera.
The chronology of events that transpired prior to the interview is epic enough to demand its own soap.
Also read: Was the H-bomb test for real? World bombs North Korea with doubts
For the interview, Penn and Castillo took off from Los Angeles to an unnamed Mexican city. Thereafter, they were driven to another airport, boarded a two-hour flight and were then driven in a truck convoy for seven hours.
They finally reached a cluster of bungalows where the fugitive met them - and then gave Penn a seven hour interview at his jungle hideout!
It all started with a tweet
Castillo had once posted a Twitter message, "Today, I believe more in El Chapo Guzman than in the governments that hide all the truths, even if they are painful, those same governments that hide the cure for cancer and HIV, etc for their own benefit and wealth".
That tweet then led to a conversation between Guzman's lawyers and Castillo, and then - about two years later - direct correspondence with one of the world's 'most wanted men'.
At the time of the correspondence, Guzman was imprisoned and wanted Castillo to make a movie on his life.
After Guzman escaped from prison, Penn met Castillo in Los Angeles. On talking to Penn, Castillo and all involved in the film realised that writing a magazine story would be an easier way to tell the story. According to Penn, Guzman agreed to the interview not for him, but because he wanted to meet Castillo. "I felt increasingly that I had arrived as a curiosity to him."
Penn had contacted Rolling Stone founder Jann Wenner a couple of months earlier with the idea for an interview. For a couple of days, Penn was unreachable, but resurfaced and told Wenner that the interview had been done.
What followed was weeks in which there was nothing but Penn, Wenner and Penn's draft of the article. Before the story was published, though, the magazine gave it back to Guzman to read and approve.
Also read: Chill! No more envy: Netflix is now in India
It seems - on the face of it - coincidence that Guzman was recently rearrested, just prior to the publication of the article but much after the interview had taken place. Mexican authorities recaptured Guzman after a shootout in his native Sinaloa in which six people were killed.
When the article hit, media reports went into overdrive, questioning whether Penn himself had anything to do with the arrest on Friday, 8 January.
Before the interview was published, US officials said their tracking of cellphones and electronic exchanges of those close to Guzman led to the recapture. What aided Mexican authorities the most? The fact that Guzman's representatives had contacted actors and filmmakers about a possible biopic. The officials confirmed on Sunday that they had been specifically referring to Penn and his associates.
Guzman is now back in the same prison from which he escaped back in July of 2015. That may not be for long, though - Interpol agents served him extradition papers yesterday, since he faces seven drug-related indictments in different parts of the United States. What's next is a legal wrangle that will take months: Guzman's lawyers have already filed to fight the extradition.
Legal analysts have said Penn and Castillo broke no rules during the whole process of getting the interview and its subsequent publication by Rolling Stone.
What we learnt from the interview - the good, the bad and the weird
1. The interview part of the story was done on a Blackberry
"Upon meeting Penn, the drug kingpin consented to an interview at a later time. Ultimately, it proved impossible to do the interview in-person, but Penn sent questions by BBM device and Chapo agreed to record his responses on videotape. Without being present, Penn could neither control the questioning, nor prod for elaborations into his responses. The video that Chapo sent back - two minutes of which you can view above - represents what we believe to be the notorious drug lord's first-ever interview outside an interrogation."
2. Guzman wanted to approve before publication
Sean Penn had to send his story back to El Chapo before publishing. This is according to an editor's note at the very top of the article. Good for Penn and Rolling Stone, since it says "Subject did not ask for any changes."
The future of journalism is a celebrity working for free & the subject pre-approving the article they've written. pic.twitter.com/xcPiXVZ8Xj

- Nick Bilton (@nickbilton) January 10, 2016
3. He says he's the biggest drug lord in the world
"I supply more heroin, methamphetamine, cocaine and marijuana than anybody else in the world. I have a fleet of submarines, airplanes, trucks and boats."
Don't worry about calling El Chapo a drug lord - he does it himself
4. But he's drug-free himself (that's El Chapo, not Penn)
Guzman has been drug free for over 20 years, he told Penn during the interview. He had "tried them many years ago" but never became an addict.
5. Not big on the booze, either
"I don't usually drink," Guzman says, "but I want to drink with you."
And he did. Penn's piece recounts that they drank tequila together before Guzman agreed to the formal interview.
He may be the world's biggest drug lord, but El Chapo doesn't do drugs, and isn't big on booze either
6. He doesn't consider himself a violent person
"Look, all I do is defend myself, nothing more," he told Penn when asked, "Are you prone to violence, or do you use it as a last resort?" "But do I start trouble? Never."
Also read: Yule logs have taken over the internet. And no, we're not talking about cake
7. Guzman has met Escobar
"Did you know Pablo Escobar?" asked Penn. "Yes, I met him once at his house. Big house," Guzman answered.
8. Farting is a moment they share together
"In a narrow, dark passage between ours and an adjacent bungalow, Chapo puts his arm over my shoulder and renews his request that I see him in eight days. 'I'll be saying goodbye now,' he says. At this moment, I expel a minor traveller's flatulence (sorry), and with it, I experience the same chivalry he'd offered when putting Kate to bed, as he pretends not to notice. We escape its subtle brume, and I join my colleagues inside the bungalow."
Also read: The big list of the biggest Hollywood films coming your way in 2016
9. Technology isn't his best friend
This is how Penn's article begins: "My head is swimming, labelling TracPhones (burners), one per contact, one per day, destroy, burn, buy, balancing levels of encryption, mirroring through Blackphones, anonymous e-mail addresses, unsent messages accessed in draft form. It's a clandestine horror show for the single most technologically illiterate man left standing. At 55 years old, I've never learned to use a laptop. Do they still make laptops? No fucking idea!"
10. No love for smartphones either
"His bald head demands your attention to his twinkling eyes. He's a man fascinated and engaged. We whisper to each other in code. Finally a respite from the cyber technology that's been sizzling my brain and soul. We sit within quietude of fortified walls that are old New York hotel construction, when walls were walls, and telephones were usable without a Ph.D."
A Ph D on texting? That would be awesome!
Also read: We're calling it: the NoPhone is 2015's best-worst tech invention
11. Sean Penn was dwarfed by El Chapo
"Now it is down to El Alto and I looking at each other. His six-foot-three frame towers above me, knowing he is inadvertently caught with proximity to the five-foot-three couch, and that I, at five feet nine, am left standing only inches from a king-size bed. It's a Mexican standoff."
Sean Penn's interview of El Chapo reveals a lot - about Sean Penn
12. Money for nothing, says Penn
"How much money will you make writing this article?" Guzman asks. "I answer that when I do journalism, I take no payment."
13. Sean Penn likes to talk about himself in an interview of someone else
On his dick: "I throw my satchel into the open back of one of the SUVs, and lumber over to the tree line to take a piss. Dick in hand, I do consider it among my body parts vulnerable to the knives of irrational narco types, and take a fond last look, before tucking it back into my pants."
Spanish: "My own Spanish is weak at best. By day, and put on the spot, I'm pretty restricted to hola and adios. By night, with perhaps a few beers, I can get by, speaking and listening slowly."
Selfies and security men: "I take no pride in keeping secrets that may be perceived as protecting criminals, nor do I have any gloating arrogance at posing for selfies with unknowing security men."
14. The writing sucks - which is why we spared you
One thing you should know before you read the more than 10,000 word piece of journalism - the writing is terrible.
Despite that, Penn and Rolling Stone clearly pulled off the interview of the year, barely a week-and-half into 2016. Movies may be made (with Penn starring as the journalist) - just like Zero Dark Thirty, on Osama Bin Laden's capture - and Penn himself is likely to be interviewed incessantly, but there's no denying he's the first person ever to interview (outside of law enforcement agents) one of the biggest drug lords the world has ever seen.
It's only January, but Rolling Stone and Sean Penn have already pulled off the interview of the year
Whatever you think of the piece, there's no doubt Penn will be talked about as much as the man he set out to question.
More in Catch:
The Badmash Peepal: Saving cows with a little help from Lord Krishna
Roxane Gay's new book is important because she started writing it fat. And she still is.
Porn-coms are Ekta Kapoor's idea of feminism. That's a big, big problem
It's like breaking up: these 11 cult TV shows won't make it into 2016