WWE Raw‬: ‪John Cena‬ defeats Kane and calls out the Undertaker for a match ‪in WrestleMania‬ 34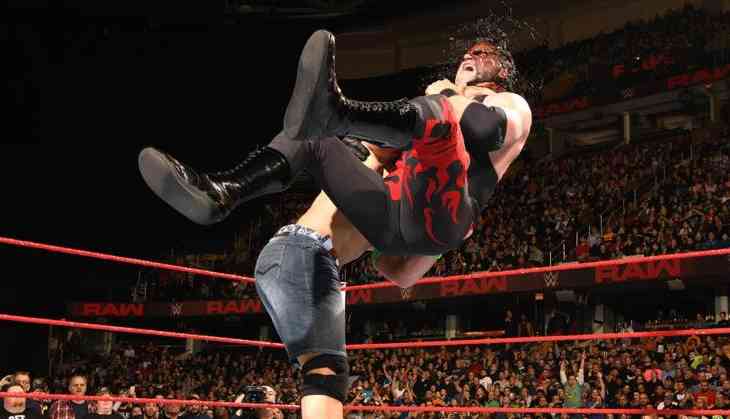 Monday Night Raw No Disqualification match in Cleveland, Ohio ended with John Cena defeating The Brothers of Destruction, Kane and calling out the Undertaker for a match. During the match, Cena mocked at the Undertakers signature moves and mannerisms. He even tried some chokeslam on the Big Red Machine, making it more obvious as to how much he is desperate for a match with the Undertaker.
It has been more than two-weeks since John Cena called out Undertaker for a faceoff in WrestleMania 34 but he has received an answer for this. So, yet again he called the dead man yesterday for a match. He even said that the Undertaker was a self-centred, conceded egomaniac.


"No Undertaker", says Cena
The #Undertaker only has one week left...

What's it going to be? #RAW @JohnCena pic.twitter.com/yQiGYVgVWb

— WWE (@WWE) March 27, 2018
After defeating Kane, Cena grabbed the microphone and reiterated the dead man's name. He said, "No lightning? No bells of terror? No Undertaker?."
He even said that Night after night, city after city, sold-out crowd after sold-out crowd, people chant the Undertaker's name. Calling him mysterious, he said that silence was not an answer.
Motivating the Undertaker, he said, "But get your eyes out of the back of your head and look at the energy when they chant yes when they chant Undertaker when they chant 'Do Something'."
Calling him selfish, Cena said, "You care only about yourself. I hope, for the sake of all that is good inside this ring I see you next week."
Last year after losing a match in WrestleMania 33 to Roman Reigns, he wore the black jacket, gloves and hat which he usually wears and departed silently.
However, there are rumours that the dead man can accept Cena's challenge for next week RAW.
Also Read:WWE 2018: Why John Cena and Kane face off tonight would be a memorable match