The role Bangladesh played in India's change of heart about the Rohingya crisis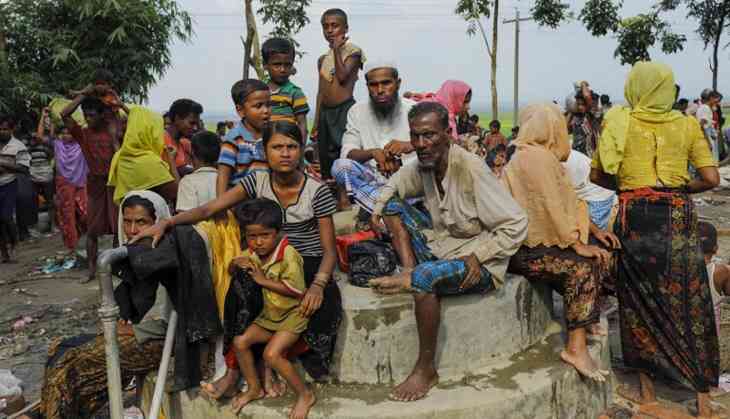 India is trying to put "pressure bilaterally and multilaterally on Myanmar to stop persecution on ethnic minority Rohingya Muslims", the office of Bangladesh Prime Minister Sheikh Hasina claimed Friday after External Affairs Minister Sushma Swaraj made a phone call to Hasina. The Indian government, however, has not released details of the call.
"India's position is the same as Bangladesh's over the Rohingya issue," Nazrul Islam, deputy press secretary to Hasina, told BDNews24, quoting the telephonic conversation.
The conversation comes on a day when India announced 'Operation Insaniyat,' and an Indian C130 landed in Chittagong full of relief supplies for the close to 4,00,000 Rohingya refugees who have made their way to different towns along Bangladesh's border with Rakhine.
The Rohingyas have been forced to flee their home ever since Burmese security forces launched an unprecedented crackdown on the villages in Rakhine, supposedly in retaliation to the attacks by Arakan Rohingya Salvation Army (ARSA), the Rohingya insurgent group. Another C130 full of relief material landed in Chittagong on Saturday.
A change of heart
While Islam's assertions have not yet been confirmed by Swaraj's office, with even the MEA choosing to keep quiet, there is certainly some rethinking that is taking place.
This comes barely a week after India had refused to endorse a declaration at World Parliamentary Forum at Bali for it had a reference to the violence in Rakhine, something India was not comfortable with endorsing, perhaps in a show of solidarity with Myanmar.
So why has the government changed its stance on the developments in Rakhine? Just a few weeks ago, the Ministry of Home Affairs classified 40,000 Rohingyas in India as illegal immigrants who should be deported. It directed the states to form a task force and prepare for their deportation, or detention in camps, as a newspaper reported in early August. So far, the Home Ministry has not changed its stance on deportation.
Perhaps the answer lies with India's close bilateral ties with the Sheikh Hasina government in Bangladesh. Since the Awami League has been in power, the relations between both countries have seen tremendous cooperation, including on the security front.
A former diplomat who has served in Myanmar says India is caught in a bit of fix in trying to balance relations between Myanmar and Bangladesh.
A message from Dhaka
India's initial position to not talk of the humanitarian crisis, even as thousands of Rohingyas continued to pour into Bangladesh, was not taken too kindly by the Bangladeshis. Syed Muazzem Ali, the Bangladeshi High Commissioner said as much in an interview to Catch on Wednesday.
While he was satisfied with how India issued a revised statement calling for restraint and maturity, after he met Foreign Secretary S Jaishankar and apprised him of the Bangladeshi concerns, Bangladesh clearly wanted India to do more.
He said how Bangladesh expects India, as a regional power to be a moderating influence on Myanmar.
"What I am trying to say is that (the adequacy of) relief goods is not the primary objective. The objective is to send these refugees back to their own country so that they can settle and they don't have to move from place to place. The exodus of such a large number of Rohingya people can also cause a security problem for our region and beyond," he said, while emphasising how Dhaka wants India "to exercise their good offices with Myanmar to emphasise the point that for their own sake and for our sake they should take back these people, settle them in their own areas on the basis of the Kofi Annan Commission so that the security concerns of everybody can be taken care of."
Even as he sought to remind how all through Hasina's tenure India's border with Bangladesh has been quiet as the latter has been able to drive away all the anti-India insurgent groups who would find it easy to operate during Khaleda Zia's tenure. "
After PM Hasina came to power, peace and stability was established in the entire Northeast. Why do you want to again reignite a new fire and I have no idea what it might lead to," he said.
Dhaka has been categorical in conveying the message that Myanmar cannot carry out ethnic cleansing under the garb of an anti-terror operation.
Basically, Bangladesh seems to have told India that it cannot just seal its own borders to prevent more Rohingyas from coming in since it construes them as a security threat, and tries to be seen on the side of Myanmar's government and let Bangladesh cope with it alone.
More so, Bangladesh, according to its senior diplomat, hopes that India will play a constructive role as Myanmar comes under sustained global pressure and the action shifts to the UN General Assembly. Hasina has already said she will take up the Rohingya issue during her address at the UNGA. It is not clear whether India's position at the UNGA would be in sync with what the Bangladeshis expect as India tries to navigate between Bangladesh and Myanmar.
But with Myanmar as an immediate neighbour, both India and Bangladesh also agree that pushing Myanmar into a corner is not an option.
Regional power games
With China weighing heavily on India's mind, and past experiences of dealing with Junta, the diplomatic outreach has been to nudge Myanmar to accept the Kofi Annan Commission report, instead of being seen as lecturing it on an issue which has most of the Myanmar's ethnic group on one side, and the Rohingyas, who form a very minuscule minority, on the receiving end.
Moreover, experts also argued how it would be futile to expect too much from State Counsellor Suu Kyi at this stage since most of the power rests with the military even as she tries to take the 21st Century Panglong agenda of reconciliation and accommodation of ethnic groups ahead. India's over 1,600 km-border with Myanmar, which has been used by different insurgent outfits, is another reason why India would like to keep Myanmar's security establishment in good humour.
It was visible when Prime Minister Narendra Modi was in Myanmar recently where he did not deal with the Rohingya crisis directly, even as he expressed concern over the extremist violence, a reference to ARSA and said: "We hope that all stakeholders together can find a way out in which unity and territorial integrity of Myanmar is respected."
But with a crisis of this magnitude, such a position would not have been tenable with even Dhaka for example, which wants Myanmar to do more, even as the latter remains 'non-committal' as High Commissioner Ali said. The situation in Rakhine has been condemned by other countries as well, including many Muslim countries. There is perhaps a realisation in the foreign policy establishment as well that this crisis could have long-term impact for the country.
Various narratives
More refugees in Bangladesh means more people crossing into India. In the long run, this could pose a serious challenge for India.
But does a change in diplomatic strategy mean more accommodation for the Rohingyas who are already living in India, especially after orders that they would be deported?
Besides worries of tensions with the local populations as has been the case in Jammu and Kashmir, India has been worried about Pakistan-based terror groups particulalry the Lashkar-e-Taiba, which is known to be working to recruit Rohingyas.
On Thursday there was confusion after reports that the government has filed its response in an affidavit on a PIL against deportation of Rohingyas, and reportedly taken a stand that they are illegal immigrants and need to be deported in national interest. There are also several intel inputs on how some of them have links with terror groups and could likely be used by the ISIS. That affidavit has been withdrawn reportedly even as Home Minister Rajnath Singh says an affidavit will be filed on 18 September.
It is unlikely that the BJP-led government would go back on it as many of its leaders take to putting out the narrative of Rohingya population being a security threat. However, expect some modification and condemnation of the situation in Rakhine.
But again, deportation is a complicated procedure. India would also need Myanmar on board to accept the disenfranchised Rohingyas as its own people if they are to be sent back.