Thai soccer cave boys shave their heads before to become Buddhist novices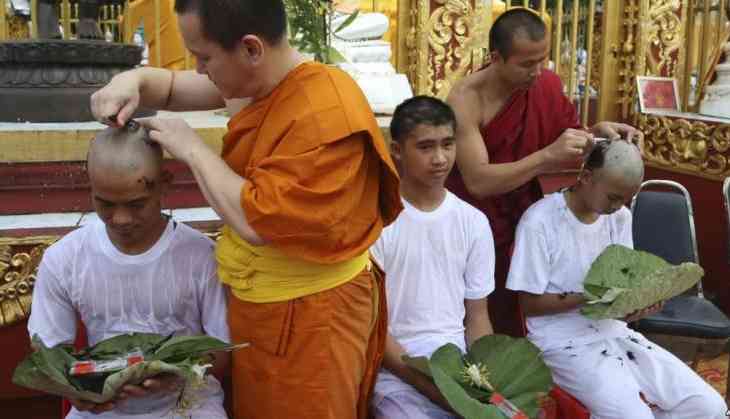 Eleven soccer cave boys of the football team who were rescued from a cave in northern Thailand have decided to be ordained as Buddhist novices, a gesture to honour those who took part in their rescue.
The boys will live in a Buddhist temple for nine days, the same length of time they were trapped in Tham Luang Cave in Chiang Rai before they were rescued.
Their coach, Ekapol Chanthawong, has already lived as a Buddhist novice for a decade, will be ordained as a monk. One of the boys, 14-year-old Adul Sam-on, will not be ordained as he is a Christian.
Also Read: Thai Cave Rescue: Meditation and digging holes in the cave kept the boys in good spirit
The boys' families had made the pledge to ordain the Wild Boars footballers to show thanks for the efforts that went towards saving them and also to pay respect to the Thai navy Seal, Saman Kunan, who died in the rescue operation.
Buddhist males in Thailand are traditionally expected to enter the monkhood, often as novices, at some point in their lives to show gratitude, often toward their parents for raising them. It is believed that once a person is ordained they gain merit that is also extended to their parents. The boys will donate their merit to the memory of Saman.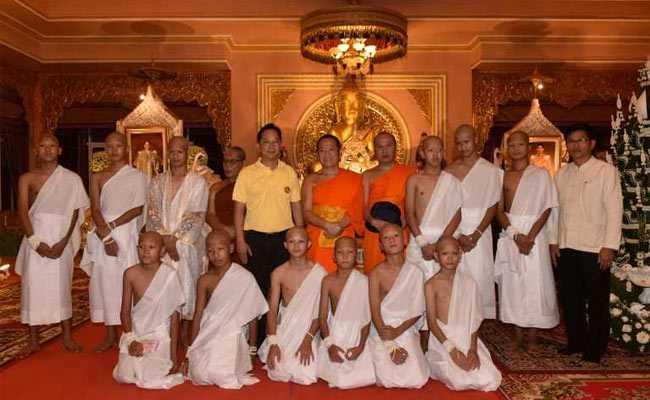 "Ordinations are supposed to give us peace of mind," said Sangiemjit Wongsukchan, the mother of Ekarat Wongsukchan, 14, one of the rescued boys. "We can only do this for nine days because then he will have to go back to study and prepare for exams. Back to his normal life."
Wednesday's ceremony will take place at another temple on a Chiang Rai mountaintop before the group returns to reside for more than a week at Wat Pha That Doi Wao, near Thailand's northern border with Myanmar. That temple is close to the group's homes, making it easier for friends and relatives to visit.
The rescue effort to save the boys and their coach finally ended on 10 July, after divers, caving experts, Navy Seals and volunteers from around the world came together to save the boys.
Also Read: Thailand hits out at foreign media for interviewing cave boys