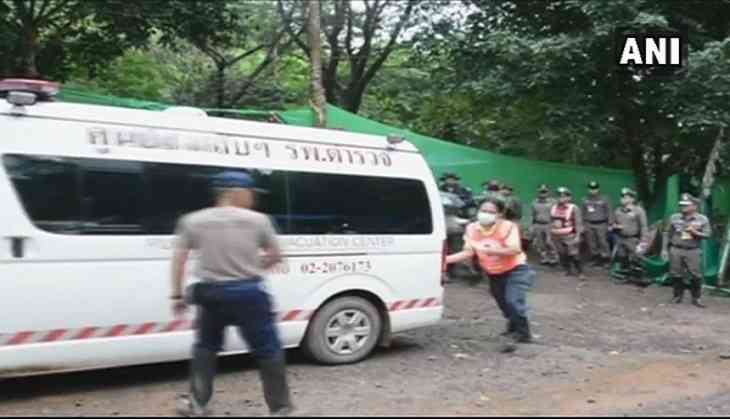 Thai authorities have lambasted at foreign media for conducting an interview with the boys of the Wild Boars soccer team who were miraculously rescued from Tham Luang cave in northern Thailand, after being trapped for two weeks.
In a Facebook post, Thailand's Deputy Permanent Secretary for Justice Tawatchai Thaikyo wrote, "I was saddened that the foreign media, whom we assumed understood children' rights very well as well as the procedures for protecting children and minors, but their standards have turned out to be unexpectedly substandard," CNN reported.
He asserted that media organisations should follow such guidelines when interviewing juveniles and minors.
The guidelines are the same which is followed in legal proceedings in Thailand.
A psychologist has to be present during questioning "to stop opening the wound laid deep inside the hearts of children and minors. They are at the age of fragility and they must be protected," as per the report.
Meanwhile, governor of Chiang Rai province Prachon Prachsakul has released a statement, directing authorities to create a task force to "discuss measures to protect the Wild Boar's football team's child rights, under the nation's Child Protection Act."
The move "follows reports by some foreign media, who interviewed the young members of the Wild Boars football team at their homes after they were discharged from the hospital," the statement added.
It added that those who violated the act would be slapped a maximum fine of 60,000 baht (approx. USD 1,800) or with six months imprisonment or both.
Earlier, the local authorities had cautioned Thai and foreign journalists to prevent interviewing the boys of the soccer team, who were released from the hospital last week, for safeguarding "mental health."
On July 8, the rescue operation to pull out the boys and the coach of the Wild Boars football team had commenced in three phases.
It took 11 hours for the divers to bring out four persons. On July 9, a second rescue operation by the same team of divers took only nine hours to bring out the next four, the report said. All eight boys were rescued by divers using guide ropes and shared oxygen tanks.
Furthermore, three boys were rescued in the morning of June 10. The remaining two including the coach were rescued later in the day.
All were being treated in a Chiang Rai hospital in an isolation ward. The rescued boys were said to be in "high spirits." The parents of the rescued party also got to meet their wards through a glass window.
The footballers were found by the British divers on July 2, with footage showing them visibly weak and huddled on a mud mound deep inside the Tham Luang cave.
The team were strolling inside the cave. The weather gradually became worse due to heavy rains and flooded the cave.
Following worsened weather conditions, the team got trapped for nine days before being found. The boys were aged between 11 and 16 years.
(ANI)