Shocking Video: US cop repeatedly punches black woman in face while making arrest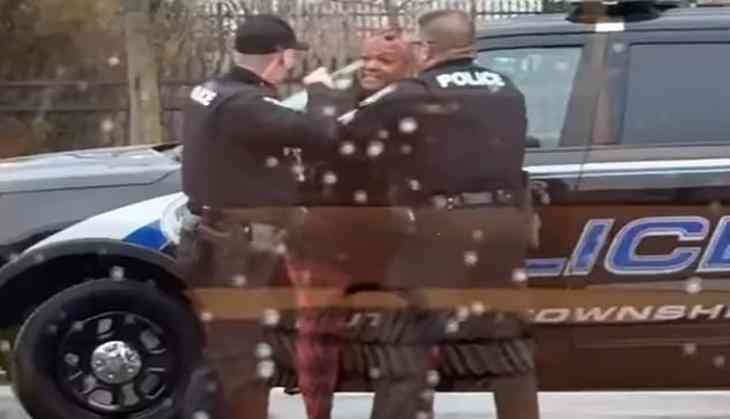 US cop repeatedly punches black woman in face.
Two policemen in the US state of Ohio are under investigation after a video of one of them allegedly punching a black woman in the face while making an arrest came to light.
The video of the incident surfaced on Tuesday, January 17, when local media put out a video on Facebook from a bystander showing a Butler Township cop repeatedly punching the woman.
The video displayed Sergeant Todd Stanley grappling with the woman and punching her at least three times in the face following a row over an order at McDonald's. Stanley and his colleague, Tim Zellers, then arrested the woman, later identified as Latinka Hancock.
Here's the video:
On January 16, 2023 LaTinka Hancock was punched by an officer with the Butler Township Police Department. A bystander recorded the cellphone video of the incident and posted it to social media. We will be discussing this on a televised press conference today at 4:30 PM. pic.twitter.com/kpmAoE1rvq

— Michael Wright (@Mwrightatty) January 18, 2023
In the video, the woman can be seen talking to the policemen as she makes an attempt to push them away. A cop on the left, Tim Zellers, appears to be pointing a stun gun at the woman. In the meantime, an officer to the right, Todd Stanley, holds her arm.
When the woman waves her hands around, Stanley punches her in the face until Hancock falls back on the hood of the cruiser. The officers then hold her against the car and handcuffs her.
Lawyer for the woman stated that she suffered a bloody face and concussion, and had to be taken to hospital.
According to reports, the woman was angry about an order that was wrong, and had gone back to remonstrate with the staff.
"We are aware of the video recorded by a bystander that is circulating on Facebook concerning an incident that occurred on January 16, 2023, involving two of our officers," the department wrote on Facebook.
"This incident is currently under investigation in accordance with departmental policies and procedures, as is the case whenever force is used in an arrest," The Independent quoted the police department as saying.
Earlier, chief of the Butler Township Police force, held a press conference and assured a fair probe would be carried out. He said the officer, had been placed on administrative leave. he claimed the officers had been trying to book Hancock for trespassing but that she did not cooperate.
"We take these incidents very seriously and we are looking into them and we are going to conduct a thorough investigation," chief was quoted by Independent as saying. "We're going to go as deep as we can into this. Like I said, if there's indications of wrongdoing and against our policy, then we will definitely take formal action," he added.
Also Read: Aruna Miller scripts history, becomes first Indian-American to be elected Lieutenant Governor of Maryland