Sanna Marin, 34, to become world's first youngest PM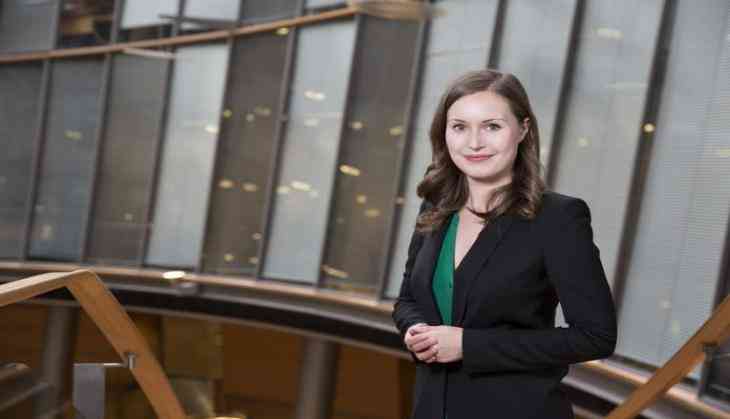 Thirty-four-year-old Sanna Marin is all set to become the world's youngest Prime Minister. She is expected to be sworn in this week.

Sanna, who is the current Transportation Minister was picked by her Social Democratic Party (SDP) to take charge of PM post after Antti Rinne quit. She will be leading a center-left coalition of five parties all headed by women.

The SDP on Sunday selected Transport Minister Sanna to become the youngest head of government in the country's history.
Marin, who narrowly won a vote carried out by the SDP to replace former premier Antti Rinne, will also become the world's youngest Prime Minister, ahead of Ukraine's 35-year-old Oleksiy Honcharuk, reported Sputnik.
At 34, Marin is two years younger than long-time Centre Party leader Esko Aho, who became Finland's Prime Minister in 1991 at the age of 36.
Marin has been serving as the country's Minister of Transport and Communications since June. She also led the Social Democratic party during Rinne's extended sick leave last winter.
Rinne had to step down from the post of Prime Minister after a key coalition partner, the Center Party, withdrew its support, citing lack of trust.
Marin's nomination is yet to received parliament's and the President's nod.
Worth mentioning here, Sanna Marin was born in Helsinki on November 16, 1985.
In 2015, Marin was elected to Parliament for her first run. There she has been a member of the Grand Committee, Legal Affairs Committee and Environment Committee. She is a member of the Tampere city council, which she chaired in 2013–2017.
In 2014, Marin was elected as a second deputy party leader of the Social Democratic Party, and since 2017 she has served as the First Deputy Party Leader.
(With Agency Inputs)
Also Read: Hafiz Saeed gets brief breather in terror financing trial, next hearing on December 11