'...Hopefully Americans have seen what I said': Jaishankar on Canada's allegations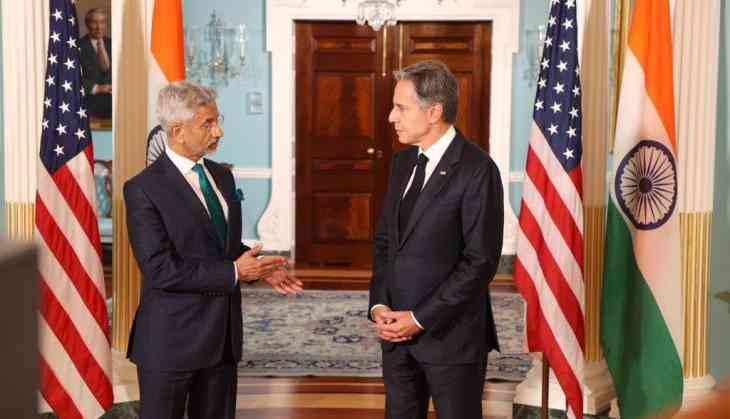 External Affairs Minister S Jaishankar (left)
Washington DC : Stating that he is aware of the US' reaction to the ongoing India-Canada row, External Affairs Minister S Jaishankar said that both sides had articulated each other's views on the matter.
Addressing a press conference in Washington DC on Friday, Jaishankar said, "I saw what the Americans have said, and hopefully, the Americans have seen what I have said. I think both of us have articulated our respective views…so I really don't know, beyond that, what else I can add".
Jaishankar further said that the larger issue in the matter is the "permissiveness" regarding the incidents of violence and extremism in Canada, which has been flagged by India.
"No incident is isolated and no incident is the totality. There is a context for everything and there are multiple problems out there, so in the case of individual cases, I guess we will have to see…the concerned governments will have to talk with each other, and see how they take it forward. But there is a larger issue, and I think the larger issue should be flagged. I think the larger issue is the permissiveness that I have flagged," Jaishankar said.
He added, "In India, it will not come as a surprise to anybody if you tell them that there are people in Canada who are advocating violence, separatism, there is a history out there. All Indians notice, I suspect very few Americans know this. I think a lot of what I said at toda's meeting was new to Americans.
The EAM added that it is very important that the US has India's point of view on the matter as well, because Washington has good relations with both Ottawa and New Delhi.
"When Americans look at Canada, they see something, when we in India look at Canada, we see something else and that's a part of the problem, so it's very important that we talk it out with the Americans. After all, they are very close to India, they are good friends of ours…so it's important they have our point of view on the matter as well," Jaishankar said.
He added, "What we have taken is a very reasonable stance...When was the last time that any of our missions was intimidated to a point where it could not continue with its normal functioning? If someone says this could happen in a G7 country, in a Commonwealth country, it gives you a lot to think about".
(ANI)