Hasina raises Rohingya issue in Shantiniketan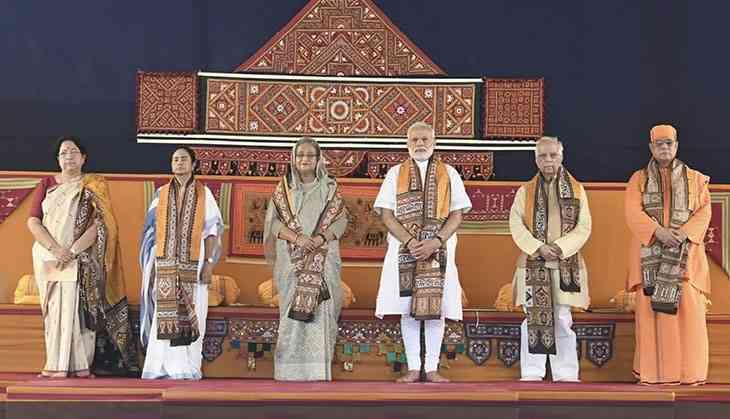 (Narendra Modi / Twitter)
Myanmar should take back Rohingya refugees, Bangladesh Prime Minister Sheikh Hasina Friday at the inauguration of Bangladesh Bhavan in Shantiniketan, West Bengal. She shared the stage with her Indian counterpart Narendra Modi while making the statement, in line with India's view.
"Despite our meagre resources we are feeding 11 lakh Rohingya refugees," she said seeking international pressure on Myanmar to take its citizens back.
India has sheltered about 40,000 Rohingya refugees, but is lukewarm about accepting more.
Hasina also recounted the bilateral co-operation that led to the exchange of enclaves that both countries had in the others' area: "I remember the time when the Indian government and all political parties came together and supported the land border agreement passed in 1972. It was a spectacular case of bilateral co-operation." There were problems between the two countries too, she said but didn't want to raise them at the event.
She could have been referring to the unresolved Teesta water-sharing issue, which can become an electoral headache for her back home.
But the visiting PM also underscored how her country was aided by India and to her in person when she lost her parents and siblings in the 1975 army coup.
Talking of Tagore, Hasina said Bangladesh's right to the poet was greater than India's as he wrote the national anthems of both countries sitting in Bangladesh. "We have started a Rabindra University at Shahjadpur and Bangladesh Bhavan will act as a cultural bridge between the countries. We also plan to set up another University of Rabindranath Tagore at Kustia," she said.
Stressing on mutual co-operation and brotherhood, Indian PM Modi said his slogan 'Sab Ka Sath Sab Ka Vikash' was borrowed from Tagore's philosophy.
He thanked the Bangladesh government for recognising India's contribution by awarding soldiers at a function in Delhi last year. He also publicised some central schemes, especially in education.
Chief Minister Mamata Banerjee said her government would set up a Bangabandhu Bhavan to honour Hasina's father and Bangladesh's national hero Sheikh Mujibur Rahman.