Fail jumps, bad trip: How Jinder Mahal and Titus O'Neil were left red faced in WWE The Greatest Royal Rumble; Watch McMahon's priceless reaction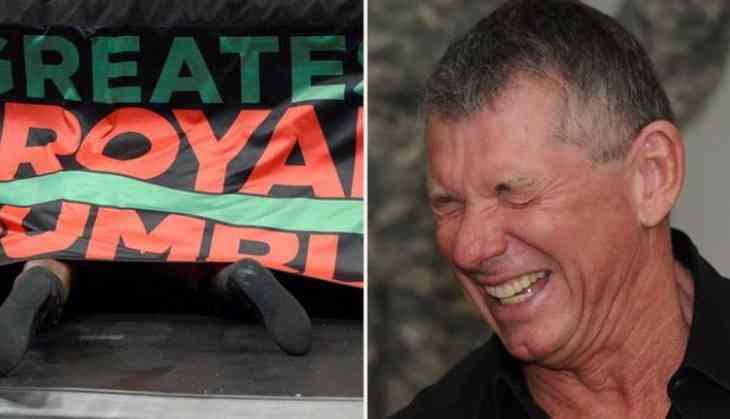 People witnessed some amazingly funny moments happened in World Wrestling Entertainment's event The Greatest Royal Rumble held in Jeddah, Saudi Arabia recently.
Throughout the course, there were 2 most memorable laughing moments of the event which belong to Jinder Mahal and Titus O'Neil's.
Following the two incidents, both Mahal and O'Neil have now reacted to their own embarrassing and hilarious moment at the King Abdullah International Stadium.
Titus O'Neil's fall at the main event during a match, and it was too funny and embarrassing that even, Vince McMahon found it hysterically funny as well and he made the audience watch that repeat ..repeatedly.
Also, wrestlers who were at the backstage were laughing and wondering when they saw the video, some were trying to figure out what the hell they just witnessed.
It is was also being reported that when O'Neil made his way back to the backstage area, McMahon shook his hand and gave him a pat on the back.
In another scenario, during Jinder Mahal's match with Jeff Hardy, The Modern Day Maharaja was in the middle of a hilarious botch as we witnessed a spot where Hardy attempted to hit the Whisper in the Wind.
It happened without realising that Mahal was not in a position, however, even after that, The Modern Day Maharaja took a chance to sell Hardy's high-flying move but it all ended in a big hilarious botch.
Relax ... I was playing possum #wwegrr

— The Maharaja (@JinderMahal) April 27, 2018
Following Jinder Mahal's botch, the Indian wrestler took it to the social media platform in order to acknowledge the situation by claiming that he was playing possum.
It was AT THIS MOMENT....💡💡💡

My @WWE #WWEGGR Idea For The Greatest Royal Rumble Moment was Born 💡 @WWEShop Get That MERCH ready!!! I'm about to slide....These extra Checks right into the bank😎 pic.twitter.com/tX4ykdpl9x

— Titus O'Neil (@TitusONeilWWE) April 27, 2018
Happy Day of Birth to the VESSEL of the TREMENDOUS @TitusONeilWWE..

Don't be fooled-Brother Michael was attempting to SLIDE into the Jeddah WORMHOLE PORTAL which leads directly to The Hardy Compound..#BROKEN Matt would love to meet #TATTERED Titus.. pic.twitter.com/O961qVmbhs

— #WOKEN Matt Hardy (@MATTHARDYBRAND) April 29, 2018
And now, a GREAT moment in Greatest Royal Rumble history...#WWEGRR @TitusONeilWWE pic.twitter.com/4rHadPvoSF

— WWE Universe (@WWEUniverse) April 27, 2018
Titus' hilarious botch, almost everyone from the entire wrestling world reacted to the amusing entrance and Titus himself also took it to the social media to explain the situation.
Also Read: American singer Bob Dylan launches 'Heaven's Door' signature line of whiskey