Canada: Liberal party MP Chandra Arya alleges threats against Hindus by extremists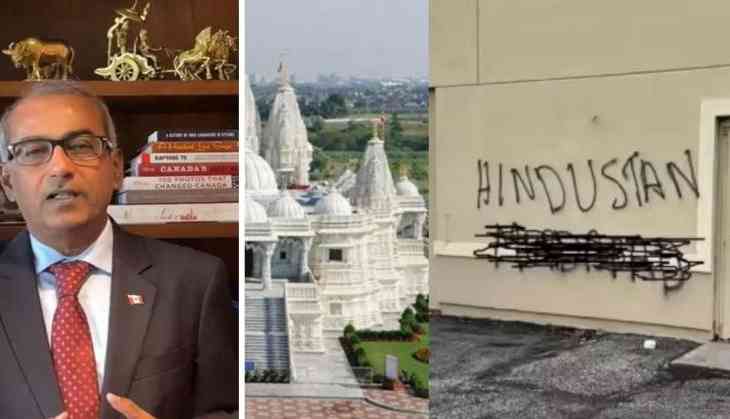 Liberal party MP Chandra Arya alleges threats against Hindus by extremists (File)
Ottawa [Canada]: Amid the India-Canada diplomatic standoff, Canadian MP Chandra Arya alleged that the extremist elements are "attacking" and "threatening" Hindu-Canadians to go back to India.
He has also urged all the Hindu-Canadians in the country to stay calm, and vigilant and report any untoward incident to law enforcement agencies.
Notably, Chandra Arya is an Indo-Canadian leader who comes from the Liberal Party of Canada, the same party as Prime Minister Justin Trudeau.
"Few days back Khalistan movement leader in Canada and the president of Sikhs for Justice which organizes the so-called referendum Gurpatwant Singh Pannun attacked Hindu Canadians asking us to leave Canada and go back to India," Arya posted on X (formerly Twitter).
"I have heard from many Hindu-Canadians who are fearful after this targeted attack. I urge Hindu-Canadians to stay calm but vigilant. Please report any incident of Hinduphobia to your local law enforcement agencies," he added.
He further said that the Khalistan movement leader is trying to "provoke" the Hindu Canadians to react and "divide the Hindu and Sikh communities" in Canada.
However, Arya also clarified that a majority of Canadian Sikhs do not support the Khalistan movement.
He expressed dismay at "glorification of terrorism" and hate crime being allowed in the name of "freedom of expression".
"I can't understand how the glorification of terrorism or a hate crime targeting a religious group is allowed in the name of freedom of speech and expression. There would be an outrage in Canada if a white supremacist attacked any group of racialized Canadians asking them to get out of our country. But apparently, this Khalistani leader can get away with this hate crime," he said.
Arya added that the Hindu Canadians keep a low profile, and are considered soft targets, and the "anti-Hindu elements" cannot digest the success of Hindu-Canadians.
"Two well-organized groups claiming to represent their faiths have been attacking Hindu-Canadian community leaders, Hindu organizations and even me. For over ten months, I have been attacked for raising a flag with our Hindu religious sacred symbol Aum on our parliament hill," he stated.
Arya further called upon Hindu Canadians to stay calm but vigilant.
(ANI)