Bangladesh's growing Islamist violence and how it can destroy the country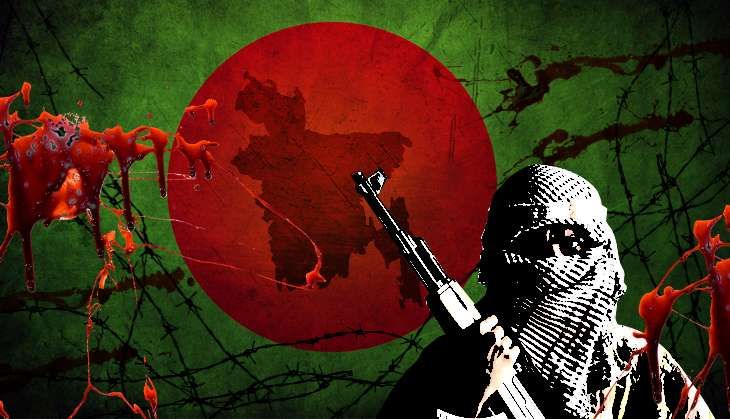 Another member of the minority Hindu community in Bangladesh was slaughtered earlier this week in Jhenaidah district. Ananda Gopal Ganguly, a 65-year-old poor Hindu priest was waylaid while on his way to the mandir on his bicycle. Ganguly was born three days before India's Independence in 1947.
The victim's head was almost severed, indicating that killers were trained in the Islamic halal method of slaughtering animals. The killers came on a motorcycle and fled after killing the priest - the usual modus operandi in such attacks.
Also read - Is freedom of speech being murdered in Bangladesh along with its bloggers?
Even before the country could deal with Ganguly's murder, another innocent Hindu, Nityaranjan Pandey, a worker in an Ashram in Pabna district, lost his life in a similar manner.
Like Ganguly, Pandey was also hacked to death. The killers go to him while he was on his morning walk.
The Islamic State (IS) claimed responsibility for the murders. For the killers, it was two less kafirs on the planet.
Death count
A homeopathy doctor was brutally murdered by unidentified persons a few days earlier, also in the Jheniadah district of Bangladesh. The person, a Muslim, had converted to Christianity and was involved in preaching act, according to the local church.
The finger of suspicion again pointed towards Islamist radicals because apostasy in Islam is punishable by death. The murder was the fulfillment of an Islamic duty. The IS claimed responsibility for this killing as well.
Ganguly, the Hindu priest and Pandey, the ashram worker, had no known enemies and were not involved in any dispute with anyone. The two killings, therefore, have to be seen as the latest episode in the rash of targeted hate killings that have hit Bangladesh over the last two years.
Hindus constitute about 9% of Bangladesh's population of around 160 million today, declining steadily under the onslaught of organised persecution since the partition. The decline has, unfortunately, continued steadily even after Bangladesh became an independent country, as Hindus came under persistent pressure to dispossess their properties.
The most abominable methodology of persecution was and continues to be the targeting of Hindu womenfolk who have been subjected to abduction, rape and conversion by sections of the majority Muslims, not excluding members of the political class.
With the recent spate of murders, it is clear that Islamist radicals are targeting the minority Hindu community again.
In another disgraceful incident, a Hindu Principal of a College near Dhaka was humiliated. He was made to hold his ears and do sit ups and then dismissed from service. It was alleged that he had insulted Islam.
The whole despicable episode was supervised by none other than an MP from the Jatiya Party, an ally of the ruling Awami League Party, headed by Prime Minister Sheikh Hasina.
To be fair the government moved quickly to defuse the nationwide outrage and quickly reinstated the Hindu principal, after an inquiry found all allegations of insulting Islam to be completely false.
The principal had physically disciplined a student and what happened was an act of revenge. The pupil and his family spread rumours against the principal driving people into a frenzy. However, no action was taken against the erring MP.
Blood patterns
- Over the last few months, a Buddhist monk, a Sufi Muslim leader and a professor of English have been murdered, revealing a gruesome pattern
- Since February 2015, over 25 people have been murdered violently, some publicly, in hate crimes
- Victims have been from religious minorities, secular and free-speech advocates and atheist bloggers
- Over 12 persons have survived such murderous attacks
The radicals have also killed human rights activists, an openly gay person and his companion, working for the US Embassy in Dhaka and even the wife of a police officer who had successfully arrested members of the outlawed Jamaat ul Mujahideen, Bangladesh (JMB) in Chittagong.
The IS and Al-Qaida in South Asia (AQIS) have claimed responsibility for these targeted killings which were geographically dispersed across the country. An obscure group calling itself the Ansarullah Bangla Team has also staked claim on some of these murders.
The spate of murders have shaken Bangladesh and PM Hasina has ordered a countrywide crackdown on Islamist radicals.
In spite of Islamist radicals taking responsibility for the murders, the issue has been amply politicised. The Hasina government has consistently denied the existence of the IS and AQIS in Bangladesh.
Hasina herself, her ministers and government officials have instead, blamed home-grown Islamist radicals for these spate of murders. This has led to fears of further such attacks spreading and even targeting aviation assets, in collaboration with international jihadist networks.
This author was surprised to see a foreigner (a European) supervising security checks before the boarding gate at Dhaka's international airport recently. The fear of internal sabotage and, indeed, lax security measures have forced the Hasina government to bring in foreign supervisors at the Dhaka airport. Many countries, including India, have offered more cooperation to Dhaka on anti-terrorism measures.
Home-grown jihad
While Hasina was quick to show public sympathy for the first blogger who was killed and visited his family to offer condolences, she has since backed away from this policy. She has castigated those who insult Islam and the Prophet and warned such people to desist from doing so.
Her ministers and high government officials, including the police have parroted her line.
It seems she has decided that defending the right to free speech will bring her no electoral dividends in her deeply religious, though moderate, Muslim country which has over a 90% Muslim population.
Hasina has, from time to time, flirted with Islamic parties and groups for electoral support and she is not averse to doing it again, as her changed stance on the hate killings has made clear.
This is a policy fraught with negative consequences. She may view her policy as politically expedient to avoid arousing Muslim sentiments and shoot down opposition's charges of her being secular and anti-Islam. But Islamists are definitely going to exploit the policy ambivalence and evasive posturing on these killings.
Hasina must remember that pandering to radical Islamists and coddling them has brought much grief to Pakistan.
The DNA of the Islamists in Bangladesh and Pakistan are similar and collaboration between them, under the patronage of the Pakistan's ISI, is a known fact.
Hasina has, therefore, consistently blamed the opposition parties BNP and the Jamaat-e-Islami (JeI) for conspiring with radical Islamist elements for these killings, to destabilise her government.
War religion and votes
The targeting of Hindus is also a clear signal that the Islamists, apart from ideological angst against Kafirs, want to discredit her government's reputation with Hindu voters and mar her standing with India.
Hindutva groups in India will, no doubt, take note of the hate killings and start questioning the Hasina government's credentials. She has vowed to bring them to book.
Both the BNP and JeI certainly have grievances against the Hasina government. The JeI's top leadership has been decimated by the convictions in the War Crimes Tribunal. Several top leaders have been executed.
Another leader, the main financier of the JeI, Mir Quasem Ali will be executed soon. His death warrant has been signed, after he lost all appeals in higher courts.
These executions have led to a diplomatic row with Pakistan which regarded the JeI as its primary and faithful fifth columnist in Bangladesh.
BNP's leader Begum Khaleda Zia is fighting a losing judicial battle over corruption charges and is beleaguered by desertions of capable party leaders who have left the party.
Her deputy, Tarique Rahman, her corrupt, clueless and semi-educated surviving son, is in exile in London and unable to return since arrest warrants against him are pending for corruption and other cases.
Hasina's critics blame her for usurping all power after the one-sided election, the execution of war criminals, repressive measures against the opposition BNP, hounding of the media and NGOs for the Islamist backlash.
Radicals abroad
The international dimension of the IS also adds another toxic ingredient to this explosive mix. Bangladesh has a history of fringe Islamic groups which have received encouragement from Wahaabi influence.
Members of the country's large diaspora in the Arab countries are prone to indoctrination. Even in Singapore, eight Bangladeshi workers were recently arrested and deported for radical Islamic activities and conspiracy to mount terrorist attacks in Bangladesh, under the banner of the Islamic State of Bangladesh.
This cell in Singapore was found in possession of radical Islamist literature, bomb making material and funds for purchasing weapons for use in Bangladesh.
Links between home grown and international terrorist networks cannot be ruled out. Whatever the cause, the shadow of radical Islamist violence hangs over Bangladesh. Denial is never a good policy and the Hasina government must crackdown with a heavy hand to curb this menace.
Islamic radicalism can destabilise Bangladesh and spill over into India. Security of both countries are inextricably intertwined and India will be extremely supportive of the Hasina government in its crackdown on these Islamist radicals. This issue is going to haunt Bangladesh-India talks when Hasina undertakes her much-awaited visit to India later this year.
Edited by Jhinuk Sen
More in Catch - Bangladesh intellectuals speak against Isalmist extremists
Bangladesh LGBT mag editor Xulhaz Mannan's murder: Let this not be another statistic