Yasin Malik's deteriorating health: should J&K govt pay heed to alarm bells?
Catch Team
| Updated on: 7 February 2017, 1:21 IST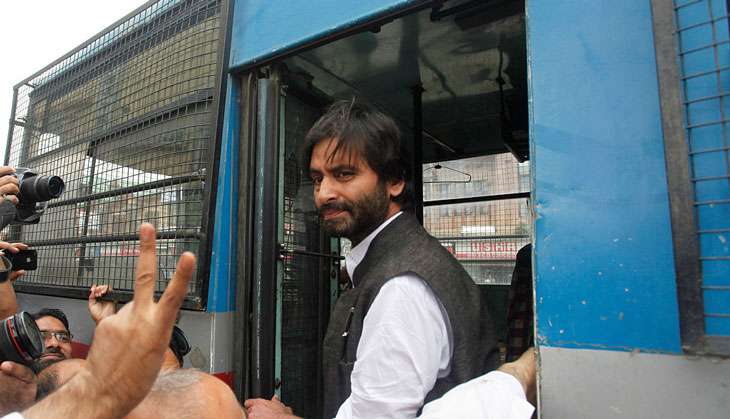 As the Hurriyat Conference's protests continue to paralyse Kashmir for the 86th consecutive day, the Jammu and Kashmir has adopted three different yardsticks to jail the Valley's separatist triumvirate - Syed Ali Shah Geelani, Mirwaiz Umar Farooq and Yasin Malik.
While Geelani has been put under house arrest, in deference to his advanced age, and Mirwaiz has been lodged at the sub jail near Nishat, a famous Mughal Garden on the outskirts of Srinagar, Malik has been shifted to the Joint Interrogation Centre at Humhama, near Srinagar airport.
People in the Valley attribute this apparently step-motherly treatment to Malik "to his bitter opposition to the ruling PDP's alliance with BJP".
Besides, early this year, Malik was instrumental in forging a united separatist front, along with Geelani and Mirwaiz, to counter the contemplated "exclusive Kashmiri Pandit and Sainik colonies", which look geared to alter the demographic character of the state.
In fact, it was Malik's alarm about the proposed settlements, which is believed to have created a sense of panic among the people, leading to the current turmoil.
Updates on his condition
Does this somehow explain the government's rougher treatment to Malik? According to his Pakistan-based spouse Mushaal Hussain Malik, the JKLF supremo has been kept in solitary confinement and his health has deteriorated.
"He has a serious health problem. There is a metallic valve in his heart. Besides, his left leg has developed an infection because of the unhygienic conditions in the jail," Mushaal told the media in Pakistan. "The government has been denying him the proper treatment, which is only aggravating his situation."
Malik's sister Abida, who has frequently visited her brother in jail, wants him immediately shifted to the hospital. "He is alone in the room and he is ailing. His heart is not OK and the stones in his kidneys have become active again," she told Catch. "It is my brother's steadfastness that keeps him going."
The doctors who have attended to Malik over the years also think there is a genuine cause for worry. "Malik sahib has a longstanding heart and kidney condition. One of his valves was not working. He has had a surgery for it 16 years ago. He is on blood thinners to keep the blood thin so that the valve doesn't get blocked. His kidneys have also been operated upon several times because of stones," said a doctor familiar with the leader's health condition.
"It is a serious health condition, but his condition is not very serious this time. He, however, needs urgent medical attention and a hygienic environment. Prison is, after all, prison".
Malik's JKLF has also issued a statement to draw attention to his 'failing health' in jail.
"Yasin Sahib's both kidneys have been diagnosed with multiple stones. As he has many times been operated upon for the same problem, the doctors are worried about the reoccurrence of these stones [sic]," the statement read.
The government has so far moved him twice to local government hospitals, and also to some private nursing homes. But according to Abida, this hasn't improved his health. "He is alone in his room with books. It is furnished with cardboard. He gets dal and potatoes for his meals," she said. "But we are not complaining. My brother is in jail as he is fighting for a just cause. We are worried about his health, not about his incarceration."
Movement carries on
Meanwhile, Malik's name figures regularly as part of a joint separatist statement issued daily, which calls on people "to strengthen the ongoing uprising by following the Hurriyat protest calendars".
The rosters, issued weekly, carry an elaborate schedule of protests and shutdowns for people to follow.
The JKLF also quotes him for its regular press releases. The organisation's latest statement, as usual, accuses the PDP of collaborating in the "oppression on Kashmiris".
"These crimes committed against Kashmiris may be directed from Delhi, but are abetted by pro-India politicians of Delhi and Nagpur and their agents in Kashmir," Malik was quoted as saying, in a veiled attack on PDP leaders.
Malik is the only pro-independence leader in Kashmir, among a gaggle of pro-Pakistan separatist leaders. He is part of neither of the Hurriyat amalgams headed by Mirwaiz and Geelani.
But the three now have been forced to make a common cause, following the sudden mass eruption after 8 July encounter killing of popular Hizbul Mujahideen commander Burhan Wani.
As things stand, with Malik and Mirwaiz in jail, Geelani is left alone to spearhead the unrest, which shows little sign of abating.
Edited by Shreyas Sharma
More in Catch
Separatist leader Yasin Malik arrested on his way to Anantnag
Separatist leader Yasin Malik under preventive detention, Mirwaiz Umar Farooq under house arrest
Space for protest has shrunk, so youth are picking up the gun: Yasin Malik