Will the suicide of a Tamil Nadu teenager be the turning point for NEET in the state?
S Murari
| Updated on: 2 September 2017, 20:51 IST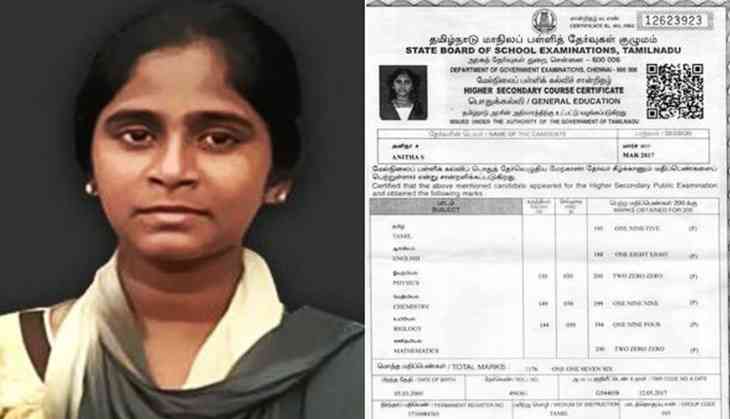 Tamil Nadu is witnessing widespread protests by students and Opposition parties a day after a brilliant student committed suicide for failing to get admission into a medical college as she could not do well in National Eligibility and Entrance Test (NEET).
Anitha,16, was offered a seat in aeronautical engineering in Madras Institute of Technology, a college from where former President Abdul Kalam graduated in the same course on the basis of her performance in Class 12 examinations. She also got an offer of admission from a veterinary college, but she was firm on becoming a doctor.
Upon realising that her dream would not come true, Anitha hanged herself in her modest house in Kuzhumur village in Ariyalur district in Tamil Nadu on Friday.
NEET's failings
A year ago, the Supreme Court had ordered all medical colleges across the country to use NEET to decide admissions. Tamil Nadu, which has close to 40 medical colleges, said its students were at a disadvantage while taking NEET, which it alleged was more apt for students who study in CBSE schools.
Anitha's suicide backs the state government's position: Anitha had scored 1,176 out of 1,200 marks in her Class 12 state board examinations and got a cutoff mark of 196.75 out 200 for medical and 199.75 for engineering. Despite this, she could not get a medical seat as she got only 86 out of 700 in NEET, which was conducted on the basis of the CBSE syllabus which she was unfamiliar with.
Anitha, who lost her mother when she was young, grew up in her paternal grandparents house in Kuzhumur village as her father T Shanmughanathan, a labourer in a vegetable market in Tiruchi, could not raise her.
Shanmughanathan moved the Supreme Court on her behalf as she was a minor seeking exemption from NEET, but the court had rejected the plea.
Relatives and residents of her village said Anitha looked depressed after the medical admission results were announced and had started going for counselling last Friday.
Politicisation of the issue
Protests erupted in the village and soon spread to other cities and towns, including Chennai where the CPM and the Students Federation of India resorted to road blockade. Effigies of Prime Minister Narendra Modi were burnt in a few places.
Leaders such as Dravida Katchi's K Veeramani, Viduthalai Chiruthaigal Katchi's Thol Thirmavalavan and Naan Tamil Katchi's Seeman, blamed the central and state governments for the tragedy.
State Minister for Cooperation Sellur Raju said Tamil Nadu was the only state to have tried for exemption from NEET. The government could not succeed in its efforts because of adverse court rulings, he said, and accused the Opposition of trying to politicise the issue.
School Education Minister KA Sengottayan said that to prevent the recurrence of such incidents, the government would prepare a question bank modelled on the CBSE syllabus to help state board students crack NEET.
Chief Minister Edappadi K Palanisami said that Rs 7 lakh would be given to Anitha's family, as would a job to one family member.
False hope
The government cannot escape responsibility as it had given false hopes to medical aspirants by assuring them it would get exemption from NEET.
This despite the fact that the Medical Council of India (MCI) gave the state a one-time exemption in 2016. Subsequent efforts by the government to get exemption through an executive order and later through a draft ordinance all failed. While courts struck down the former, the Union Health Ministry refused to clear the draft ordinance on the grounds that it would not stand legal scrutiny.
When NEET looked inevitable in 2016 itself, the government should have taken steps to upgrade the State board syllabus to bring it on a par with CBSE and shifted focus of teaching from rote learning to comprehension.
While other Opposition leaders have indulged in a blame game, Pattali Makkal Katchi leader Dr Anbumani Ramadoss prudently pointed out: "The government should offer counselling for those who could not clear NEET. I am unable to understand why Anitha took such a decision even after taking the fight to the Supreme Court. The society should feel ashamed of it."
State Marxist leader G Ramakishnan has said "suicide cannot be a remedy for any problem".
"We should resolve to protect the interests of students". State CPI R Mutharasan said, "The Centre and the State should take responsibility for pushing Anitha to suicide," he said.
The Tamil Nadu chapter of the Indian Medical Association has decided to open free coaching centres in districts from this December on for those wanting to become doctors.
Dr JA Jayalal of the IMA, Tamil Nadu, in a statement, said: "We have come to a stage where NEET has become inevitable."
In his view, NEET will shut the door on poor medical aspirants, especially those from rural areas (like Anitha) and the only way to help them is by opening free coaching centres.