What ails student politics in India?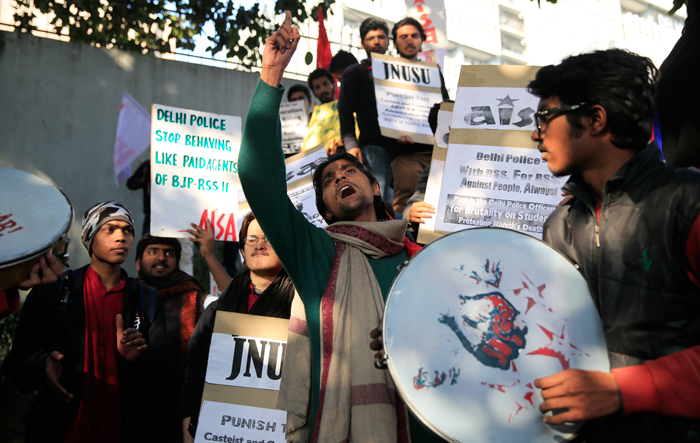 University campuses have become the new battleground for social and political contestations. The fundamental questions that affect the youth - education and employment - often remain unaddressed.
Students unions and associations have now become annexes of political parties. As a result student politics is affected by the same forces that determine national politics - caste, religion and regionalism.
Also read - #LessonforDelhi: how teachers, cops prevented violence in Jadavpur
The state of student politics
For example students' organisations in Hyderabad Central University, Banaras Hindu Universiy, Aligarh Muslim University as well as Patna University are taking up volatile issues of caste and religion.
Though the BHU students' union was dissolved in 1997, it was restored in 2007-08. There have been agitations for the implementation of direct democracy. BHU that was once the pinnacle of the Indian freedom movement, has now become a ground for sectarian politics and Hindutva politics. The ABVP seems to be completely following the Sangh's agenda in the BHU campus.
The death of 26-year-old Rohith Vemula has brought these contestations to the fore.
The Aligarh Muslim University students' union is also not untouched. The student leaders from AMU have decisive role in national politics especially within the Muslim community.
Patna University products led the student agitations in the 1970s and went on to become top political leaders in the country.
Student politics has become centered around caste & religion. Productive discussions seldom take place
Student politics has undergone a change in terms of the issues it addresses. The fundamental purpose of a students' association or union in a university, was to address basic issues of the students and bring them to the focus of the administration. But such organisations have now become breeding grounds for communalism, casteism, vandalism and regionalism.
The Forum for Protection of Universities (FPU) in Osmania University clearly highlighted that political leaders should stay out of campuses across the country. University campuses should evolve as a creative space for critical debate and students organisations should facilitate this process. But students organisations are neither raising questions related to educational issues and jobs nor promoting critical debate.
Historical background
Student unions had played an instrumental and positive role during the national movement. At that time they were driven by patriotism and a desire to mobilise the masses. Caste, creed and religion weren't their major concerns.
In the 1960s, the emergence of socialist and communist movement strengthened student unions and they underwent sweeping ideological changes. In May 1968 there were violent student protests at the University of Paris at Nanterre over the expulsion of a student. This insurrection crossed the boundaries of France and it had an impact on India as well. Unions began raising their voices for freedom and autonomy of universities and the betterment of the life of students.
In the 1970s and 1980s, student politics in India went through significant ideological changes as saffron and communist ideologies gained in influence. With the rise of Hindutva politics, Muslim student groups gained in influence in Muslim-dominated universities.
Also read - Jadavpur University reacts to 'anti-nationalism' with vandalism on campus
When the VP Singh government decided to implement the Mandal Commission report in 1990, it sparked anti-reservation movements across the country. Rajiv Goswami's attempt at self-immolation intensified the agitation even further. The agitation brought caste to the centrestage of student politics as well as national politics.
A major consequence of these developments is that, the fundamental questions of student politics remained unanswered. Associations which once provided ideological spaces for fruitful discussions shrunk to infinitesimally narrow spaces wherein the identity of students gained primacy. Universities have become proxy battlegrounds for caste groups and political parties.
More in Catch: Can rebel leader Kalikho Pul hold the Arunachal government together?
Don't buy the big talk: Freedom 251 has some tough questions to answer. Starting here
Future of data storage is here & it's going to outlive us. By about 14 billion years