West Bengal cracks down on RSS affiliated schools for 'spreading hatred'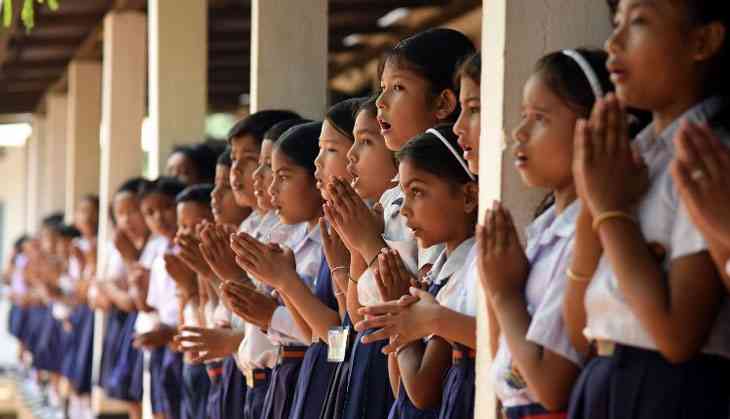 Schools linked to the Rashtriya Swayamsevak Sangh are in trouble in West Bengal for allegedly spreading religious intolerance and not following the mandated syllabus. The West Bengal government has asked around 125 schools run by the RSS-affiliated Sarada Shishu Vidya Mandir and Saraswati Shishu Vidya Mandir to follow the West Bengal Board of Secondary Education syllabus.
The government claims it has received information that these schools are trying to impart religious hatred among students.
"We will cancel the licenses of those schools which are found to be imparting religious intolerance and hatred. Till now we have identified 125 schools which do not follow the Board syllabus and are preaching hatred on the basis of religion," said education minister Partha Chatterjee.
The schools have been instructed to submit their curriculum to the school education department so that the content can be reviewed.
Most of these schools are located in the districts of Cooch-Behar, North Dinajpur, Nadia and West Midnapore.
The government claims that these schools have been organising functions promoting religious intolerance, focusing particularly on students from class one to four.
In Keshyari in West Midnapore district, the Vanvasi Kalyan Ashram gave out a room to some RSS supporters and a function was organised at the school. During the three day function targetted at primary school children, attempts were allegedly made to incite hatred towards other communities.
The matter came to the notice of the West Bengal Board of Secondary Education and they have been asked not to organise such programs inside school premises.
The Vanvasi Kalyan Ashram, however, said that it was a yoga event and the religious sermon given was just to improve the students' concentration power.
The Ashram is affiliated to the Vanabandhu Parishad, a Sangh outfit that works with tribals. .
Sangh functionaries, however, deny spreading religious hatred. They point out that in 2015 , a Muslim boy who studied in an RSS linked school in Assam stood first in CBSE examinations and they are proud of his achievement.
"The Left Front government had also opposed our setting up of schools in West Bengal and TMC is following the same path. They are trying to convert West Bengal into Bangladesh. The NIA has already closed 10,500 illegal Madrasa in Bengal after a blast occurred at the Simulia Madrasa in Burdwan in 2014," claims RSS spokesperson Jishnu Bose.
CPI(M) leader Manas Mukherjee voiced his opposition to such schools.
"Worried at the rise of such schools in the state, I raised the issue in the state Assembly few days back. I have asked the state government to take action against school authorities if it is found that they were inculcating religious intolerance among students," Mukherjee said.