Watch: Amit Shah offers prayers at Kamakhya Temple in Guwahati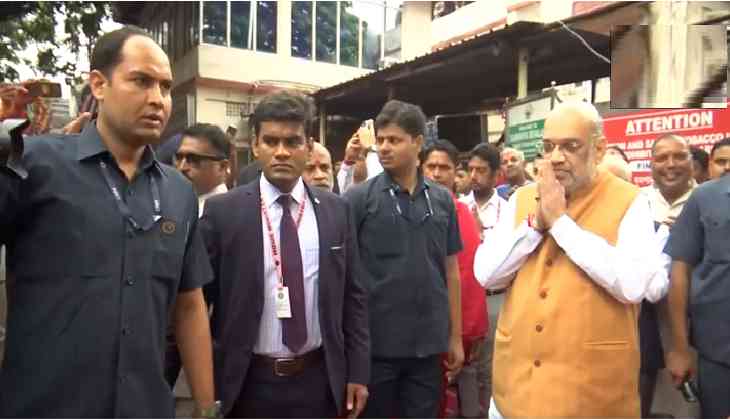 Shah is on a 3-day visit to northeast states
Union Home Minister Amit Shah on October 9 arrived at the prominent Kamakhya Temple in Guwahati and offered prayers to Goddess Kamakhya. He was accompanied by Assam Chief Minister Himanta Biswa Sarma.
Yesterday, HM Shah stressed on making India drug-free and encouraged collaboration among the northeastern states to address the drug issue.
Other than Amit Shah, Assam Chief Minister Himanta Biswa Sarma and Union Minister G Kishan Reddy were also present at the meeting. While addressing the meeting Shah said, "Our honorable Prime Minister Narendra Modi has set a target of 'Drug-free India' on the occasion of Azadi ka Amrit Mahotsav. All the government departments and government agencies are working towards it. But, it is also our responsibility to make sure that our PM's target is completed."
"Today, regional cooperation is being held on illegal smuggling and national security. Earlier, we held a summit in Chandigarh with the northern states from Kashmir to Delhi. Similarly, today we have brought all the north-eastern states together for the fight against drugs," Shah said.The former BJP President called out Afghanistan and Myanmar as the two main hotspots of drug smuggling and said that drugs and anti-national activities are "two sides of the same coin"."Afghanistan and Myanmar are the two hotspots of drug trafficking. It affects the north and the northeast region of the country the most. So, we have to fight the disease at its entry point only. There is a close link between drug smuggling in India and anti-national activities in India. These are two faces of the same coin and without making a drug-free India we can't think of a terrorism-free India," Shah said.
#WATCH | Union Home Minister Amit Shah arrives at Kamakhya temple to offer prayers before 'Maa Kamakhya' in Guwahati

Assam CM Himanta Biswa Sarma is also present with him. pic.twitter.com/0vwb4deDN5

— ANI (@ANI) October 9, 2022
The Home Minister further emphasized the need to use technology and target the nexus in a top-to-bottom approach.
"Today, only you all saw how we destroyed 40000 kg of drugs. The Home Ministry had set a target of destroying 75,000 kg of drugs but we have already destroyed 1,50,000 kg of drugs," Shah said."But, just stopping the drug smuggling is not enough, we have to find the entire nexus and everyone involved in it. We have to work in the top-to-bottom and bottom-to-top manner to solve the problem," he added.The Home Minister called for cooperation among the northeastern states and assured of taking further steps to solve the problem.
The Home Minister is on a three-day visit to northeast.