Una flogging: As Dalits march for freedom in Gujarat, global support puts in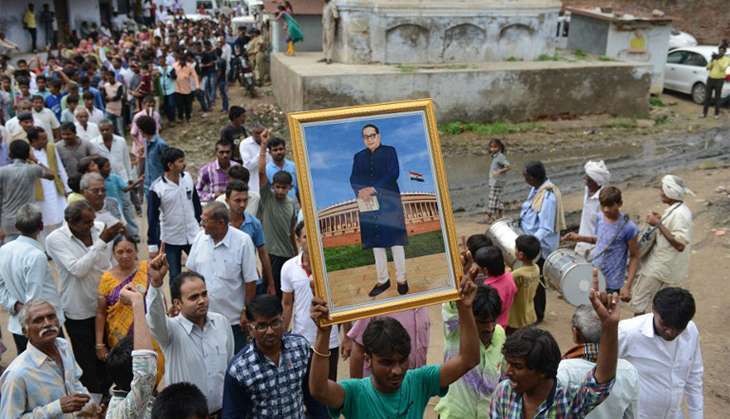 Making an already difficult situation worse for Hindutva forces in the country, support for the ongoing Dalit Asmita March from Ahmedabad to Una in Gir Somnath district of Gujarat is pouring in from around the world.
Some have even gone far enough to slam the Hindu Taliban. From across India too, rationalists, activists, supporters of the Dalit cause and people from various Dalit communities are coming together to register their protest against the continuing atrocities against the Dalits, particularly the violence unleashed by cow vigilantes across India.
Also read - Una Dalit march: Meet the men taking on Gujarat's Hindutva brigade
Adding to the numbers
Groups of representatives from various Indian states are making the trek to Gujarat to join the marchers led by Jignesh Mevani and other Dalit youths, much to the discomfort of the Hindutva organisations.
"There are delegations from Punjab, Haryana, Uttar Pradesh and Bihar who have already joined us. We are also expecting Rohith Vemula's mother to join us on 14 August and remain with us when the march culminates on 15 August at Una. We have been able to send across a loud and clear message that Dalits will not take the atrocities being committed lying down. Since we are getting support from all over the globe, we are convinced that what we are doing is right," said Mevani.
'Inhuman violence'
Social media
In Germany's Lower Saxony, protesters led demonstrations against the Una atrocity from University of Gottingen. The march saw not only Indians participating, but also students and researchers committed to basic human rights.
"Today, we, the students and research fellows at the University of Gottingen, and Goethe Institute Gottingen, organised a protest against the inhuman violence against Dalits in India. A few weeks ago, members of the Dalit community in Una, Gujarat, who were removing carcasses, were brutally attacked by "cow vigilantes. Dalits have been historically forced into removing carcasses and human excreta. These occupations which were sanctioned by Brahmanical caste system are practiced even today in large parts of the country. We condemn this act of violence against Dalits and stand in solidarity with the protesters," reads a post from Sufi Hussain, an academician from Larkana in Sindh in Pakistan, who took part in the demonstration.
Similarly, the matter is being discussed at length in Canada, particularly on NRI radio networks. Senior journalist and activist Gurpreet Singh told Catch that the ever since the incident of flogging of Dalit youths at Samadhiyala came to light, it has been taken up in all seriousness by the diaspora as well as those from other South Asian countries.
Singh said, "At a demonstration held on 30 July in Surrey, South Asian activists came out in big numbers. Sikh activists like Barjinder Singh and Harbans Singh Aujla raised their concern over the growing atrocities on Dalits and the minorities under the current BJP government at the Centre. They urged all marginalised sections to identify their common enemy and fight against it."
Param Kainth, a Dalit activist, says that the "so-called low caste Hindus or untouchables" have come under attack by the Hindu extremists.
"They (Hindutva forces) are targeting all minorities, including Dalits, one by one," says Barjinder Singh. "It's time to get united against them. First they targeted Muslims and now they have picked Dalits. The activists in Canada express their solidarity with those carrying out this march."
Similarly, Dalits residing in Melbourne, particularly those from Punjab, have expressed their support through a video clip that they have sent to the marchers. The speaker in the video can be heard condemning the attacks on Dalits in India and pointing at the injustices that have been meted out to them over thousands of years. Expressing their solidarity with the marchers, these Australian residents have stated that the day is not far when everyone has equal rights and the Constitution given by Dalit icon Bhim Rao Ambedkar is implemented in letter and spirit.
"Atrocities on Dalits and Muslims have gone up and brutalities have reached their nadir. This is the time to make Hindu Taliban realize that they have totally become animals in the name of protecting an 'animal'(cow). We agreed to work with all contacts all over India, to organise protest in support of Gujarat Dalit march for freedom in all Indian states and cities to coincide from today till the August15. Do your part. Lead. Don't wait for others. It is do or die now for our kids and grand kids' future to live a life without caste warfare. Enough is enough," reads the post on Mevani's facebook wall.
Mevani told Catch that associations in the US like Ambedkar Association of North America, Ambedkar International Mission, Boston Study Group, Ambedkar Intentional Center, Ambedkar Association of California and other progressive groups have also expressed their support for the Una march and have conveyed that they would organise events in support of the Dalit initiative in their cities and towns over the next three days.
"Ambedkarites all over the US and Canada have decided to have a protest in support of our march for freedom on 12 August," he said.
Change is going to come
The organisers of the march say that while a contingent of students from Jawaharlal Nehru University in Delhi has already joined them, they are expecting students from other universities to arrive over the next three days.
"We have come here to support the march since we believe that it is not just some instances of violence and atrocities by cow vigilantes. It is a much deeper problem that is inherent in the Hindu caste system because of which we have suffered for thousands of years. Cow vigilantism just symbolises that mindset," said Ravi Kant, an activist from Jalandhar who joined the march at Tatam village on Wednesday.
"We will take back a rich experience that will help us intensify our struggle against casteism in Punjab. We sincerely believe in awakening of the masses by distributing literature and holding discussions," he added.
"It is good that the message has gone global. Lets see how Prime Minister Narendra Modi faces his darling NRIs on this issue when he goes to these countries next time," said a political observer from Ahmedabad.
More in Catch - Una effect: Dalit rage forces Modi to take Gau Rakshaks by their horns
The unbearable burden of being a Dalit leader in the NDA