The unbearable burden of being a Dalit leader in the NDA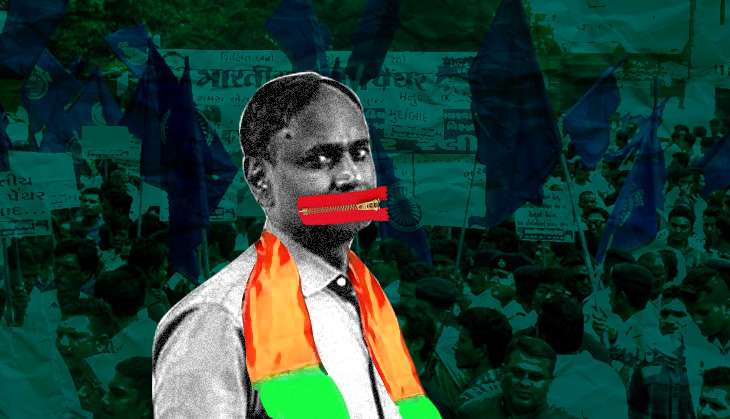 Gujarat chief minister Anandiben Patel resigned on Monday, barely 24 hours after the massive Dalit protest at the Acher ground in Sabarmati.
The Dalit Maha Sammelan was organised by the Una Dalit Atyachar Ladat Samiti (UDALS) to protest against the act of four Dalits being stripped and beaten by the Shiv Sena hooligans for skinning dead cows at Mota Samadhiyala Village near Una town.
They protested against the Dalit couple being shot in Uttar Pradesh's Mainpuri for owing a money lender Rs 15.
They protested against their centuries old task of being forced to lift animal carcasses and they also took an oath to not get into manholes to clean human shit with their bare hands.
According to convener of UDALS, Jignesh Mevani, over 15,500 cases of atrocities were lodged and Dalits kicked out from 55 villages in Gujarat.
"Why is Prime Minister Narendra Modi silent on these atrocities. Why has he not come to share our pain?" he screamed to the media.
Also read - We can kill or get killed for the sake of Gau Mata: BJP MLA Raja Singh
But the question is, it isn't just the PM who is silent but even the NDA government's own so called "Dalit leaders" have done nothing except rendering lip service. The have promised nothing substantial - neither a protest nor an actionable agenda within the party.
Two days ahead of the Sammelan minister for social justice and empowerment, Thawar Chand Gehlot promised to take appropriate action.
"An FIR has been registered and action has also been taken under the act for atrocities against Dalits. Government is also providing financial assistance to the Dalit families," he is reported to have said amid the sloganeering in Parliament. He, however, appealed to MPs and the public to not "politicise" the matter.
And that is precisely the irony of the issue - a Dalit leader telling Dalit fellows that the personal isn't political.
Where are the BJP's Dalit faces?
When Catch called to speak to Dalit Member of Parliament of Lok Sabha Udit Raj, he at first said that he supported the struggles of the Dalits of Sabarmati.
"We need to raise a louder voice. There still needs to be more action. Justifying act of perpetrators is condemnable. We will take up the issue with Shiv Sena," he said at first.
Saying that he supported their protest he was quick to point that the problem, however, isn't a political one but a social one.
"This is not an isolated case. In Jhajhar five people were lynched for the same reason. It is more of a social problem than a political one. Even under Mayawati's regime atrocities against Dalits were still committed. Because this emanates from society. Two Dalits were killed for 15 rupees. In Tamil Nadu Dalits aren't allowed to enter temples. What has BJP got to do with it?" he asked
"The question is why are upper castes not coming forward to see that Dalits are integrated into our society," said Raj.
But when Catch asked him if it wasn't the responsibility of politics to not fuel dangerous communal caste hatred he said very simply, "Of course law and order is important. But first we citizens must come together"
On Monday, Raja Singh, a BJP MLA from Goshamahal in Hyderabad told Catch that he's a Gau Rakshak first and an MLA later and vowed to take law into his own hands to catch hold of people who kill cows.
But Raj still believes that cow vigilantes and the RSS have little to do with each other.
"Why will you brand RSS as responsible for this rise and not all the independent vigilante groups? They all should be brought under surveillance. RSS has distanced itself. Why are we unnecessarily dragging them into this controversy? So far I haven't found any relation between the RSS and cow vigilantes. What happened at Dadri wasn't the RSS' doing. Cow vigilantes have always existed."
When Catch contacted Dalit MP and union minister of state for finance, Arjun Ram Meghwal, his secretary answered and said uncomfortably that Meghwal is avoiding interviews these days.
Gau Raksha, Desh Raksha, Varna Raksha
Professor Kancha Ilaiah Shepherd says that MPs such as Raj are basically "Hindu Dalits". Gau raksha, desh raksha and varna raksha is the slogan they have been brainwashed with, which translates to protect your cows, your country and your caste system. "Once they were innocent villagers serving the upper caste in the villages today they serve the upper caste in the parliament," says Ilaiah.
Dalit MPs, feels Ilaiah, agree with the BJP RSS agenda. "They are there for power and benefits. They aren't there for any community interest. Black leaders in America speak for blacks wherever they are. Here our social justice minister says that we should first ascertain the fact whether they killed the animals before skinning them and then decide if they should be punished," says Ilaiah.
Speaking about the threat perception he says that Dalits affiliated to the BJP RSS can't think democratically. "If they speak differently they can't be too sure if they'll even be alive! If BJP comes into power one more time Dalit rebellion will be much sharper. It is always so because the right wing is known to never yield on the basics," he says.
"In Indian politics there is no democratic issue based oneness to the party. For the sake of issues you cut across parties and vote. Here if you're in a party if that party kills you have to justify its doing," feels Ilaiah. That perhaps is what might have made Ambedkar most sad today.
More in Catch - Sabarmati rally: why show of Dalit-Muslim solidarity bodes ill for BJP
They're hiring: why gau rakshaks of Una should rush to Maharashtra next