Twitter, Tata, Times Now... 3 big 'uns who just lost their big bosses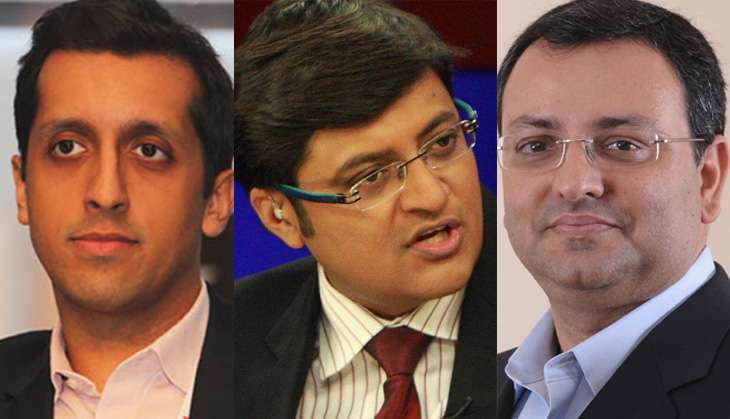 24 October was the day when the board of Tata Sons, the holding company of Tata Group, ousted Cyrus Mistry as his chairman. Fast forward to today, when after a four-year stint as Twitter India head, Rishi Jaitley announced he is quitting via a series of tweets. Then, later in the day, the bombshell arrived. Times Now editor-in-chief quit after ten years at the helm.
Here\'s what went down in the last week:
01
Cyrus Mistry (Tata Group)
A boardroom battle on 24 October, lead to the controversial ouster of 48-year-old Cyrus Mistry as the chairman of Tata Group. He was ousted for his lack of ability to turn around the company's fortunes. Some of his decisions to sell 'badly-performing assets' were also questioned.
This removal followed the leak of an email that he wrote to the Tata Sons board. It was a six-page long document. Mistry alleged that the board clamped down on his decision-making power. To this, Tata Sons simply said that the leak was "unforgivable".
Following Mistry's ouster, three high-level executives have resigned from the Tata Group. According to QZ, these include, "the group's human resources chief, NS Rajan, the group business development head, Madhu Kannan, and the group strategy executive, Nirmalya Kumar. These three were part of the executive council that Mistry had set up in 2013 to give him strategic and operational support".
02
Rishi Jaitley (Twitter India)
Twitter may have been going through troubled times - with the recent shut down of video service Vine - but what hit Twitter India on 1 November, was the biggest jolt. In a series of tweets, Twitter India head, Rishi Jaitley announced his "intention to move on to new opportunities" after four years the "leadership experience of a lifetime".
Jaitley joined Twitter India in November 2012 as the India Market Director. Two years later, this became India and Southeast Asia. Since the last year or so, he has been Vice President, Media, Asia Pacific & Middle East North Africa, Twitter. Prior to Twitter, Jaitley worked as head of public-private partnerships from 2007-2009 for Google.
"My mission remains the same: harness tech/media's scale to connect users/citizens to their voice/agency/leadership in places they care about," Jaitley wrote in one of his tweets. Let's see what next for Jaitley and for Twitter.
03
Arnab Goswami (Times Now)
After a ten-year long stint at Times Now, as its editor-in-chief, Arnab Goswami, the most vocal persona on television announced his resignation at an editorial meeting. According to sources, the 9 o'clock edition of the Newshour on 1 November, will be his last.

This announcement followed ten days of rumours that had been spreading like wildfire. Times Now has not yet announced a replacement.

For Goswami though, he will be starting his own venture and remain in media. He told the editorial team that he "believes in the media". The meeting went on for about an hour.

According to News The News Minute, ""He repeatedly said that 'The game has just begun'," said a source in Times Now, "and that 'independent media is going to thrive'," said a source."

Some sources say rhat politician and entrepreneur Rajeev Chandrasekhar and American media baron Rupert Murdoch will be investing in his venture. At one point, it was also rumoured that Goswami might be joining the ever so popular news organisation, Fox News.

Here's what Business Standard's sources have to say: Some sources in Times Now said Goswami might have been in touch with another organisation for at least six months to start a new digital venture. They added that many people from Times Now might follow him. "In Goswami's words,' they said, the new project will be "a formidable competition to CNN an BBC."

Those are the three T's that lost their Big Bosses in the past seven days. Let's just hope there isn't any other earth shattering resignations or ousters in the next few days.