Skill Dil: Modi's job portal makes a pitch for palmists, astrologers & moneylenders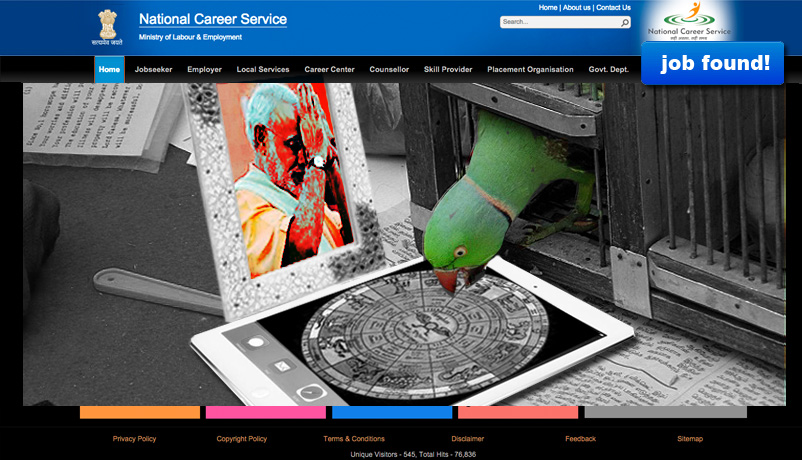 The portal
Prime Minister Narendra Modi launched a National Career Services website on 20 July
The aim is to bring together employers and job-seekers in one place
The jobs
The jobs listed included astrologers, palmists, money-lenders and pawn-brokers
It describes an astrologer\'s job as \"mildly hazardous\" with risks of neck pain, heart disease, depression, anxiety and headache
The site also has links to job sites like Times Jobs and Naukri.com. But the jobs have expired
It also directs job-seekers to places where they can develop their skills as astrologers and palmists
Are you an aspiring astrologer? Or an experienced one, tired of waiting by parks and markets for those who seek to know their future?
The government is here to help you get a job.
National Career Services is a website launched by Prime Minister Narendra Modi at the Indian Labour Conference on 20 July . The portal aims to bring together employers and job seekers in varied sectors of the economy in one place, using information technology.
But it has a rather wide-reaching mandate. Jobs listed include astrologers, palmists, and even money lenders and pawn brokers, all listed under the "unorganised sector" section of the website. While these jobs are officially recognised under the International Standard Classification of Occupations - which is probably why they are listed on the website - the details shows that the government is quite serious about these careers.
The general description for an astrologer's job (the alias mentioned: jyotish, fortune teller) is "advising individuals about precautions to be taken and religious rites to be performed to avoid evil influences of the stars and planets".
The website informs that this is a desk job requiring 9-10 hours of work everyday with a work from home option. It also warns that an astrologer's is not an easy job. The job is classified as "mildly hazardous or dangerous" with risks of neck pain, heart disease, depression, anxiety, headache, etc.
Given the Modi government's thrust towards skill development, the website promises that skill training for astrologers is available in "all colleges across India" besides specialised institutes such as the All India Federation of Astrologer's Societies and All India Institute of Occult Science.
There are also three links to YouTube videos of Ludhiana-based Rajesh Joshi, who provides video lectures on learning astrology.
While a fresher is expected to earn Rs 8,000-10,000 per month, those with experience can expect to take home up to Rs 30,000.
The website lists some job links from Times Jobs and Naukri.com. Unfortunately, clicking the links led either to expired jobs or zero search results.
But don't worry. The website assures there are big ticket takers for your skills. "[Astrology] continues to have a following across the world, sometimes numbering amongst its adherents celebrities or political leaders in positions of power and influence. The popular media continues to give it ample time and space across the world, suggesting that astrology columns, telecasts and shows help at least a little in making cash registers ring."
The website provides links to Times Jobs and Naukri.com for jobs that are no longer there
If stars aren't your USP, you may try seeing palms. A palmist's job, according to the NCS website, involves "interpreting the lines and other symbols on palms, feet or forehead of persons to relate past and forecast future".
YouTube comes to the rescue here, too. There are three links cited on the website on video lectures on palmistry.
Moneylenders
To a follower of Hindi cinema, the local moneylender is a rotund, bespectacled man sitting by a low desk (the website lists 'sahukar' as an alias for moneylenders, just to get the picture right). In films, the sahukar is shown to control the village economy, often threatening the poor with dire consequences for not returning his loan. Anyone who has heard of farmer suicides knows that the loans are taken at exorbitant rates from money lenders, whose coercive methods of loan recovery often lead to the fatal depression.
This is passe. The government considers moneylenders have a place in the microfinance sector of the country. No matter that the coercive methods used by microfinance institutions led to Andhra Pradesh passing a law in 2010 to ban them.
"The microfinance sector has made a strong come back after the Andhra Pradesh crisis and is poised to grow at [.] 24% over FY15-FY19. MFIs have expanded in Uttar Pradesh, Maharashtra, Madhya Pradesh and Bihar while continuing to grow in their traditional strongholds of Tamil Nadu, Karnataka and West Bengal," the description says.
Here too, the jobs listed courtesy Times Jobs includes a 'loan administrator' of a Maharashtra-based firm offering a handsome package of Rs 15-30 lakh per annum.
The government hasn't missed the fact that in urban settings, the job is done by pawn brokers. The job is "Advancing money to persons on security of movable property such as jewellery, utensils, furniture, etc." with a fresher salary of Rs 10,000-15,000 per month, rising to Rs 25,000 per month for those experienced.
Priests
But there is more space for the transcendental. Listed alongside sectors such as mining, apparel, banking and healthcare is 'religious professionals'. While the other sectors have logos next to their links - such as a stethoscope and a heart monitor for healthcare - this link to religious professionals does not have any logo. This is probably because of the secular nature of our Constitution.
So far, divine opportunity is available only to Hindus and Christians. The former may apply to be a 'Purohit', while the latter is called, simply, a 'priest'.
A purohit's job is "worshipping deity in temple", "performing religious rites and ceremonies of Hindus on behalf of persons engaging him", besides "Reciting from scriptures and/or performing havans, kirtans, etc. to invoke divine blessing".
However, there is no work from home option, and the job is seven days a week. "This may vary from temple to temple", although shifts may be available, the site informs.
There is also a career path defined for purohits, even though to the devout this may be earthly maya, a delusion. One begins as a priest (or teacher, preacher) and grows to be a senior priest, then a purohit, and finally a temple trustee.
Peculiarly, there is no career path described for an architect.
Priests are listed as 'religious professionals'. They have to work all 7 days with no option to work from home
Among the career skills desired of priests are "good communication skills", "disciplined" and, likely the most crucial, "persuasive".
The site claims to have over 20 million registered job seekers. It aims to integrate data from all the nearly 1,000 employment exchanges in the country. As a jobs provider, it links closely with Modi government's Make in India and Skill India.
Indeed, the 23,936 skill providers outnumber 1,684 employers (and counting) registered on it. There is no data yet on how many have opted for a particular job.
Descriptions are available for jobs - both available and prospective - in 53 sectors.
These include piano tuners, ambulance drivers, share market traders, gem polishers, marine biologists, aircraft navigators, even Supreme Court judges.
But it is nice to know that even for those intent on counting stars, there is hope.