Rajdeo Ranjan killing: for local MP, scribes, Shahabuddin is prime suspect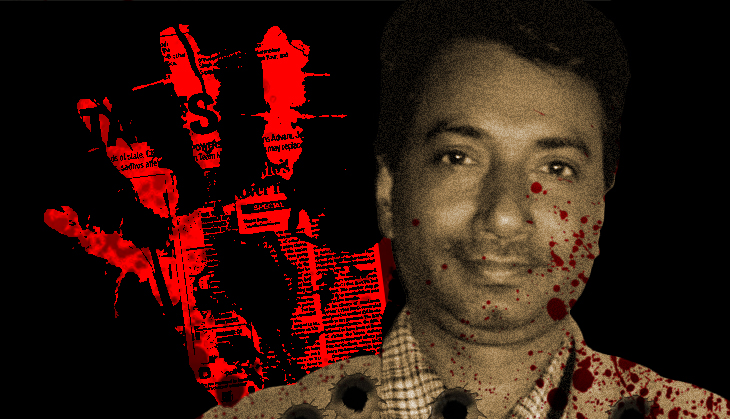 Who killed Rajdeo Ranjan? If his colleagues, local leaders and the police are to be believed, all clues lead to the gangster and former RJD MP Mohammad Shahabuddin.
Ranjan, a senior journalist with the Hindustan daily, was shot dead in Siwan, Bihar, on 13 May. Shahabuddin is serving a life term for the murder, in 2004, of two sons of a businessman who had been burned with acid.
What does the local MP know?
Om Prakash Yadav, BJP MP from Siwan, insisted Shahabuddin had reason to murder Ranjan. "He was angry with Rajdeo Ranjan for continuously writing against him. Shahabuddin had apparently prepared a list of 23 people who he planned to kill. Ranjan had filed several reports regarding this list. This had infuriated Shahbuddin," he told Catch.
Om Prakash claimed those on the alleged hit list included his press secretary Shrikant Bharti and Rajesh Roshan, an eyewitness in the 2004 "acid murder" case. Both are dead. Roshan was gunned down on 16 June 2014, and about five months later, Bharti was similarly murdered in broad daylight.
To back his allegation, the MP pointed out "intriguing similarities" between the murders of the journalist and the press secretary. "Both Ranjan and Bharti were shot from close range. The police had arrested three accused in Bharti murder case. All were contract killers hired from Uttar Pradesh. While two of them are out on bail, the main accused Chhavani Singh is behind bars. It is possible the murderers were called from outside Siwan in this case as well."
Om Prakash has been locked in a battle with Shahabuddin for the political control of Siwan for years. After Shahabuddin was barred from contesting elections in 2009 due to his criminal convictions, the RJD fielded his wife Hena Shahab. She was, however, comprehensively defeated by Om Prakash, who fought as an Independent. He joined the BJP before the Lok Sabha polls in 2014.
Shahabuddin allegedly did not take kindly to the "humiliating defeat" of his wife, and, to take revenge on Om Prakash, put his son Chandravijay Prakash on the "hit list". Chandravijay was provided security by the state government, along with others on the list, after Shrikant Bharti and Rajesh Roshan were killed.
Also read: Don's den: Shahabuddin may still rule Siwan, no matter who wins
Om Prakash said Ranjan was an old acquaintance. They had, in fact, talked just a few hours before the murder. "He wrote against me as well. But it was his job and I took it that way."
What do his colleagues say?
Ranjan's colleagues and other local journalists too suspect Shahabuddin's hand behind his killing. "He had filed many incriminating reports against Shahabuddin as our bureau chief in Siwan," said a senior journalist with Hindustan, explaining the motive.
A local reporter, not associated with Hindustan, who did not want to be named for fear of reprisal said, "Shahabuddin was miffed with Rajdeo's reportage, clearly. Rajdeo was an experienced crime reporter, and it goes without saying that most of the crime in Siwan is somewhere linked to Shahabuddin."
Apart from his unearthing of the "hit list", what reportedly earned Ranjan Shahabuddin's wrath was his report about the jailed gangster's meeting with Pappu Yadav, headlined "Shahabuddin se mil Siwan mein chunavi jameen talash rahe Pappu Yadav". The report angered Shahabuddin because it said Pappu had blamed RJD supremo Lalu Prasad for the gangster's incarceration. It also "gave the impression" that Pappu had met Shahabuddin to instigate him against the RJD chief.
Catch tried contacting Shahabuddin's relatives to seek his comment on these allegations, but they could not be reached.
What have the police found?
Meanwhile, Siwan SP Saurabh Kumar Shah confirmed that the police had detained two people in connection with Ranjan's murder. They are both said to be "hardened criminals" with several chargesheets against them but, Shah told Catch, the police "has not yet reached a final conclusion about their involvement in the crime".
Indicating that the police suspect Shahabuddin's hand in the killing, a senior police officer told Catch, "the two detained men have been working for him."
"Though Shahabuddin has not been named in the FIR. But the probe is going ahead in the same direction. The police is investigating the call records of the suspects," he added.
Rajdeo had reportedly received "many threats", and was even manhandled by some goons once. "Ranjan did not want to aggravate the matter, that's why he didn't file a complaint. He took it in his stride as a routine work hazard," said one of his colleagues.
Shah said the police "are aware that he was threatened in the past". "No FIR was registered, however. But we are looking at all possible angles," he added. "We have not yet talked to Ranjan's family. The circumstances surrounding the murder will become clearer after their statements."
Sources in the police said they have seized CCTV footage which could yield "important clues". No eyewitness has so far come forward, however. Asked about this, Shah said, "Common people normally hesitate to depose in such matters. One also can't ignore that Shahabuddin is a cause of fear in Siwan's context."
Also read: Senior journalist Rajdeo Ranjan shot dead in Siwan, Bihar
Shah, however, claimed the police have identified "some witnesses" and are trying to talk to them.
Om Prakash claimed witnesses were not coming forward because they were afraid of Shahabuddin. "RJD has gained a prominent position in the present government and Shahabuddin has always been close to Lalu Prasad," he said, pointing out that the jailed gangster was recently inducted into RJD National Executive Council.
After Lalu returned to power in alliance with Nitish Kumar last year, many observers speculated that Shahabuddin would return to his former ways in Siwan even while being in prison. Their apprehension seemed to have been confirmed when state minister Abdul Gafur went to visit him in prison, and the pictures of the meeting went viral on social media. Lalu had defended his minister saying that "meeting somebody in jail" was not a crime.
Edited by Mehraj D. Lone
Also read: 2 detained for journalist Rajdeo Ranjan's murder in Bihar