Don's den: Shahabuddin may still rule Siwan, no matter who wins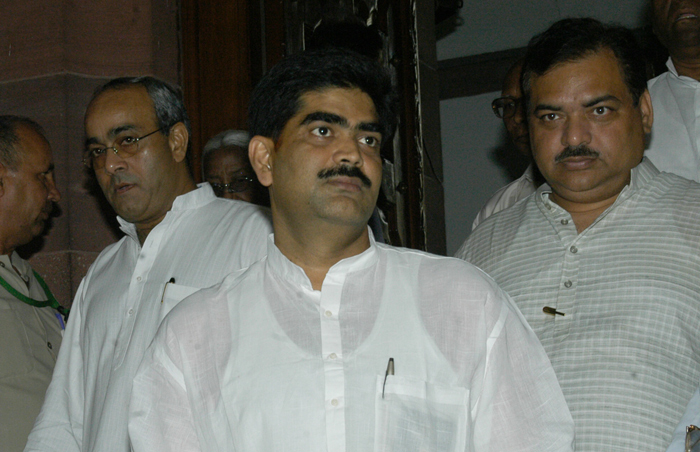 The citadel
Siwan is the stronghold of the gangster Md Shahabuddin
He\'s in jail but his loyalists are hoping to win all the district\'s 8 seats
BJP has fielded Manoj Singh from Raghunathpur. He was allegedly a former sharpshooter for the don
The battle
Upper caste voters are determined to defeat the don\'s men
They will vote for the don\'s strongest rivals, irrespective of party.
More in the story
Nitish Kumar enjoys much goodwill, but will it translate into votes?
A dip-taste of how criminalised politics works on the ground
Brandishing an imported Harrington & Richardson revolver, Akram, 22, shouts, "Ihan k sab faisla Shahabuddin bhaiya karihan". The proclamation draws loud cheers from a platoon of young men gathered nearby. Sheared of its Bhojpuri lyricism, it means: here, Shahabuddin rules.
Welcome to Siwan, Bihar's hinterland where bullet often rules over ballot. It is considered the most sensitive region in the poll-bound state. The district is slated to go to polls on 1 November in the 4th phase. Campaigning here has subsided but the political heat is still intense.
Mohammad Shahabuddin, the gangster lord of Siwan, is in jail. Yet, his loyalists fancy their chances on all eight seats of the district. Some of them have secured tickets from parties, others are fighting independently.
The fear of Shahabuddin's comeback is palpable everywhere. So much so that many people are resigned to the fact that the election won't make their lives easier, no matter who wins. The region is still begging for basic amenities like education and employment. Large scale migration and crime are rife.
That's because the politics in Siwan revolves around Shahabuddin. Indeed, nearly all voters here can be divided into two categories - those who support the gangster and those against him. As the engineering student Saurabh Rai puts it, "No matter who wins in Siwan, it is only Shahabuddin whose writ will run large in every constituency."
Caste in chaos
Still, there is general goodwill for Nitish Kumar but it's unclear if that will translate into votes for the Grand Alliance. The chief minister, in fact, is the trump card for all the alliance's candidates as Lalu Prasad's base in the region has shrunk drastically.
Although the BJP is feeling upbeat after Prime Minister Narendra Modi's visit to Siwan last week, it's far from holding a decisive edge.
"Every seat in Siwan has its own dynamics. There is neither a wave nor any caste polarisation in favor of one party or alliance," says Rambachan Pandey, a retired professor of political science.
No matter who wins in Siwan, it is only Shahabuddin whose writ will run large, says Siwan student
There is more than a grain of truth in this assertion, for every seat seems to have a different caste equation. Brahmins and Banias, for instance, are supporting the BJP in Raghunathpur but are with the Grand Alliance in Siwan Sadar.
A seasoned Congressman, Ishtiaq Ahmed, explains the phenomenon: "All the upper castes of the district want to defeat Shahabuddin's supporters, so they will vote for whoever is in a better position to defeat them. It is difficult to guess whether they will succeed or not."
Bullet to ballot
Manoj Singh embodies the criminalisation of Bihar's politics over the years. A former sharpshooter of Shahabuddin's gang, he is carrying the BJP's hope in Raghunathpur. He was fielded by the party by replacing its previously declared candidate Vikram Kunwar Singh.
Manoj, however, is quick to dismiss his controversial past. "When the party withdrew Vikram Kunwar Singh as its candidate, people started making false accusations against me. I belong to Shahabuddin's village. We have studied and played together. It is being used as a pretext to malign me," he explains.
Vikram, now a BJP rebel, laughs off the explanation. "Manoj Singh has perpetrated all criminal activities committed in the name of Shahabuddin in Siwan. He bought the BJP ticket for Rs 2 crore," he says.
"I also had brotherly relations with Shahabuddin. We have shared close political links. I even helped him in past elections. But I was never involved in any criminal activity," Vikram claims.
Many candidates are fighting the election from inside jail. Amarjit Kushwaha of the CPI (ML) is locked in a tight battle in Ziradei with his former party comrade Ramesh Singh Kushwaha of the JD(U) and Asha Devi of the BJP.
Amarjit is facing trial for a double murder. He, however, enjoys goodwill among many people, who credit him with waging a struggle to give land ownership to poor farmers.
The rebels' cause
Shiv Sena doesn't have much presence in Bihar, but its candidate Udeshwar Singh is gaining attention in Ziradei. He had been angling for a BJP ticket but switched allegiance when it was denied. Udeshwar is settled in London, married to a British woman for 18 years. It remains to be seen whether the traction he is getting will translate into votes.
Not just Ziradei, the BJP may suffer at the hands of its rebels across Siwan. Overlooking local leaders in the allocation of tickets seems to have split the party in many constituencies.
Ziradei candidate Udeshwar Singh is settled in London. Denied a BJP ticket, he went to Shiv Sena
"The central leadership distributed tickets in an arbitrary manner, ignoring the local claimants. This might cost BJP dearly on many seats," says a BJP leader from the district.
One such rebel Awadh Bihari Chaudhary is finding significant support in Siwan Sadar. Billu Pal, who runs a cycle store in Siwan, believes Chaudhary is the frontrunner. He had quit the JD(U) in the hope of getting a BJP ticket, but the party chose to ignore him. At its own peril, it appears.
The Election Commission has put much effort in making the arrangements for polling foolproof, but it remains to be seen whether that will prevail over muscle power.
Indeed, the outcome of the tussle between the mafia and the state could well be the deciding factor in Siwan.