Rajasthan CM Vasundhara Raje feel insulted after Sharad Yadav called her 'fat' during election campaign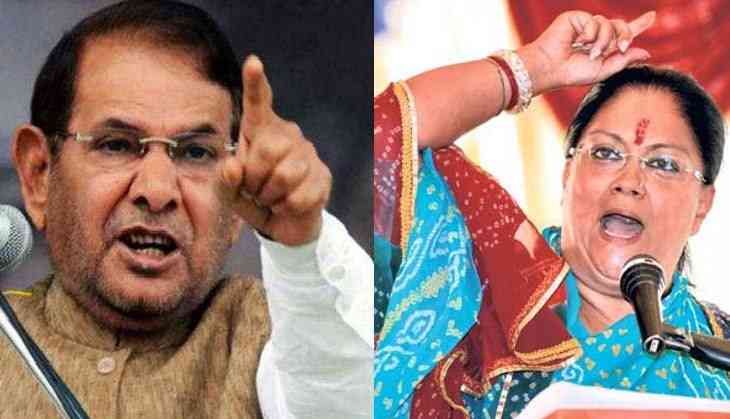 Rajasthan Assembly election campaign has already over and today, the polling in the state has already begun. Amid campaigning, JD(U) leader Sharad Yadav hit the controversy with his remark on Rajasthan Chief Minister Vasundhara Raje.
Yadav has called her 'fat' and took a jibe during his campaign in the state, on which Raje said that she felt insulted.
"I actually feel insulted and I think even women are insulted," Raje told media after casting her vote in Jhalrapatan constituency of Jhalawar for the Rajasthan Assembly election, ANI reported.
She cast her vote at 08:38 am at the pink booth at the community centre of Housing Board Colony in Jhalawar.
She went for casting vote along with her son and Member of Parliament from Jhalawar, Dushyant Singh and his wife, Niharika Singh.
Raje also told that they never pass any personal comment on any leader, which is not a civilized behaviour.
"To set an example for future it's important that EC takes cognisance of this kind of language," she said, referring to Yadav's comment.
Also read: Rajasthan Election 2018 Live Updates: Voters create ruckus at polling booth in Ahor, Jalore; Voter turnout recorded till 11.00 am in is 21.89%
During the rally in Alwar, Yadav said that "Vasundhara ko aaram do, bahut thak gayi hain, bahut moti ho gayi hain, pehle patli thi." He also added that she is the daughter of Madhya Pradesh.
After this comment, the controversy was sparked by him and BJP has condemned his remarks as a sexist comment on the female leader. The party also said that the election commission should take an action against Yadav.
Watch Video:
Also read: Rajasthan Assembly Elections: Satta Bazar gives a victory signal to BJP while thumbs down to Congress