PM Modi blows development trumpet ahead of K'taka polls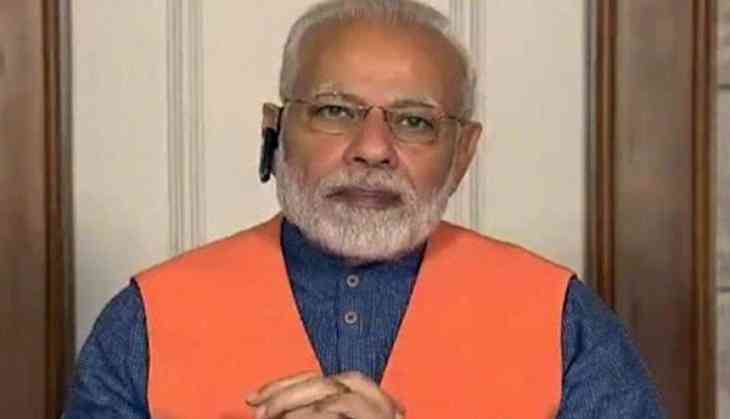 Ahead of the upcoming Karnataka assembly polls, Prime Minister Narendra Modi on Thursday boosted the morale of Bharatiya Janata Party (BJP) workers in the state.
The Prime Minister while interacting with the Karnataka faction through NaMo App said that the BJP has always given precedence to development over politics and with this focus, the party fight elections and run the government.
"BJP has given precedence to development over politics. With this in focus, we fight elections, run the government. I know earlier government used to avoid talking about development because it is measurable. You have to fight lies, manipulation. In such times, workers must not get frazzled. We have move forward on the issues important to us," the Prime Minister said.
He said that the BJP has three pronged agenda for Karnataka - development, the fast paced development and the all round Development as the party as given primary importance for politics of development.
Continuing his tirade against the Congress, the Prime Minister alleged the party for not focusing on development during their ongoing tenure in the Karnataka.
"We know other political parties hesitate to talk on development because development can be quantified. This was unacceptable to those parties which only concentrated on division. We govern and also fight elections based only on development model," he said.
"In Karnataka, after we came to power, Rs 17,000 crore was given to the state to construct national highways. During UPA rule, they did not construct even 1,000 kilometers of road. But we did more than 1,500 kilometers of road. People talk about climate change and global warming. During Congress rule, in four years, 2,000 MW of renewable energy was generated. In four years, we have doubled the work to 7,800 MW. Even solar energy, it'll help the poorest of the poor. In Karnataka, the government did not tap solar energy," he continued.
The Prime Minister also made it very clear during his address that there is no policy paralysis with the BJP government.
"Development is not an issue for ones who do in caste-based politics; they give a lollipop of fake promises to particular community and then do same with another community in next elections. If you analyse last few elections, you will realise how few political parties have indulged only in dividing societies on religious lines. They exploit emotions of some community before elections and forget them after the elections," he said.
"We walk ahead keeping unity in mind. Sabka saath, sabka vikas, is the mantra we follow. I have seen Karnataka has made up its mind on development. Now, that people have seen that the Congress is going to lose; people have started talking about a "hung" Assembly. They are spreading lies there will be no clear majority. It is their conspiracy to dissuade voters from casting their vote," Prime Minister Modi added.
The Prime Minister urged every BJP workers to reach each and every voter.
"I'm also a Kannadiga, consider that and move forward. I will also work in the same spirit. Now our job is to reach each and every voter. This is my request," Prime Minister Modi said.
The Prime Minister interacted with all the candidates, office bearers, elected representatives and party workers in poll-bound Karnataka via the Namo app.
Prime Minister Modi, during his interaction, encouraged the party workers engaged in the Assembly poll campaign in the state, and also provide guidance to senior party leaders, MPs, and MLAs.
As Karnataka is set to go to polls, Prime Minister Modi will be travelling to Udupi on May 1, where he will be visiting Shri Krishna Mutt, and will later address a massive public rally.
On a related note, Karnataka will go to polls on May 12 to elect its representatives for the 225-member assembly. The results will be out on May 15.
(ANI)