Playing with fire: RSS organises arms-training camp for Hindus in Murshidabad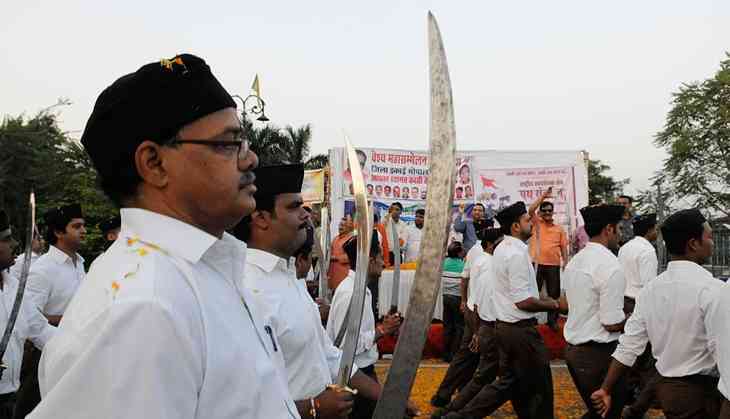 (Mujeeb Faruqui/Getty Images)
The Rashtriya Swayamsevak has started a camp in Cossimbazar in West Bengal's Murshidabad district, to train Hindus in the use of weapons and martial arts. The camp began on 30 May and will continue till 10 June.
According to RSS' West Bengal general secretary Jishnu Bose, "If Hindus want to protect themselves, they will have to learn how to use weapons and protect themselves from jihadi forces".
Ever since it began it's expansion drive in West Bengal, RSS, BJP and outfits like Hindu Samhati have been casually using the label "jihadi forces" against myriad Muslim entities.
On being asked what he meant by "jihadi forces", Bose was vague: "Anyone who oppresses Hindus is a jihadi".
The choice of Murshidabad is not coincidental as Muslims form 66% of the population in the district, the highest among all the districts in the state.
Sources in the RSS said that they have received an enthusiastic response for the training camp and around 100 youngsters from all over the state are participating in it.
According to a senior RSS pracharak, who is the in-charge for Murshidabad, "Most of the participants were from the border districts of of Murshidabad, Nadia, Bongaon. We told them about the atrocities that are being perpetrated on Hindus. They also told us about several incidents in which Hindus were targetted by the police did nothing".
According to Bose, the state government is turning a blind eye to the shenanigans of "jihadi forces".
"Therefore we are trying to organise such camps to increase our base in the state and to protect Hindus," he said.
Bose revealed the the "training camps" have the blessings of the top RSS leadership in the country.
"The resolutions in the Coimbatore conference of the RSS held on 19-21 March cited the communal flare-ups at Dhulagarh in Howrah , Kaliachak in Malda and Tehatta in Nadia and also the Khagragarh bomb blast. It is on the basis of those resolutions that the Bengal unit decided to organise these training camps," Bose said.
As of now, the West Bengal government isn't planning to take action against the training camps. "RSS can organise many camps, but if they try to polarise people on communal grounds, the state government will not tolerate it. The Chief Minister (Mamata Banerjee) has already told the in-charges of every police station to keep an eye on attempts to disturb communal harmony and act promptly in such situations. They should also immediately inform the CMO," said West Bengal parliamentary affairs minister Partha Chatterjee.
"We have also received information that BJP and RSS are bringing cadres from other states to create communal tension in West Bengal. The government will take necessary action," he added.